Vegetable soups are so classic and beautiful that they can be served as an appetizer for almost every meal. It is full of nutrients and a very good meal starter. With a three-course meal, the appetizer is supposed to prepare the stomach for the main course. And vegetable soup will do the job well. It tends to make the meals light. And it's not quite filling yet. 
Vegetable soups have been around since the birth of soup. So, there are several versions of the soup. Still, this particular country vegetable soup recipe makes a huge difference in my meal. This soup is the OG of all the recipes and can be done easily. The dish is refreshing and delicious.
The country vegetable soup is easy and can be done in one go. The preparation time can be lengthy if you're cutting and making everything from scratch. But you can definitely freeze the soup to eat later. This is a perfect meal prep item to stock up on.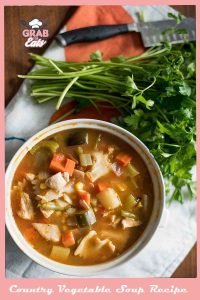 Know About the Country Vegetable Soup Recipe Ingredients
The vegetable soup is one of the most curated dishes on offer. It is made in so many different ways, with tons of different vegetables at the end. Still, every time, they turn out perfect. You can choose from tons of options. And even add cheese at the end to make it taste better. Here we are including the list of ingredients for our award-winning vegetable soup recipe.
Ingredients  
Olive oil: Instead of regular cooking oil, try switching to olive oil. It also adds a hint of flavor to the oil.
Onions: No soup will start without sautéing some onions in oil at first. We prefer a step-by-step process for the soup. Dumping everything works, but when you start with 1 chopped onion on the pit, it really makes a difference.
Vegetables: Honestly, in a homemade vegetable soup, I'm all about adding all the vegetables that I can. You can definitely use the frozen bag of vegetables. But in our case, I used organic and fresh vegetables in the soup. The flavors do vary with it. For the vegetables, bell peppers, carrots, celery, beans, peas, etc., will do just fine.
Mint and Persely: These two will add a hint of freshness to the soup. Add them before taking the soup off the heat.
Salt: The salt should be added right after you use the vegetables. Kosher salt can also be an alternative.
Pepper: The pepper will add a hint of spice and smell to the soup.
Basil and Thyme: Dried basil is literally my favorite thing to add to soup. It brings so many flavors together. And adding the thyme at the end would make the dish more fragrant.
Tomatoes: Adding 1 can of tomatoes will bring the dish together and give it a nice thickness. Tomatoes in soup are just perfect for every occasion.
Vermicelli or Pasta: If you want some carbohydrates in your meal, then throw in some pasta or noodles in there. It adds richness to the soup, and you'll fill it up. But if the soup is an appetizer, then it's better to skip the pasta.
Chicken, Beef, or Bacon: Some protein bites will never do any harm. But make sure that they don't overpower the vegetable soup.
Water: You can't make soup without it. But you can swap water with some vegetable stocks for a more intense flavor.
How To Make Vegetable Soup?
Now that we have included all the ingredients that we added to our soup let us start with the step-by-step recipe. You can add tons of things to the award winning vegetable soup mix recipe. But there's a sequence. Otherwise, it'll turn into mush. Here's a detailed picture of our country vegetable soup recipe.
Step 1
Add olive oil to the pan and put the sliced onions in it.
Step 2
Put the celery in with the onions and sauté them for a few minutes.
Step 3
Add the carrots and cook them with the lid on for 10 minutes.
Step 4
Add the potatoes, can of tomatoes, zucchini, bell peppers, and beans to the pot.
Step 5
Mix the vegetables well and cover them with water. 6 cups of water should do for this step. But if needed, add more water to it.
Step 6
Add salt, pepper, and all the other spices to the soup and stir well.
Step 7
Let the vegetables cook for 40 to 50 minutes and stir them well in between. Let them cook with the lid on.
Step 8
Add the noodles after 30 minutes and boil the soup once again.
Step 9
Add the chicken, beef, or eggs a few minutes before serving. This is the step where you also add your peas.
Step 10
Finally, sprinkle the mint and Persely on top and stir.
Step 11
Serve the soup hot with some bread.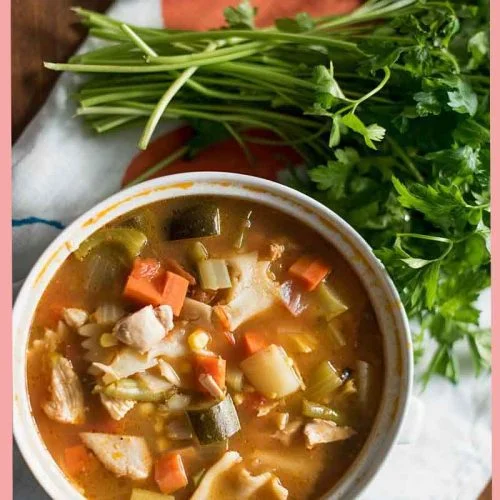 Country Vegetable Soup Recipe – A Healthy and Delicious Diet
The country vegetable soup recipe is easy to make and is a perfect diet food or appetizer. It takes only an hour to cook.
Print
Pin
Ingredients
1

Onion

Olive oil

As you need

½

Cup

Red bell pepper

½

Cup

Green bell pepper

1

Cup

Yellow bell pepper

4

Potatoes

Mint

As you need

Persely

As you need

Salt

As you need

Pepper

As you need

1

Can

Tomatoes

3

Cups

Zucchini 

1

Cup

Celery

½

Tsp

Basil

Thyme

As you need

2

Cups

Beans

Beacon or sliced chicken/Beef stripes

Optional

½

Cup

Vermicelli/Pasta 

Water

As you need
Instructions
Take some olive oil in a pot and then onions and diced carrots in it.

Add the bell peppers to it and then cover the kid to cook for 10 minutes.

Add diced potatoes and all the other vegetables with 6 cups of water in it. Stir well and keep on medium heat for a few minutes.

Add black pepper and salt to the soup.

Add some pasta or noodles as well as the peas to the soup. And let it simmer for 12 minutes.

Add mint and Persely to the soup and let it simmer for a few minutes.
Tips
Here we include some tips for the marvelous country vegetable soup recipe.
Add the mint and pepper at the end of the cooking.

Add water to the soup if needed in between.

Adding a can of cream chicken would elevate the flavors.

Add fresh and organic vegetables.

Cook in a slow cooker for better nutrition values.
Nutrition
Nutrition Facts
Country Vegetable Soup Recipe – A Healthy and Delicious Diet
Amount per Serving
% Daily Value*
* Percent Daily Values are based on a 2000 calorie diet.
 Sum Up
If you're someone who wants to have a healthy lifestyle, then vegetables are the perfect start. Instead of eating boiled vegetables as a side dish, try our country vegetable soup recipe. It's fresh and full of nutrients. You can customize the vegetables as you want and can eat eggs or meat as you like. But to make the soup more vegan, skip the proteins.
Read More: