Cod delivers a high rate of protein and contains many dietary benefits. It provides a low fat, which makes it an ideal food items for all ages. To make it more delicious and healthy, you can make a quick baked cod in breadcrumbs recipe.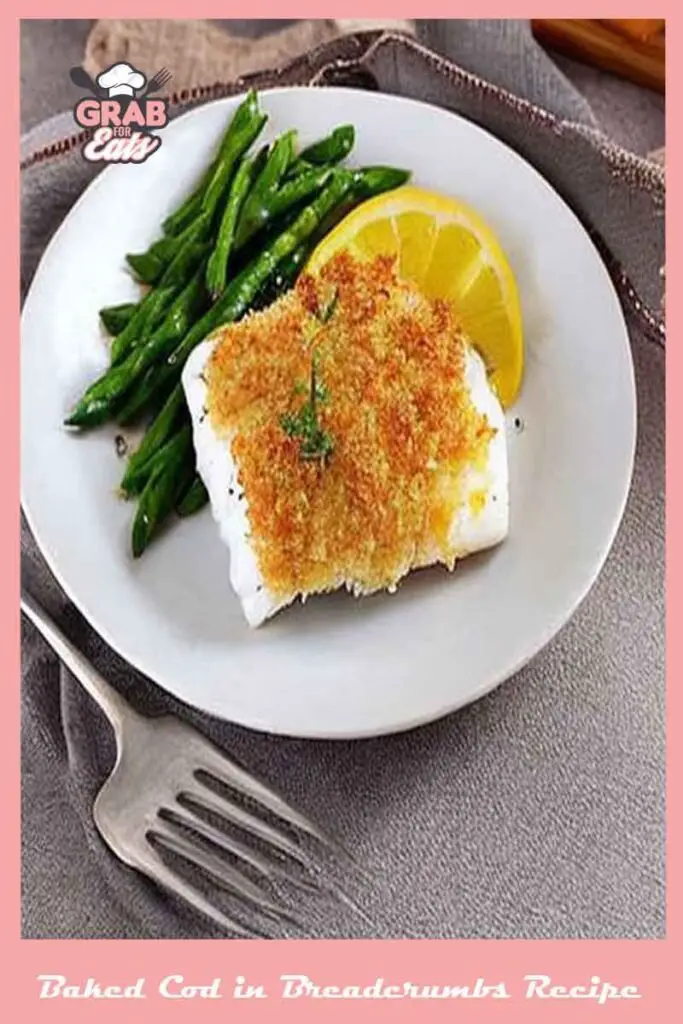 The baked cod is an excellent alternative to just fish or chips. And chips aren't a healthy item for kids. So, baked cod is an essential item to ensure high protein and vitamins. Baked cod in breadcrumbs offers a crispy and golden crunchy texture. Also, all your family members will like this item for its savory flavor.  
However, check out our baked cod in breadcrumbs review to learn how to cook this recipe. And learn in an easy method. So, let's begin!
Know About the Baked Cod in Breadcrumbs
The cod fish comes with flaky flesh that delivers mild flavor. This fish will fill you with Vitamin B, minerals, and protein. You can cook your baked cod with breadcrumbs to make this fish tastier.
Cod Fish
You need not more than 4 fillets to make this recipe. Take out the skin and wash them properly. Ensure the fillets are thick and approximately 6 oz in weight. 
Breadcrumbs 
1 cup of breadcrumbs will be enough to bake 4 fillets. Take the plain breadcrumbs and season them properly. The plain breadcrumbs are prepared with Italian baked cod cheese, giving the recipe a flavor. 
Parsley 
¼ amount of dried parsley is enough to combine with lemon zest. Parsley will add extraordinary brightness to your baked fish with breadcrumbs topping. 
Tips: You can use Japanese Panko breadcrumbs in your recipe than the traditional one. It will make the baked cod perfectly crunchy and crispy. Again, if you dislike crispiness, go for the plain breadcrumbs. It will ensure a nice flavor.
Garlic
You can either use garlic cloves or garlic powder. If using the garlic cloves, use 2 cloves finely chopped. However, for powder, taking 1 tsp will be perfect.  
Lemon Zest (Optional)
If you want to make your baked cod recipe a bit extra tasty in a different way,  go for the lemon zest.
All-Purpose Flour/ Plain Flour
25 grams of flour will be needed to coat the cod fillets before you coat them with the bread crumbs.
Butter
30g/ 2 tbs unsalted melted butter to get a good texture with a rich flavor
Olive Oil/ Vegetable Oil
If you have olive oil, take it to grease the baking sheet. But, if olive isn't available, vegetable oil will also be alright. 
Spice Mixture
A mixture of cumin, turmeric, paprika, and coriander for a spicy taste.
Egg
Take an egg to make the coatings soft before you drop the fillets into breadcrumbs.  
How to Make Baked Cod in Breadcrumbs Recipe: 5 Simple Steps 
Preparing the baked cod with breadcrumbs and butter is easier than regular recipes. Here are the 5 easy steps to make this delicious food item-
Step-1 
Preheat your oven to 350°C temperature. Now grease the baking sheet with vegetable/ olive oil. Put the fillets on your baking sheets now.
Tips: If you want a quick-cooking, set the temperature to 400°C. At this temperature, you can finish cooking in only 10 to 12 minutes (maybe more or less, depending on the thickness of the fillets).  
Step-2
Beat the egg until it becomes foamy. You can add 2tsp water to make it foamy quickly. Take 2 separate plates and sprinkle the breadcrumbs and flour. Now, season the flour using freshly ground pepper (black), mixed spice, garlic powder, parsley, and salt.
Step-3
It's time to coat the fillets with flour seasoned with salt, black pepper, and other ingredients. Now, dip the fillets into the foamy egg. And coat them with breadcrumbs.
Step-4
Put the coated fillets with breadcrumbs on the baking sheets. 
Step-5
Transfer the baking sheet to the oven and bake your fillets at medium heat for 20 to 30 minutes. Make sure the fillets aren't burnt. Your baked cod in breadcrumbs is ready to serve. Now you can serve them using lemon wedges. Using lemon wedges is your choice.
Best Toppings for Baked Cod in Breadcrumbs
A baked cod in breadcrumbs recipe is always the means of a quick dinner. So, you can simply prepare this dish with toppings like-
Rice
Pasta
Buttered potatoes with crushed minted peas
Samphire salad
Fried potatoes
Potato salad
Tartare sauce
Fried potatoes 
Chilli sauce /tomato sauce or salsa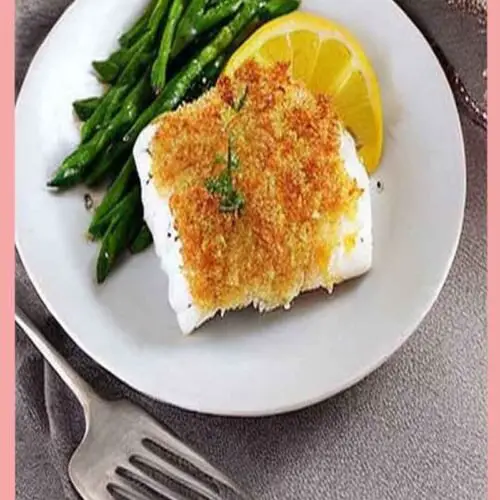 Baked Cod in Breadcrumbs Recipe
Baked cod in breadcrumbs recipe is a great alternative to the usual chips and fried fish. It also takes a little time to cook. Check out the recipe guide here.
Print
Pin
Ingredients
4

Fillets

Cod Fish

1

Cup

Breadcrumbs

 ¼

Persely

Lemon Zest

As your need

25

Grams

Flour

2

Tbs

Butter

1

Tbs

Garlic

1

Egg

Olive Oil/ Vegetable Oil

As your need
Instructions
Preheat your oven to 350°C temperature

Beat the egg and make it a little foamy

Beat the egg and make it a little foamy

Coat well the fillets in the flour first and then dip them into the egg

Your baked cod in breadcrumbs is ready 

Serve with your favorite toppings  
Tips
Cooking on a foil-lined grease pan will make your post-cleaning job easier
To adhere the breadcrumbs on the cod fillets more precisely, pat them down
Cook 5 to 7 minutes more if its frozen cod
Flip up the fillets every 10 minutes, and it will save from burning
Keep checking whether the fillets are over cooking
Nutrition
Nutrition Facts
Baked Cod in Breadcrumbs Recipe
Amount per Serving
% Daily Value*
* Percent Daily Values are based on a 2000 calorie diet.
How to Brown Breadcrumbs in Oven?
You can make your breadcrumbs with any type of bread according to your preference. The problem happens when you want to make your breadcrumbs brown, but it gets burnt. 
Types of Bread You Choose
You can choose any type of bread depending on your preference, for example-
White Bread
Gluten-Free Bread
Whole Wheat Bread
Low Carb Bread
How to Brown the Breadcrumbs?
Here's how to brown breadcrumbs in the oven-
Take your food processor and grind the bread pieces
Spread them on a baking sheet
Bake for up to 10 or 12 minutes at 149ºC
Keep stirring 
Ensure the bread grinds are becoming dry and toast type
Keep stirring at low heat now and stir until you get your desired brown texture
Conclusion
When you need a simple yet faster recipe for your dinner, go for baked cod in breadcrumbs recipe. It requires no hassled prep, unlike other sea fish. Moreover, very few ingredients you need are always available in your refrigerator. Therefore, cooking this item anytime will be in your hand. 
Making this recipe is very time-saving. The baked cod with breadcrumbs is also a great recipe for parties.  So, you can easily enhance party food items for birthdays or get-together parties.