Alton Brown caramelized onion recipe is something you can have with soup. It's effortless to make. You need to follow a few instructions to get the perfect caramelized onion. You can save up time creating caramelized onions by following Alton Brown's recipe.
You can spice it up by just adding the white wine. The aroma that will come from making the caramelized onions will savor your tongue instantly. If you're looking for the perfect caramelized onion soup, you have just come to the right place! Today I'm going to explain step by step- how to make Alton Brown's caramelized onion soup. Look at the recipe down below.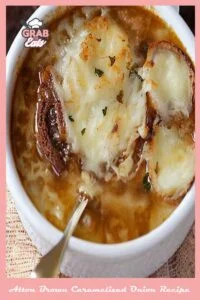 Alton Brown's Caramelized Onion Ingredients:
Onion: 5 sweet onions. The center point of this dish is the onion. You can take sweet or red onions, it won't matter. 
Butter: 3 tablespoons of butter. Butter will prevent onions from sticking to the pan and give a unique flavor to food.
Kosher Salt: 1 teaspoon of kosher salt. It will pull moisture out of the onions which will help them to caramelize faster. 
White Wine: 2 cups of white wine. This acid ingredient will help moist onions while it cooks. 
Beef Consommé: 10 ounces or 1 ¼ cups of canned beef consommé. Beef consommé will be used for making the gravy for the soup.
Chicken Broth: 10 ounces or 1 ¼ cups of chicken broth. You can use vegetable broth too. These broths are rich in vitamins and minerals.
Apple Cider: 10 ounces or 1 ¼ cups of apple cider. Unfiltered apple cider is the best for caramelized onion as it has a rich apple flavor. 
Bouquet Garni: Make a bouquet garni with thyme springs, bay leaf, and parsley. This will add and brighten the flavor.
Country Style Bread: 1 loaf of country-style bread. The country-style bread has a thick crust and a coarse texture. 
Ground black pepper: 1 teaspoon of black pepper. This will season and spice the soup.
Cognac: It is optional but you can add a splash of cognac for a savory and sweet finish to the soup.
Fontina or gruyere cheese: Half a cup of grated fontina or gruyere cheese. It brings rich creamy, salty, and nutty flavor. 
How To Make Alton Brown Caramelized Onion:
Step 1: Set your electric skillet to 350 degrees. Add butter in it and swirl the pan around while it melts.
Step 2: Once the butter is melted completely, start pouring the onions slowly. Sprinkle a little kosher salt into it and add onions again. It's like you're layering salt and onions repeatedly. 
Step 3: Stir the onions after keeping them on the skillet for 45 minutes to 1 hour. You will see the onions have turned in brown color.
Step 4: Add white wine to the onions and turn the heat to the highest level. It will help the wine to cook down to a syrup consistency. Wait for about 5-10 minutes. 
Step 5: Add the beef consomme, chicken/vegetable broth, and apple cider. Make sure you give it a stir after adding each liquid. 
Step 6: Add the bouquet garni to the mixture, stir it and bring everything down to a simmer for 20 minutes. 
Step 7: Preheat your oven to broil. Set the top rack to the other side so it stays away from the hot stuff.
Step 8: Take oven-proof bowls and country-style bread. Place the mouth of the bowl on top of the bread and cut with it. It will help to fit in the crocks perfectly. After cutting the pieces of bread, put them under the broiler for 30 seconds.
Step 9: Season the soup with black pepper and cognac. Put it out from the skillet and start pouring the soup into the crocks. Leave a 1-inch gap on top of the crock for the lid to fit in. 
Step 10: Take one crouton and make sure to put the toasted edge down onto the soup. Sprinkle lots of grated gruyere cheese on the bread. Put some slices of fontina cheese on top of sprinkled ones. 
Step 11: Once you got everything done, put the crock under the broiler for 1-2 minutes. Take the crocks out and serve it with onion cheese soup.
How to Cut Onions for French Onion Soup
Cut off the ends of the onion with a sharp knife on a chopping board. Then cut the onion in half-moon shapes and start peeling the skin off with the blade of the knife. After that, slice the onions. Continue doing the same with the other onions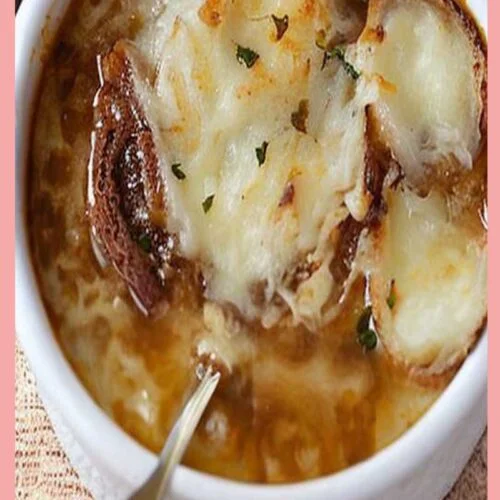 Alton Brown Caramelized Onion Recipe
The Alton Brown Caramelized Onion Recipe can fulfill your savor of sweet onions and cheese. Check the recipe out to master this dish.
Print
Pin
Ingredients
5

Onions

3

Tbsp

Butter

1

Tbsp

Kosher salt

2

Cups

White wine

1 ¼

Cups

Beef consomme

1 ¼

Cups

Apple cider

1 ¼

Cups

Chicken broth

Bouquet garni

1

Loaf

Country-side bread.

1

Tsp

Grounded black pepper

Splash of cognac

1

Cup

Gruyere and fontina cheese
Instructions
Peel the onion skin and slice them into slightly thick pieces. Set skillet to 350 degrees and add butter. 

Start layering with sliced onion and salt repeatedly. Stir them after waiting for 45 minutes to 1 hour. 

Mix white wine, beef consomme, chicken broth, apple cider, and bouquet garni with the onions. Reduce heat and wait for 15-20 minutes.

Preheat oven and cut bread into round crock-sized shapes. Place them on the pan and bake for 30 seconds. 

Season the mixture with black pepper and cognac. Pour soup into crocks, put the bread slice, and grate cheese on top of it. Bake it for 1-2 minutes.
Tips
Don't slice your onions too thin. Thin-slice onions tend to burn faster and they can stick to your skillet easily. Therefore, try cutting them into slightly thick pieces. 

Don't crowd your pan with too many onions. Having too many onions on a skillet/pan will take a much longer time to caramelize. You can caramelize 2-3 large onions on a 12-inch pan once.

Overheating the pan/skillet will burn the onions. So try keeping the heat at medium to high. You will get caramelized onions eventually. Have some patience!

Try not to skip cutting the bread part. Cutting the bread with a crock will give the perfect shape to fit in the crock.
Nutrition
Nutrition Facts
Alton Brown Caramelized Onion Recipe
Amount per Serving
% Daily Value*
* Percent Daily Values are based on a 2000 calorie diet.
Final Words: 
Caramelized onions can go with burgers and steak. Now you can have it as soup too! You need to be careful about the onions when it's in the skillet. It can have a fried texture, no one wants that. A soft, juicy and savory caramelized onion is all you need. Alton Brown's Caramelized Onion Recipe is simple to make. Nevertheless, you just need the right ingredients to make it.
You May Also Like: