Applebee's shark bowl recipe is a drink recipe and now you can make it at home. With the help of this particular recipe, you can make a great refreshing drink which will help you relax a bit. Especially during summer, this drink will help you cool down and add a kick to your summer heat exhaustion to cheer you up! The addition of shark candy makes the drink have a smooth taste of sugary sweetness.
This recipe is a rendition of the drink available at Applebee's, as the name of the drink confirms. It is really easy to make and it will not be a big hassle to make it at home. You can serve it to guests too and enjoy it together.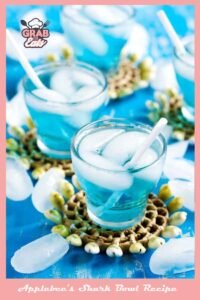 Applebee's Shark Bowl Ingredients:
Ice: 4 cups of ice
PowerAde: 1 cup of blue PowerAde
Blue Curacao: 3 ounces of blue curacao (remove for mock tail)
Shark candy: 1 shark gummy candy
How to Make a Shark Bowl From Applebee's:
To make this gummy shark drink, you will need lots of ice, some blue PowerAde, blue Curacao or blue colored syrup, and lastly, a shark gummy candy. You can use other types of shark candies too if you want. If you wish to have less sugary flavor in it, use the gummies. But if you want to have a more sugary flavored one, you can absolutely go for it.
After all, it is your drink that you are going to enjoy. If you are serving more than yourself, as in serving the drink to more people other than yourself, you might want to keep their preferences in mind because it will help you to understand the balance you need to add ingredients for them too.
You should definitely try it out a few times so you get the hang of it. Keep in mind to try it both ways– alcoholic and non-alcoholic. This way, if anyone needs a mock tail, you can whip that up for them in no time! 
So, here is the step by step instructions of the recipe to make this delicious and refreshing drink in full detail along with some added tips. 
Step 1: In a blender, or a cocktail shaker, add ice. If you are using a blender make sure you start the blender a couple of times before putting in any other liquid. Make sure you have closed the lid of the blender properly. This is firstly to make sure that the blender is sturdy enough, secondly, because we need the ice to break down a little. 
Step 2: After that, pour in the blue PowerAde, and blue curacao in the blender. We do not want to be spilling any liquids. So make sure the lid is properly closed every time you start blending. Blend the ingredients till they mix well. 
Step 3: By this time, the blended mixture may seem a little runny. So you can add more ice cubes to thicken the mix. Now blend a little bit more.
Step 4: Now, put the shark gummy candy into the mixture and blend again till they are done. Prepare a glass which you will use to pour the drink in. Add ice cubes and pour the drink into the glass. You can garnish with some lemon zest if you want. It will add a bit of a tang element to the mix. Add a straw and you are done with the mixing. Now you can slurp away and enjoy!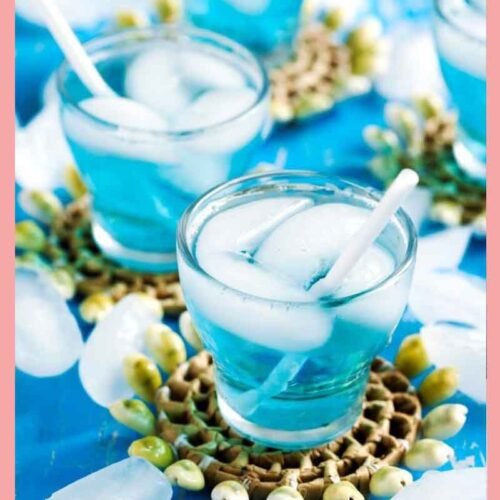 Applebee'S Shark Bowl Recipe
Check out this Applebee's shark bowl recipe that you can make from very convenient ingredients. Everything can be bought from stores and you can make it by yourself. Try this today!
Print
Pin
Ingredients
4

Cup

Ice

1

Cup

PowerAde

3

ounces

blue curacao

1

shark gummy
Instructions
 In a blender, combine the ice, PowerAde, and blue curacao.

Add more ice if the mixture is too runny

Blend once more. Add a shark gummy and a straw to the mix.
Tips
For this blue shark cocktail, shark gummies are a must. But there are other candies from shark brand too. You can choose your own if you want to.

But this candy has been tried and tested with the mix of drinks in this particular recipe. So, make sure you try out the flavors first to really know which one you want. 

You can add or remove as much ice as you want. But it is recommended to have more ice so you can keep the drink cold for much longer compared to the one where you use lesser ice cubes. There are different types of ice that you can use to your advantage. The recipe uses ice cubes and breaks it down as they blend. You can add shaved or crushed ice to the glass in which you are going to pour the drink in. So, the choice is up to you how you want to enjoy it. 

To make a non-alcoholic drink or mock tail make sure you do not use the blue curacao. You can instead use a blue colored syrup. It can be of blueberry flavor and it will not pose as a problem. In fact, if you want you can use the non-alcoholic blue syrup in the alcoholic drink mix too! It will just add some more color to the mix and have the same effect the drink will get you without it. You can try it for yourself too if you wish to have a mock tail instead of a cocktail. The only difference will be the absence of alcoholic elements.
Nutrition
Nutrition Facts
Applebee'S Shark Bowl Recipe
Amount per Serving
% Daily Value*
* Percent Daily Values are based on a 2000 calorie diet.
Wrapping up
You can now easily make this shark bowl drink by yourself. The best part is that you can make adjustments if you want. You can add or reduce the amount of alcohol you put into the drink. You can choose the type of shark candy you will be using. Make sure you are extra careful with the lid because you do not want to be spilling any of that drink.
Especially because the whole thing is blue colored. Just think about the mess it would make and how hard it would be to clean all that up. Anyway, it would be way tougher to deal with the fact that a lot of liquid got spilled and it will probably smell. So make sure you are extra careful while blending the entire mix and you will end up with a great refreshing drink that you can have anytime you want to!
You May Also Like: