The Queen Elizabeth Coronation Chicken Recipe may be the most famous dish in history. It was made when Queen Elizabeth took the throne almost 70 years ago. It first served 350 important people from other countries at the banquet for her coronation. As Britain celebrates the Queen's Platinum Jubilee, chef Franklin Becker helped Inside Edition prepare the royal meal.
Coronation chicken is made with cold-cooked chicken, herbs and spices, and a sauce made from mayonnaise. It can be used as a salad or a filling for coronation chicken sandwiches. This Easy Coronation Chicken recipe bumps up the flavour several notches for a truly delicious meal.
Know About Your Ingredients:
Olive oil: 1 tablespoon of extra-virgin olive oil. Extra virgin olive oil is good for cooking. Olive oil loses its flavour when heated.
Onion: 2 tablespoons of finely chopped white onion. It has a variety of flavours and aromas, including sweet, savoury, and aromatic.
Bay leaf: 1 bay leaf. The bay leaf is a standard aromatic leaf used in cooking.
Curry powder: 2 teaspoons of mild curry powder. Curry powders usually contain turmeric, cumin, ginger, and black pepper.
Tomato paste: 1 teaspoon of double-concentrated tomato paste. It gives a strong tomato flavour to a variety of dishes.
Red wine: 60 ml red wine. Red wine is made from dark-coloured grape varieties.
Water: 60 ml water. Water is an important part of every food process.
Lemon juice: 1 tablespoon of fresh lemon juice. The juice is made by crushing the pulp of lemon fruit. 
Brown sugar: ¼ teaspoon of brown sugar. It is made of crystalline sucrose and molasses, which gives it its colour and flavour.
Mayonnaise: 200 g of mayonnaise. Mayonnaise emulsifies eggs, oil, and some acid, usually vinegar or lemon juice.
Creme Fraiche: 125 g of creme fraiche or unsweetened whipped cream. It has a stronger flavour and is richer, thicker, and smoother than sour cream.
Apricots: 1 tablespoon of dried apricots, finely chopped. An apricot is a fruit from an apricot tree.
Chicken: 2 cooked, shredded skinless chicken breasts (600 g). Chicken is filled with high-quality proteins.
Salt & pepper: Salt & pepper to taste. Salt cuts the sweetness and helps cover up other tastes.
Almond: 3 tablespoons of toasted almond flakes (optional). Almonds are used in many cuisines, often in desserts.
How to Make Queen's Coronation Chicken:
Step 1: In a large skillet over medium-low heat, warm the extra-virgin olive oil.
Step 2: Cook the onion, bay leaf, and curry powder for 2 minutes over low heat.
Step 3: Bring the tomato paste, red wine, and water to a gentle boil.
Step 4: Add the lemon juice and a pinch of sugar, then season to taste with salt and freshly cracked black pepper.
Step 5: Simmer for 2 minutes until the sauce is thicker, then take it off the heat, pour it through a fine sieve, and let it cool.
Step 6: Mix the prepared sauce, mayonnaise, creme fraiche, and finely chopped apricots in a large bowl.
Step 7: Add the cooked chicken breast, and mix all the ingredients gently. Finally, add toasted almond flakes if you are using them.
Step 8: Enjoy the coronation chicken with salad and rice, or use it to stuff some potatoes or bread.
What To Serve With Coronation Chicken:
Take a look at these different options for what you can serve alongside coronation chicken:
Fluffy white rice: With a forkful of shredded chicken in that fragrant curry sauce and a bite of soft rice, you get a satisfying little taste of heaven. It only takes 10 minutes to boil a serving of rice, which is a classic and elegant food.
Baked potatoes: You can serve baked potatoes topped with creamy coronation chicken for lunch. The humble potato can be a real treat as long as you take the time to prepare it properly.
Naan bread: A coronation chicken sandwich is quick and tasty, but you can take things up a notch by serving your filling on fresh, pillowy naan bread. 
Green salad: Chop your salad ingredients and serve them with your coronation chicken.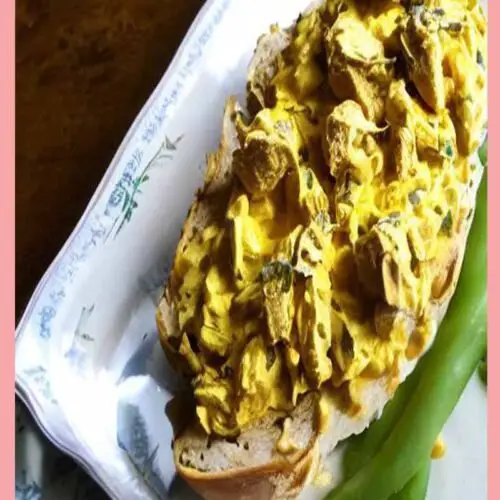 Queen Elizabeth Coronation Chicken Recipe
This Queen Elizabeth Coronation Chicken Recipe is a great way to make a meal taste even better. It can be used as a salad or a filling for sandwiches.
Print
Pin
Ingredients
1

Tbsp

Olive oil

2

Tbsp

Onion

1

Bay leaf

2

Tsp

Curry powder

1

Tsp

Tomato paste

60

ML

Red wine

60

ML

Water

1

Tbsp

Lemon juice

1/4

Tsp

Sugar

200

G

Mayonnaise

125

G

Creme fraiche

1

Tbsp

Dried apricots

2

Shredded chicken breasts

Salt & pepper

3

Tbsp

Toasted almond flakes
Instructions
Warm olive oil in a large pan on low heat. Cook the onion, bay leaf, and curry powder for 2 minutes.

Bring the tomato paste, red wine, and water to a gentle boil. Add lemon juice, sugar, salt, and pepper to taste.

Simmer for 2 minutes to thicken the sauce. Mix the sauce, mayonnaise, crème fraiche, and apricots in a bowl.

Mix in the cooked chicken breast. Lastly, add almond flakes. Serve it.
Tips
If you want to lighten things up a little more, swap the cream for Greek yoghurt.

The coronation chicken goes well with salad, rice, or as a stuffing for jacket potatoes and sandwiches.

You can grill or steam the skinless chicken breasts for the cooked chicken meat.

You can store coronation chicken leftovers in an airtight container and keep them in the fridge for up to two days.

To make it egg-free, you could use mayonnaise without eggs. 

Chicken must be cooked to the right temperature to avoid becoming tough and dry.

Don't crowd chicken pieces together when cooking. Leaving space between them will help them brown and cook more evenly.
Nutrition
Nutrition Facts
Queen Elizabeth Coronation Chicken Recipe
Amount per Serving
% Daily Value*
* Percent Daily Values are based on a 2000 calorie diet.
Final words: 
The original 1953 Coronation Chicken recipe, more commonly known as Coronation Chicken. People think it was based on the "Jubilee Chicken." The recipe for the chicken served at the coronation of Queen Elizabeth may be the most well-known dish in culinary history.
This dish is always a crowd-pleaser when it comes to picnics, barbecues, and office potlucks. With just a few simple ingredients, you can have a deliciously refreshing salad or the makings of a delicious chicken salad sandwich or wrap. Keep this simple recipe on hand for those unexpected guests.
You May Also Like:
La Madeleine Chicken Salad Recipe