Italian pastries called cannoli are made of fried pastry shells in the shape of tubes filled with a creamy, sweet filling that usually contains ricotta, a key ingredient in Sicilian cooking. They come in sizes between 9 and 20 centimetres. They are frequently referred to as "cannoli siciliani" in mainland Italy (Sicilian cannoli). 
This Cake Boss Cannoli Recipe creates a crisp, flaky cannoli shell that encases a rich, sweet, ricotta-filled centre flecked with delectable dark chocolate chips. Or, simply put, dessert nirvana! Even though making these handmade Italian pastries takes a bit more work than making some other treats, it is worth it! This article may find the Cake Boss Cannoli Recipe's step-by-step instructions.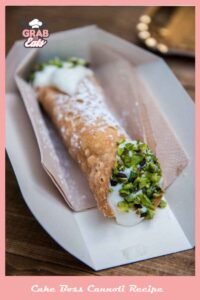 Know About Your Ingredients: 
Flour: 1 cup of all-purpose flour, plus additional for flouring the mixture and the work surface.
Sugar:  3/4 cup of granulated sugar. Granulated sugar or other natural sugars sweeten baked items, drinks, and savoury dishes.
Salt: A quarter teaspoon of salt. It's a strong food flavour. It enhances fragrances and balances flavours.
Butter: Unsalted butter. Shortening or lard could be used. It also helps make a dessert's texture light and soft.
Egg: 2 giant eggs. Eggs give baked goods structure, leavening, richness, colour, and flavour.
Vinegar: 2 tbsp. Pure white vinegar. Depending on the type, vinegar can add sweet, buttery, malty, and savoury flavours.
Vegetable Oil: 300 grams of canola oil, shortening, or lard. it remains liquid at average temperature, whereas butter solidifies; vegetable oil is a more reliable source of moisture.
Ricotta cheese: 2 cups of whole milk ricotta cheese. It can be used in cheesecakes or as a filling for cannoli or layer cakes, and it can also be mixed with sugars, spices, and flavours.
Ground cinnamon: 1 tsp. Of ground cinnamon. Any chocolate treat or beverage benefits significantly from adding cinnamon to the mix.
Heavy cream: 1/4 cup of heavy cream. Fillings in baked products and pastries are typically made with heavy or whipping cream. As a garnish or ingredient, whipped cream is also commonly used.
Mini chocolate chips: 1/4 cup of mini chocolate chips. Antioxidants can be found in dark chocolates like semi-sweet chips. Adding this to this dessert is a nice touch.
Lemon: 1 lemon. Lemon zest is the yellow portion of a lemon's peel. As an alternative to lemon juice, you can use the zest.
Pistachios and Almonds: If needed. Pistachios are often added to desserts, snacks, truffles, and pastries.
How to make Cannolis Cake Boss?
This classic recipe for homemade cannoli has a flaky, crisp shell and a creamy, delicious ricotta filling. You don't have to go to an Italian bakery to get cake boss cannoli once you can make them home. While making these authentic Italian pastries from scratch takes a little more time and effort, the results are definitely worth the extra effort!.
Step 1: Mix the flour, sugar, and salt in a large bowl.
Step 2: Crumble cold butter into the flour mixture. You can also use your hand, a fork, or even two knives. You may mix the butter in a food processor.
Step 3: Add vinegar and eggs until a dough forms.
Step 4: Flatten the dough, wrap it in plastic, and freeze for at least an hour.
Step 5: Take half or a third of the dough (keep the rest in the refrigerator) and roll it to a 1/4-inch thickness, as thin as possible without crumbling.
Step 6:  Cut dough into rounds with a 4-inch round cutter. Repeat with the remaining dough. Use the size cutter you desire for tiny or more giant cannoli shells.
Step 7: Cover a cannoli tube with dough. Brush the beaten egg on the dough and push to seal.
Step 8: Put a few inches of vegetable oil in a large, heavy pot or Dutch oven. Bring to 365 °F over medium-high heat.
Step 9: Use a spider strainer or tongs, and fry dough-wrapped moulds in heated oil for 3 minutes. Change when you need to. Don't overcrowd the pan when cooking the shells.
Step 10: Take the shells out of the oil and put them on tissue paper to cool them down. Fry the rest of the shells the same way.
Step 11: When pastry shells are cool, release metal moulds by gently squeezing and twisting.
Step 12: Before filling, allow the cannoli shells to cool entirely.
Step 13: Wrap the ricotta in cheesecloth and let it sit in a bowl to drain overnight.
Step 14: Mix the drained powdered sugar in a separate bowl.
Step 15: After adding the lemon's zest and chips, mix the ingredients until they are uniformly distributed. (Covered cream can also be refrigerated for a day)
Step 16: Cut a 1/2-inch slice off the corner of a disposable pastry bag to hold the cream.Pipe half the cream into a shell. The remaining liquid must be poured in through the opposite end. Repeat with the rest of the shells that you have.
Step 17: Dip-filled shells in chocolate chips, pistachios, and almonds if preferred. Serve cannoli with powdered sugar.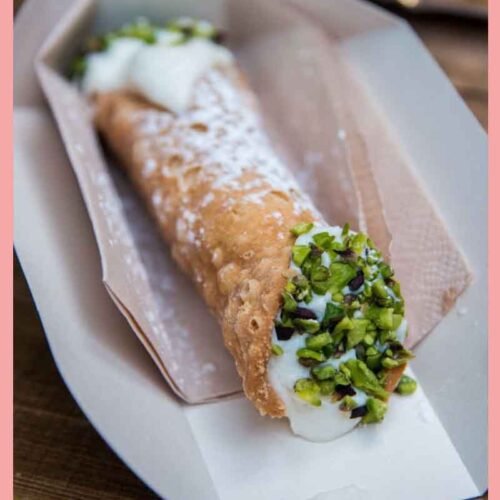 Cake Boss Cannoli Recipe
It's a traditional Italian pastry recipe. This cake boss cannoli recipe provides a flaky, crispy crust and a rich, creamy, sugary ricotta.
Print
Pin
Ingredients
For the shell:
250

g

Unbleached flour

(scoop to measure)

18

g

Granulated sugar

1/4

tbsp

Salt

3

tbsp

Chopped unsalted butter

1/3

cup

Marsala wine

1

Large egg

1

Egg white

8

cups

Vegetable Oil or shortening for frying
For the filling:
32

ounces

Strained ricotta

180

g

Powdered sugar

126

g

Mini chocolate chips

1/4

Tbsp

Ground cinnamon

Unsalted pistachios

if needed
Instructions
For the Fried Cannoli Shells:
To begin, prepare the dry ingredients in a food processor. Add the butter and process until smooth. The combination of eggs & marsala wine should be blended. Rest the made dough undercover

Warm up oil in a pot. On a floured surface, thinly roll out the dough. Shape the dough into circles or ovals

Brush egg white on top or bottom of cannoli rounds to seal. Fry in hot oil for 1–2 minutes until golden and crisp. Drain shells on paper towels

Take the shells out of the moulds, let the moulds cool, and do the process again
 For the Cannoli Filling:
Mix ricotta, chocolate chips, powdered sugar and cinnamon in a bowl. Transfer to a large-tip piping bag. Fill cooled cannoli shells
Nutrition
Nutrition Facts
Cake Boss Cannoli Recipe
Amount per Serving
% Daily Value*
* Percent Daily Values are based on a 2000 calorie diet.
Last Words: 
Flaky, soft cannoli shells are the perfect addition to the creamy filling. The filling is thick and sweetened with micro dark chocolate chips, which enhances that delightful flavour in the ricotta cannoli filling.
The number of steps in this recipe may seem difficult at first, but after you get the idea of it, making this cannoli will be a piece of cake. And who knows? They might have become a new party or holiday tradition.