The Perini Ranch Steakhouse in the small town of Buffalo Gap, Texas, in West Texas, is one of the five winners of America's Classics designation. When rancher Tom Perini opened his steakhouse in 1983, it quickly became a destination for foodies from all over the country. Texas Monthly ranked it as the third best steakhouse in the state (out of 38 total) in a December 2007 article.
This fantastic Perini Ranch Steakhouse Bread Pudding Recipe has a wonderfully soft texture, a crisp top, and a delectable classic pudding sauce. It is also just the right amount of sweetness. It's a quick and easy way to repurpose stale bread, and just because it's basic doesn't mean it doesn't taste amazing!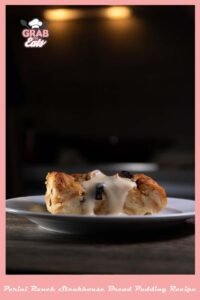 Perini Ranch Bread Pudding with Whiskey Sauce Recipe
Bread pudding is a well-liked cowboy dessert because it is an excellent method for repurposing leftover sourdough bread or biscuits. This recipe makes a deliciously soft pudding with a crisp top and a classic pudding sauce.
Know About Your Ingredients:
For the Pudding:
Egg: 2 eggs. Eggs add structure, richness, volume, flavor, and color to a dish.
Butter: 2 tablespoons melted butter. Butter is a milk product with a dense consistency. 
Vanilla: 2 tablespoons vanilla. Vanilla extract has a floral, sweet, and caramel-like flavor similar to jasmine.
Milk: 2 ½ cups milk. Milk moistens, colors and flavors baked foods while adding protein.
Sugar: 2 cups sugar. Sugar adds flavor and sweetness to desserts, beverages, and savory dishes.
Sourdough bread: 2 cups sourdough bread, cut into 1-inch cubes.
Pecans: ⅓ cup chopped pecans. Pecans' mild, sweet taste and buttery texture make them versatile ingredients.
For Whiskey Sauce: 
Sugar: ½ cup sugar. Sugar adds flavor and sweetness to desserts, beverages, and savory dishes.
Butter: 1 stick of butter. Butter is made from milk and has a thick consistency.
Cream: ½ cup cream. The cream makes baked goods moister.
Whiskey: ¼ cup whiskey. Whiskey, an alcoholic spirit, is distilled from fermented barley mash.
How to Make Bread Pudding and Whiskey Sauce Step by Step:
Preparing Pudding:
Step 1: Put the oven on at 325 degrees to start.
Step 2: Mix the butter, add the vanilla extract and milk to the beaten eggs and beat until smooth. 
Step 3: Add the sugar and stir until it has all melted.
Step 4: Make a bed of bread cubes in a round baking dish 9 inches across. The bread should be soaked well in the liquid before serving. 
Step 5: Chop some pecans, sprinkle them on top of the bread, and gently press them down.
Step 6: Cook it at 350 degrees for 50 to 60 minutes.
Preparing Whiskey Sauce: 
Step 1: Mix the ingredients in a medium saucepan. 
Step 2: Keep stirring while heating on low until a slow boil develops.
Step 3: Pour a single drop over each bread pudding serving.
Ranch Pudding Recipe
Pudding can be sweet or savory, cooked or uncooked, depending on where and when it is made.
Ingredients You Need:
1 cup brown sugar
2 ½ cups of water
2 tablespoons of butter
1 cup brown sugar
1/2 cup milk
1 1/4 cups Bisquick
1 cup raisins or chopped dates
1/2 to 1 cup chopped nuts
1 teaspoon vanilla extract
How to Make Ranch Pudding?
Step 1: Pre-heat oven to 375 degrees.
Step 2: Mix 1 cup of brown sugar, 1 cup of water, and 2 tablespoons of butter in a saucepan. Boil for 5 minutes. Pour into an 8-inch square pan.
Step 3: Mix the remaining ingredients in a bowl. Spoon batter on top of the sugar mixture. Bake for 45 minutes.
Step 4: Serve it warm with whipped cream.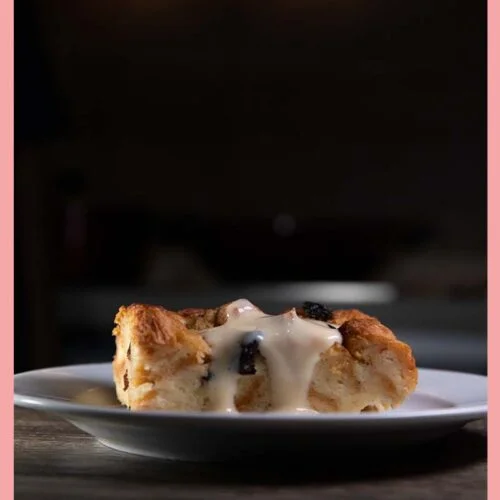 Perini Ranch Steakhouse Bread Pudding Recipe
The Perini Ranch Steakhouse Bread Pudding Recipe has a wonderfully soft texture, a crisp top, and a delicious classic pudding sauce to try at home.
Print
Pin
Ingredients
2

eggs

2 ½

cups

milk

2

cups

sugar

1/3

cup

chopped pecans

2

tbsp

melted butter

2

tbsp

vanilla

Mexican, if available

2

cups

sourdough bread into 1-inch cubes

1/2

cup

sugar

1

stick

butter

1/2

cup

cream

1/2

cup

 whiskey
Instructions
Mix the butter, vanilla, and milk into the eggs. Dissolve sugar thoroughly

Put bread cubes into a 9-inch round baking dish. Soak the bread with liquid. Add pecans to the bread and press them in

Bake it for 50-60 minutes

Mix the other ingredients in a medium saucepan. Stir over low heat until the mixture boils. Pour some over bread pudding servings
Tips
You can always add more flavor by making pudding from scratch or using a box mix. You only need a teaspoon of vanilla extract to make any pudding taste luxurious. You can add your preferred liquor to the mix as well. Adding a bit of your favorite liquor to your standard pudding recipe can completely transform it.
To achieve a homemade flavor when using a boxed mix that calls for milk, try using evaporated milk or canned coconut milk instead. The pudding will attain a new level of silkiness with these changes.
If you're making something as traditional as pudding, you might be tempted to use a wooden spoon. By whisking the ingredients, you will keep any clumps from forming. The last thing you want in a smooth pudding is to find a lump of flour or cornstarch.
Once the pudding has set and is chilling in the fridge, you can stop stirring. Don't even stir it up before putting it in dessert dishes. Going the pudding more after it's done will break up the thick texture you worked so hard to make.
Nutrition
Nutrition Facts
Perini Ranch Steakhouse Bread Pudding Recipe
Amount per Serving
% Daily Value*
* Percent Daily Values are based on a 2000 calorie diet.
Final words: 
You can make a delicious dessert in no time at all with the leftover bread from this Perini Ranch Steakhouse Bread Pudding recipe. Custard and slightly stale bread are the two main ingredients in a dessert known as bread pudding. The no-waste dish is so old that no one knows precisely when or where it came from. England in the 1300s called it "poor man's pudding" because the cooks who made it couldn't afford to throw any of the ingredients away.
Every home cook needs a standard recipe for bread pudding. This traditional version is rich, delicious, and easy to make with basic ingredients. Very quickly, it will become one of your go-to recipes in the kitchen.
You May Also Like: