Hot Slaws are delicious, but they're also messy. They require lots of ingredients and lots of prep work. It takes hours to make a batch of hot slaw, but it only lasts a few days before it goes bad.
This article will share how to make Pennsylvania Dutch Hot Slaw without any mess or hassle. This recipe is different than old-fashioned hot slaw recipes. This will last for weeks and months, and you won't even notice it's gone until you go looking for it.
We've tested this recipe repeatedly, and it always comes out perfect every time!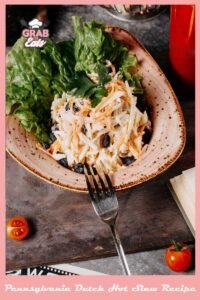 Know About the Pennsylvania Dutch Hot Slaw Ingredients
Collect all the ingredients before you start your preparation for the recipe. Check your nearest grocery shop if you don't have any of the ingredients at home.
Cabbage: We are using shredded green cabbage, not the red one. You can find them at grocery stores or farmer's markets. We will need 1 or 2 heads of cabbage.
Carrots: Carrots can be eaten raw or cooked. They have a lot of health benefits. We are using 2 carrots for added sweetness. 
Celery: Celery combines well with carrots. We are using 3 stalks of celery in this recipe. This will add flavor and crunchy texture.
Onions: onion is used in cooking because it has a mild flavor and can add depth to dishes without overpowering them. Onion is often added to soups, stews, sauces, salads, casseroles, sandwiches, pasta dishes, and other foods. Onions come in several varieties, including red onions, yellow onions, white onions, sweet onions, and shallots. In this recipe, we are using 4 medium-sized yellow onions. Don't get confused, yellow onions are the regular onions that you use every day.
Vinegar: We are using 1/2 cup vinegar for the flavor.
Sugar: We are using ½ cup sugar for sweetness and texture.
Mustard seed: the mustard seed is used in a hot slaw recipe because it has a high oil content which helps keep the dressing creamy. Mustard seeds can be found in most grocery stores. You can use them whole or ground up, depending on your preference. We are using 1 tbsp of mustard seed.
Caraway seed: caraway seed is used as an ingredient in hot slaw recipes because it has a strong flavor that compliments cabbage. We are using 1 tbsp caraway seed.
Use salt and pepper to taste.
Method of Preparing the Pennsylvania Dutch Hot Slaw
Follow these step-by-step instructions carefully.
Directions:
Step 1: Preheat the oven to 350 degrees Fahrenheit.
Step 2: Cut the cabbage into quarters and remove the core from each quarter.
Step 3: Then cut each quarter in half lengthwise.
Step 4: Remove the outer leaves of the cabbage
Step 5: set aside.
Step 6: Peel the carrots and cut them into small pieces (1 inch).
Step 7: Chop the celery into small pieces.
Step 8: Finely chop the onion.
Step 9: Take a large bowl and mix the vegetables.
Step 10: Add the vinegar, sugar, salt, mustard seeds, caraway seeds, and pepper. 
Step 11: Mix everything together well.
Step 12: Plastic wrap the bowl and refrigerate overnight.
Step 13: Pull out of the fridge the next day and stir again.
Step 14: Repeat this process once more.
Step 15: After three days, your hot slaw is ready to eat.
Enjoy!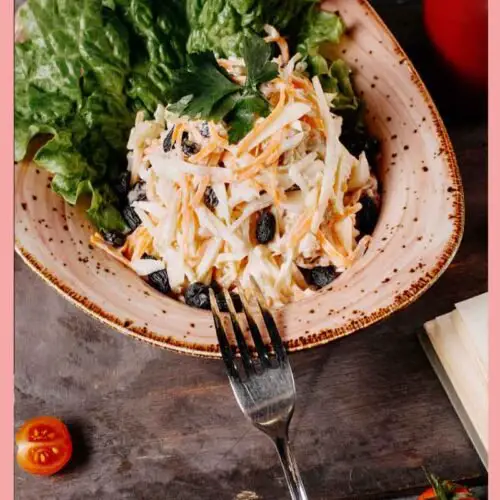 Pennsylvania Dutch Hot Slaw Recipe
This Pennsylvania Dutch Hot Slaw Recipe has been passed down through generations. It was originally served at German festivals and fairs.
Print
Pin
Ingredients
1

Head cabbage

2

Carrots

3

Stalks celery

4

Medium onions

1/2

cup

Vinegar

1/2

cup

Sugar

1

tbsp

Mustard seed

1

tbsp

Caraway seed
Instructions
Cut the cabbage and remove the core

Peel the carrots and cut them small

Chop the celery, onion and mix vegetables

Add the vinegar, sugar, salt, mustard seeds, caraway seeds, and pepper. and mix

Plastic wrap the bowl, refrigerate. Stir again

Repeat this process again
Nutrition
Nutrition Facts
Pennsylvania Dutch Hot Slaw Recipe
Amount per Serving
% Daily Value*
* Percent Daily Values are based on a 2000 calorie diet.
Conclusion
If you like coleslaw but hate the mayo, here's a delicious alternative. This version uses vinegar instead of oil, which gives it a tangy flavor. And since it's made from cabbage, it has lots of fiber, too. If you like cabbage, you should definitely give this Pennsylvania Dutch Hot Slaw a try. It has a nice balance between sweet and savory flavors and makes a great side dish when paired with chicken or pork. Try it and let us know what you think!
You May Also Like: