Cheddars grilled salmon recipe can be cooked quickly as a healthy and fulfilling meal. On top of that, it is delicious and nutritious. This recipe doesn't need too many complicated techniques. Instead, the salmon grills are rather pleasant to cook and enjoy! 
How to Make Bourbon Glaze for Salmon?
Glazing salmon is a great way to cook salmon fillet dishes. The Cheddars salmon grilled dish with bourbon glaze is a delight to have. It is a fulfilling meal yet so light and delicious. You can eat it with a side of various types of vegetables and it won't feel oily or too heavy. 
How to Prepare Cheddars Bourbon Glaze?
There are many variations of the same dish. There is a variation of this dish With citrus miso glazed salmon chedda. But this particular dish is using bourbon, brown sugar and low sodium soy sauce to do the glazing. The salmon fillets will be great to taste with this combination. Make sure you clean and debone the salmon fillets if there is a necessity for it. In most cases, the boneless part of the fish are used to make the fillets. But it's still wise to check and be sure, otherwise fish bones could stay in the fillets and create an unpleasant experience. 
Ingredients that You Will Need Are:
Brown sugar: You will need 3 tablespoons of brown sugar. 
Bourbon: 3 tablespoons of bourbon is necessary for the glazing. 
Low sodium soy sauce: 2 tablespoons of low-sodium soy sauce for added flavor. 
Ginger: 1 tablespoon of freshly peeled and grated ginger, this will add some freshness to the dish. 
Lime juice: 1 tablespoon of freshly squeezed lime juice to counter the intensity of the ingredients. 
Salmon fillet: 4 skinless salmon fillets weighing in total around 14-16 ounces is good for the dish. 
Garlic cloves: 3 minced garlic cloves will maintain the balance of the dish. 
Green onions: One-fourth of a cup of thinly sliced green onions adds more element to the dish. 
Sesame seeds: One tablespoon of toasted sesame seeds will work great for the garnish. 
Step by Step Instructions to Make the Grilled Salmon
Step 1: 
Clean and debone the salmon fillets. Take a Ziploc bag and add brown sugar, bourbon, low sodium soy sauce, lime juice, ginger, and minced garlic cloves.
Give them a good mix by locking the zip and shaking the bag. Then add the fillets in the bag and seal it. Let it marinade for a while in room temperature.
Step 2: 
Now, refrigerate the marinade bag for about one and a half hours. When the time is up, allow the marinade and fish to revert back to room temperature. This way, the fish won't let out too much water and the marinade will manage retention. 
Remember to turn the fish in the bag with 20-25 minutes intervals. This will allow the fish to marinade properly. 
Step 3: 
Ready a large skillet. Put it on the stove over medium-high temperature. You can either use cooking spray or butter.
It is recommended to optimize the flavor of the dish, to use butter. Cooking spray could be a good idea if you're in a hurry. Half a stick of butter should do the trick. Let it melt and spread all over the skillet surface. 
Step 4: 
Take the fish fillets out of the bag, place them carefully on the buttery skillet. Let it cook for about a minute, 30 seconds on each side. Add the marinade in the skillet, now. It will take about 3-5 minutes for the fillets to be cooked to perfection. Glaze the fillets with the cooking marinade jús. 
Step 5: 
Add the green onions. Toss them for a while till you turn the stove off, when the fillets are cooked. No one wants overcooked salmon. Serve on a plate with rice and vegetables like asparagus and celery.
Drizzle the jús of the cooked marinade as sauce and sprinkle toasted sesame seeds on top. If you want to, you can add some sliced green onion as garnish ong with the toasted sesame seeds too. You can add a slice or wedge of lemon on the side. Enjoy!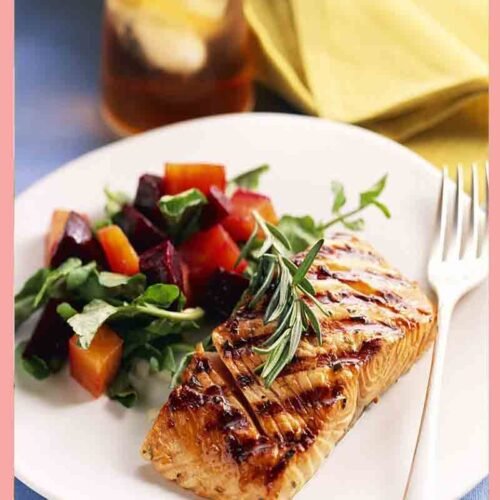 Cheddars Grilled Salmon Recipe
Cheddars grilled salmon recipe glazed with bourbon is a feast on its own. You can cook it with ease and enjoy it. Just check out the recipe!
Print
Pin
Ingredients
4

skinless Salmon fillets

(around 16 ounces)

3

tbsp

bourbon

1

tbsp

lime juice

3

minced garlic cloves

Freshly ground black pepper

according to taste

salt

according to taste

¼

Cup

thinly sliced green onions

1

tbsp

toasted sesame seeds

2

tbsp

low-sodium soy sauce

3

tbsp

brown sugar
Instructions
Refrigerate the salmon in the marinade for a pretty long while

Cook the fish for 4 minutes on each side, or until it flakes

Green onions and sesame seeds should be sprinkled on top of each serving
Tips
Make sure the salmon fillets are fresh and clean. Otherwise the dish will not taste as good as it sounds. Especially with bourbon and brown sugar elements. 

If you want to, you can keep the fish marinated in the refrigerator for more than 1 ½ hours. If you want to cook it the next day, freeze it overnight but don't turn it so often. Make sure you sprinkle some fresh lemon juice after taking it out of the bag to keep the freshness of the dish intact.
Nutrition
Nutrition Facts
Cheddars Grilled Salmon Recipe
Amount per Serving
% Daily Value*
* Percent Daily Values are based on a 2000 calorie diet.
Wrapping Up
This is a great dish for you to be able to cook. Especially with such delicate and delicious components like salmon fillets, bourbon and low-sodium soy sauce. You can easily gather the ingredients in no time and attempt as you would like to. Hopefully you will have fun cooking and having this dish. All you need to do for a successful completion of this dish is follow the recipe as instructed here.