If you have newly bought Nesco roaster oven and confused about what to make with it, you have come to the right place. Thanksgiving is knocking in our door so without turkey it seems bland. Today I will share my nesco roaster oven recipe for turkey that can be a perfect gift for any occasion. However, continue reading and learn about what we can do with Nesco Roaster oven.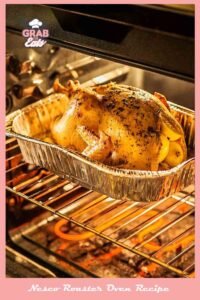 Know about the Ingredients for Roster Oven Turkey
Whole Turkey: Buy a whole turkey that weighs up to 20 lbs. In any grocery store or supermarket that is available in frozen state. I recommend you all to keep enough time in hand for thawing the whole turkey in the refrigerator.
If you have bought a turkey of 20 lbs, it would take 7 days for perfect thawing. Keep in the refrigerator the whole time to perfectly defrost. Though there are other methods like thawing in the microwave, but refrigerator thawing is the best process.
Olive Oil: Olive oil is one of the vital ingredients to prepare crispy browning turkey. Rub the turkey ¼ cup of olive oil. If you desire to have a buttery smell, you can use melted butter instead.  The amount would be same, ¼ cup.
Seasoning Salt & Poultry Seasoning: For spicing up the turkey, seasoning salt & poultry seasoning is must. They give turkey the best possible flavor.  Seasoning salt is the mixture of flavorful spices, salt, chili powder, garlic powder, onion powder, paprika, dried parsley, and black pepper powder. You will need 2 ½ tsp of seasoning salt.
Poultry seasoning is one-go interesting seasoning with dried basil, dried thyme, dried oregano, dried marjoram, paprika, dried rosemary, onion powder and garlic powder mixture. These two seasonings are available in the market. Measure 3 tsp of poultry seasoning.
Black Pepper:  ¾ tsp of freshly ground black pepper will do the flavouring job perfectly.
How to Make Turkey in Oven Roaster Step by Step:
Step 1: Bring out the roaster oven and take the roasting pan out of it with the metal rack.
Step 2: Set the oven for preheating at the temperature of 450 degrees F.
Step 3: Spray the baking pan with a non-stick cooking spray. If you don't have any non-stick cooking spray, you can line the roaster pan with aluminum foil as well.
Step 4: Uncover the thawed turkey and pat it dry finely with a kitchen towel.
Step 5: In a mixing bowl, add 2 2/1 tsp of seasoning salt, 3 tsp of poultry seasoning, and ¾ tsp of black pepper. Mix the seasonings all together.
Step 6: Pour ¼ cup of olive oil and rub finely around the skin and cavity. It seems very hilarious to me to put the wedding ring in the cavity during some weddings. Let's get back to the cooking!
Step 7: The preparation process is done, let's place the turkey carefully in the preheated nesco roaster oven.
Step 8: Take out a penny thermometer and insert it in the middle of the turkey breast to see the Temperature.
Step 9: It usually takes 4 hours to cook completely. After 2 hours reduce the temperature to 400 degrees F.  Check out the internal temperature time to time.
When done, remove the pan carefully and let stand for 10 minutes before slicing.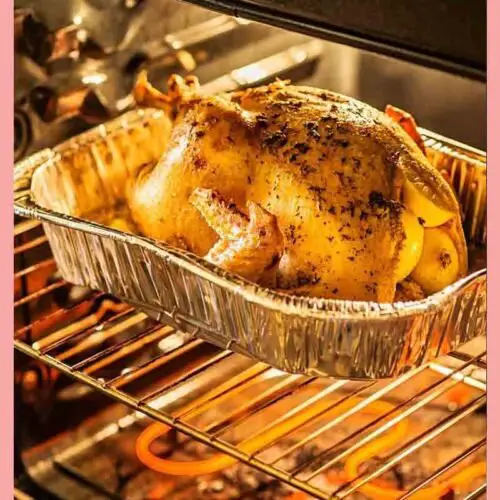 Nesco Roaster Oven Recipe
Nesco Roaster Oven Recipe of turkey or any meat takes some time but the juiciness inside and mouthwatering flavor is worth spending hours for this cooking.
Print
Pin
Ingredients
20

lbs

Whole turkey

1⁄4

Cup

olive oil or melted unsalted butter

1 1⁄2

tbsp

seasoning salt

3

tbsp

poultry seasoning

3/4

tbsp

freshly cracked pepper
Instructions
Preheat the roaster oven.

Rub with olive oil or melted butter

Mix seasoning salt, poultry seasoning, and black pepper altogether and rub on the turkey.
Tips
Never rinse the turkey. It is prohibited. If you do so the seasonings can't stick to the turkey finely.

If you want to have crispy turkey skin, loosely cover the turkey with foil and let rest under the broiler for 20 minutes.

Check on the turkey from time to time cause in the last phase the turkey got sensitive and there is the possibility of overcooking and drying out.
Nutrition
Nutrition Facts
Nesco Roaster Oven Recipe
Amount per Serving
% Daily Value*
* Percent Daily Values are based on a 2000 calorie diet.
Wrapping Up
Recipes for a roaster oven always take hours to prepare but the taste is beyond imagination. Make sure you don't hurry in these cases of cooking. You can enjoy the turkey with mashed potatoes, roasted broccoli or any of your favorite sides. Savor the juiciest turkey recipe with roaster oven. Enjoy your cooking experience and bon appetit!