The traditional sausage balls directly belong to the southern part of the US. No Christmas, Potluck, or New Year's evening can go without it. In the past years, this recipe's popularity spread worldwide.
To learn how to make the southern living sausage balls recipe, here you go. This recipe requires only 3 main ingredients and little time to make it. 
So, making it anytime is effortless for your grab-and-go morning or evening snacks. Not only snacks, it's also a quick solution for having something light for dinner/ lunch. 
To enjoy a crispy and crunchy texture, sausage balls are the topmost popular food item. Let's check out the details!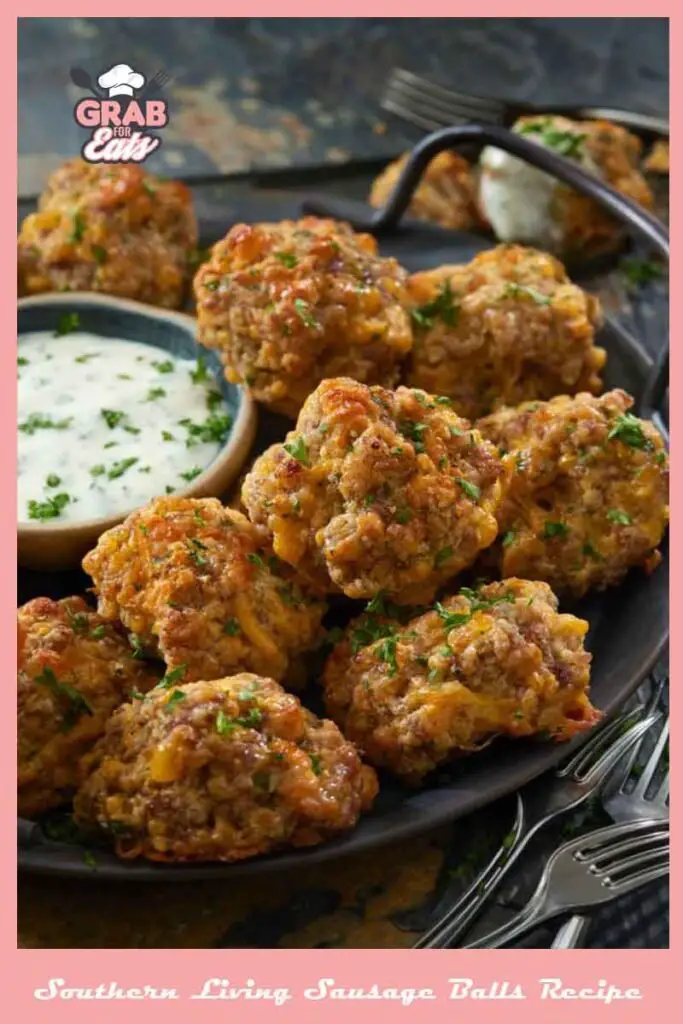 Know About the Southern Living Sausage Balls Recipe
Usually, making this recipe requires only 3 ingredients. And these are sausage, cheddar cheese, and flour. However, adding more ingredients for sausage balls increase the taste and flavor. Here's what you need to prepare this recipe to make it more delicious-
Ingredients You Need
All-Purpose Flour (2 Cups)
You need 2 cups of all-purpose flour. But almond or rice flour can be a good substitute for all-purpose flour. So, take which one is nearby. 
Baking Powder (1 tsp)
To get a good airy, light texture in the balls, you need 1 tsp baking powder. 
Salt and Black Pepper (¼ tsp)
Take ¼ tsp of salt and black pepper. You can increase the amount of salt according to your taste. Also, take ⅛ tsp of cayenne pepper. 
Cayenne Pepper (⅛ tsp)
Take ⅛ tsp of cayenne pepper or a bit more according to your necessity 
Butter (2 Tablespoon)
Cut the butter into 1/2ʺ pieces and take 2 tablespoons of the amount. Also, make sure the butter is unsalted.
Sausage (8 Ounce)
Take breakfast sausage of 8 ounces.
Cheddar Cheese
4 ounces of cheddar cheese is perfect for making the traditional sausage ball recipe. Ensure the cheese is sharp and old. If you measure in cups, take 1 cup of grated cheddar cheese.
NB: You do not need all the ingredients we mentioned. You can make it with only flour, sausage sauce, and cheese.   
How to Make Southern Living Sausage Balls Recipe?
Don't be stressed if it's your first time making this recipe. This recipe contains only 5 simple steps to go through. So, you can easily make your sausage balls-
Step-1
Preheat your microwave oven to 400°F. And if you go through Celsius, go at 200°C. Spread parchment paper on your baking sheet. Now take a food processor and put the mentioned amount of flour, salt, black pepper, and cayenne pepper in it. And mix all the ingredients well. Now pour the baking powder and again mix it all together.
Step-2
When you get the mixture mixed properly, add butter to it. Ensure that all the ingredients are mixed perfectly. Add cheese, buttermilk, and sausage and stir properly to mix perfectly. 
Once all the elements are mixed properly, transfer the mixture to another bowl. And you are almost near to making your sausage balls.
Step-3
It's now time to make the balls. So, round 1 tablespoon of dough on your palms with two hands. Put them on the baking sheet prepared with parchment paper in step 1. Put the balls maintaining a row so that they don't stick together with one another.  
Step-4
When finished making the balls, place the baking sheet in the oven. Bake for 30 minutes and let the balls become brown. Flip up the balls halfway through baking not to burn them. 
Step-5
If the balls are brown and cooked, heat off the oven and keep the baking sheet away for 10 minutes. Let the balls cool. Now serve with your favorite toppings.
Best Toppings
The sausage balls are ready to serve or eat right after cooking. But you can add the following to increase its taste a bit more-
Onion Spicy Sauce
Tomato Ketchup
Chili Sauce
Honey Mustard
Garlic Aioli
Hot Mustard
BBQ Sauce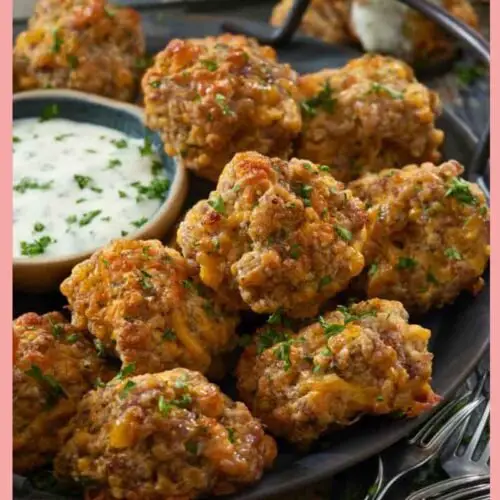 Southern Living Sausage Balls Recipe
Try the southern living sausage balls recipe to bring variety to your evening snacks. You need only 3 main ingredients and little time to prepare it.  Don't Miss It!
Print
Pin
Ingredients
2

Cups

All-Purpose Flour

1

Tsp

Baking Powder

¼

Tsp

Salt and Black Pepper

⅛

Tsp

Cayenne Pepper

2

Tbsp

Butter

8

Ounce

Sausage

4

Ounce

Cheddar Cheese
Instructions
Preheat the oven at 400°F

Take all the ingredients in a food processor and mix them properly

Start making the balls in a round shape using your hand palm 

Place the balls on a baking sheet in raw design

Your breakfast sausage balls are ready
Tips
Making 1 test-ball and dipping it into warm oil will help you determine if the dough is ready. And you can understand whether the dough is perfect for making the balls. If not, check out what more you need to add and add accordingly.

The batter can be sticking in your hands while making the balls. Therefore, we suggest rubbing some regular cooking oil on your palms.

Ensure the sausage is warm at room temperature before you mix it with other ingredients. It will make it easier the way to make the batter and also will release the grease. 

We strongly recommend avoiding pre-grated cheddar cheese. Because freshly grated cheese delivers more moisture.

Also, pre-shredded cheese will make the balls flat .

Keep the ingredients' ratio in a good balance. Or else the sausage balls will be dry. 
Nutrition
Nutrition Facts
Southern Living Sausage Balls Recipe
Amount per Serving
% Daily Value*
* Percent Daily Values are based on a 2000 calorie diet.
Conclusion
Since southern living sausage balls recipe needs only three main elements, it's always worth trying out. This recipe is easy to prepare and also needs very less time. Anybody, beginner to expert, can try this tasty treat recipe. 
Most importantly, you can preserve the prepared balls in your freeze unfried. And just pop in the oven them right before serving. Also, freezing the leftovers is possible for the sausage balls. You can put the leftover in an airtight jar and reheat them hassle-free before eating.  The sausage balls recipe is an excellent idea to meet your anytime appetizer. 
You May Also Like: