Jalapeno is a cooking ingredient with a huge amount of heat. It suits almost any recipe. The Jalapeno peppers canned recipe will be best served with your main courses. Its spicy flavor promises to increase the taste of the dishes.  
Not only spicy taste, but you'll also get the Vitamin A and C available in the canned jalapeno peppers. And the availability of carotin will help you fight against damaged cells in your body. Moreover, the canned jalapeno peppers recipe is highly appreciable for getting Vitamin K and B.
The jalapeno recipe is well-storable and can refrigerate for 5 to 6 months. So you can serve them conveniently among guests or family members. Check out the recipe detail given below.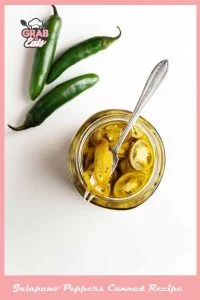 Jalapeno Peppers Canned Recipe 
Ingredients you need to make this recipe are-
Jalapeno (150 Grams)
9 to 10 fresh jalapenos are enough to make 1 can. And, if you measure into grams, take 150 grams of them. Taking more jalapenos requires 2 jars. To make the canned jalapeno, try taking the fresh jalapeno than the canned ones. 
Vinegar ( ½ Cup)
To get ideal preservation, vinegar is handy. Vinegar is considered a natural preservative solution. It will keep the pickled jalapenos in good condition in the fridge for months.  Therefore, you'll require to take ½ cup of vinegar. 
Water (½ Cup)
You need water for this recipe to soak the jalapenos. So, take ½ cup of cold water. If you double the amount of jalapenos, you need to take 2 cups of water.
Sugar (2 Tbsp)
Since jalapenos come in a hot spicy taste, adding sugar will bring a sweet taste. In this case, we'll add 2 tbsp of sugar. You can add more or less according to your spice preference. 
Salt (1 Tsp)
Take 1 tsp of salt for this recipe
How to Make Can Jalapeno Peppers?
Follow the given step-by-step guide for canning jalapenos-
Step-1
Wash jalapenos and wipe them using a paper towel. Now chop each jalapeno into a round shape. Ensure the slices are thin. Making the slices thick won't let them soak well for canning. 
Step-2
Put your pan on the stove at medium heat. Add water, vinegar, sugar, and salt in it. Keep stirring until the sugar and salt dissolve.  Let the water boil for 5 minutes.
Step-3
Turn off the heat and add jalapenos. Keep stirring and mix them into the boiled water properly. 
Step-4
Pour the mixture into a large bowl so that it can be cold fast. Let it cook for 10 minutes. After that, check out whether the jalapenos turned into olive green color. 
Step-5
Now take your can or jar and pour the cold and soaked jalapenos into it. Don't throw the liquid. Pour the liquid onto your jar as well. And ensure all the pieces of jalapenos are immersed into the liquid perfectly. 
Step-6
The lid on the jar and keep it in the fridge. Your canned jalapenos will be ready after 2 days. So, you shouldn't take it out of the fridge for 2 days. 
Best Dishes To Serve with
Canned jalapenos work as the best toppings for the following dishes. Serving them with these dishes will surely enhance the heat and spiciness-
Chicken pesto Pizza
Buffalo Wings
Chicken Wings
Corn Salsa
Mac & Cheese
Coleslaw
Squash Puppies
Meatballs
Pasta 
Sandwich
Tacos
Noodles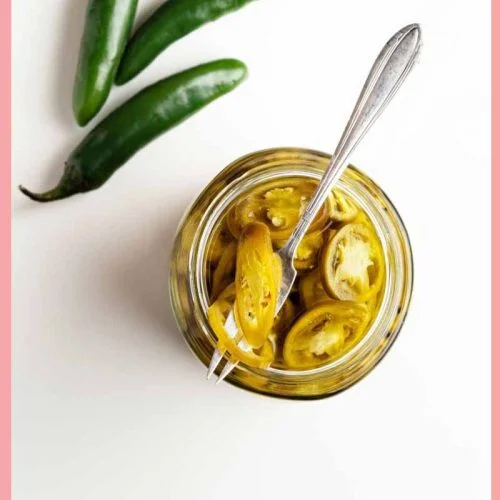 Jalapeno Peppers Canned Recipe || Enrich Your Spiciness with Maximum Heat
Try the easiest jalapeno peppers canned recipe to meet your spicy cravings in each bite. It's the year round serving solution and also well servable with dishes.
Print
Pin
Ingredients
150

Grams

Jalapeno

½

Cup

Vinegar

½

Cups

Water

2

Tbsp

Sugar

1

Tsp

Salt
Instructions
Chop each jalapeno into a round shape.

Heat on the pan and add water, vinegar, sugar, and salt in it. Keep stirring for 5 minutes.

Turn off the heat and add jalapenos. Keep stirring and mix them into the boiled water properly.

Take a large bowl and transfer the jalapenos into it for 10 minutes.

Pour the jalapenos and liquid into a jar.

Lid on the jar and keep it in the fridge.

Your canned jalapenos will be ready after 2 days.
Tips
Try taking the fresh and older jalapenos while making this recipe. Young jalapenos won't make your recipe spicy at all

Refrigerating is the best way to store or preserve the canned jalapeno.

If you have no vinegar, use only water for canning t.alapenos.

Don't boil the jalapenos in water for a long time. It will make them mushy.
Nutrition
Nutrition Facts
Jalapeno Peppers Canned Recipe || Enrich Your Spiciness with Maximum Heat
Amount per Serving
% Daily Value*
* Percent Daily Values are based on a 2000 calorie diet.
How Do You Preserve Jalapenos?
There are several ways to preserve jalapenos. You can store them in any of your preferred ways. Here are 3 of the best ways to preserve jalapenos-
Canning/Pickling
The best way to preserve the jalapenos is by pickling them. Canned jalapenos are preservable for up to 4 to 5 years, depending on their condition. 
Direct Refrigerating
If you don't want long-term preservation, store them in the fridge. In this case, you don't have to process the jalapenos. Put them in a plastic bag and refrigerate. This preserving method will let the jalapenos last for weeks. 
Dehydrating
It's another easiest process to store the jalapenos. Dehydrate the jalapenos and make them flakes or powders. It will also make your recipes tasty and spicy. 
How Long Do Pickled Jalapenos Last?
Pickled jalapenos are storable for a long time. Depending on how you store it, the storing time can vary between 6 months to 18 months. It also depends on whether the canned jalapenos are homemade or store-bought. 
In general, commercially canned jalapenos are readily storable for up to 3 years. However,  homemade canned jalapenos are good to store for up to 6 months.
If you keep the jar airtight and unopened from the first day, you can store them for more than 2 years.
Ensure the temperature is below 40° F while storing. It's the ideal temperature for jalapeno storage. 
Conclusion
What if you can make a spicy recipe with only water, sugar, and salt? Although it seems unbelievable, you can make the  jalapeno peppers canned recipe with these simple ingredients. Making this spice and super hot recipe requires no additional spices or toppings. You can make it troubler-free with the available and most common cooking elements.
Most importantly, whatever dishes you serve with, the canned jalapenos will taste amazing. If you're a spice lover, keep a jar of pickled jalapeno in your fridge for regular purposes.