Funnel Cake is usually a fair favorite to all of us, but it's even more delicious and taste better when it is made at home. You can enjoy crispy, crunchy fried funnel cakes at your place any time of the year with a very easy funnel cake recipe without baking powder and you do not have to wait for fair for having a funnel cakes.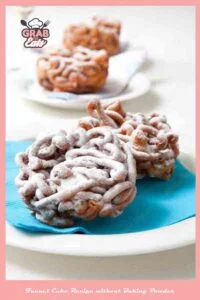 The web like appealing structure is attractive part of this funnel cake. One is easily attracted toward its' charm. 
In this recipe, we will guide you with everything you need for cooking this cake. After going through the whole recipe, you will find it super easy to make funnel cake at home. 
How to Cook Funnel Cake without Baking Soda? 
The funnel cake is a great and exciting dessert which is usually a charm of fair or carnivals. It's a crispy fried sweet cake usually topped with powdered sugar, whipped cream or chocolate sauce.
Although, baking powder is a common and essential ingredients for making of batter but here we will prepare our funnel cake without baking powder. 
As some variation of funnel cake recipe without baking powder we can also try, paleo funnel cake recipe, funnel cake with pancake mix or banana funnel cake as well.
How to Make Funnel Cakes without Baking Powder?
Preparing the funnel cake is quite easy and straightforward. It takes about 10 minutes or so to fully prepare the batter of your funnel cake all you need to mix the ingredients and pour it into oil then fry!!
You need about only 2-3 minutes to fry to get desired golden brown color funnel cake. Proper mixing, evenly whisking and perfect heat of the oil is most important to get a crispy funnel cake.  We will instruct the cooking process in detail later in our recipe. 
Ingredients that You Will Need Are:
You will need a few ingredients and which are so available and easy to collect from your nearest shop. After collecting all the following ingredients, you can start the cooking process: 
Vegetable oil: About 1liter of oil is need to fry the funnel cake. The canola oil can be the best choice for this recipe. Canola oil considered a "healthy" oil because of the reason that it is very low in saturated fat (7%). Also canola oil contains decent amounts of phytosterols that usually reduce the absorption of cholesterol into our body.
All-purpose flour: You will need to take 3 cups off all-purpose flour. 
Sugar: Around ¼ cup of sugar is need for the sweetness of funnel cake.
Salt: add salt according to your own taste, about ½ teaspoon is enough.
Eggs: you will need 3 eggs for your batter. Egg whites are essential for the characteristic whipping ability and volume buildup in cakes where it acts as a leavening agent.
Milk: 2 cups of milk will be needed for batter making. Milk usually moist the batter as with that milk provides nutrients value to the recipe
Powdered sugar: for sprinkling over cake
Step by Step Directions for Funnel Cake Recipe without Baking Powder
Step 1: First put your oil on heat. Heat your oil in deep-fryer to 350 degrees F. 
Step 2: Now Mix all-purpose flour, white sugar and salt together in a bowl
Step 3: Whisk in all 3 eggs and milk with the mixture. You will get a batter for your funnel cake
Step 4: Now safely pour 1/2 cup batter through funnel into hot oil moving in a circular motion for making each funnel cake spiral-shaped
Step 5: Fry each spiral-shaped funnel cake batter until it become golden brown in color, it will take only about 2 or 3 minutes,
Step 6: Remove the cake with the help of tongs and lay it on a paper toweling to absorb extra oil.
Step 7: Transfer all the funnel cake to a plate and sprinkle powdered sugar or use your desired toppings, Serve immediately to get the crispy taste of your funnel cake.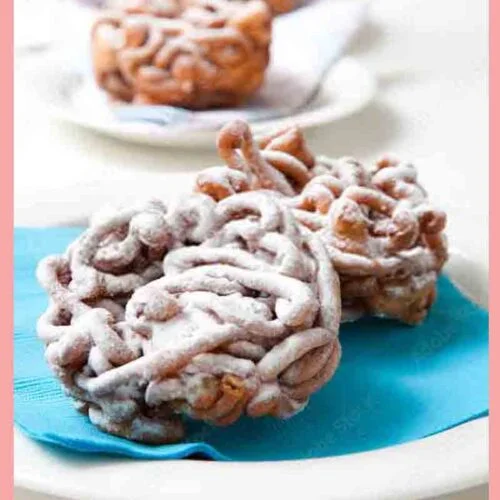 Funnel Cake Recipe without Baking Powder
Funnel cake Recipe without baking powder is a delicious and attractive for a dessert in any fair or carnivals. It can add charm to your parties or events if you prepare at your home and add to your dessert menu.
Print
Pin
Ingredients
4

Cup

vegetable oil

3

Cup

all-purpose flour

1/4

Cup

white sugar

1/2

Cup

water

2

Cup

milk
Instructions
Heat the oil at 350 degrees F

Mix all dry/powder component (Flour, sugar, salt) together

Add egg, milk and water and whisk all together to get batter

pour 1/2 cup batter through funnel into hot oil moving in a circular motion

Fry for 3minutes to get a golden brown cake

Sprinkle powder sugar top of the cake and serve immediately
Tips
A thermometer is a great helping tool to get the right temperature of the oil for cooking funnel cake. 
If the oil is too hot, the exterior part of the cake will burn before the interior portion cooks properly
If the cooking oil is not hot enough, the funnel cake will absorb too much oil as for cooking it, as a result your funnel cake will become too greasy.
Nutrition
Nutrition Facts
Funnel Cake Recipe without Baking Powder
Amount per Serving
% Daily Value*
* Percent Daily Values are based on a 2000 calorie diet.
Wrapping Up
We tried this homemade funnel cake with pancake mix several times and shared the funnel cake with friends and family. You don't need to try out something special while cooking the funnel cake. Just hit your oil properly and fry your cakes and enjoy the crisp!!
You May Also Like: