Galatoire's sweet potato cheesecake recipe is a real treat that you won't ever want to miss. Preparing cheesecake with sweet potatoes is a pretty unique and amazing way to surprise people. To get the different flavors apart from regular vanilla, strawberry, etc. sweet potato cake is perfect to provide different tastes along with satisfying your taste buds. 
It is an ideal dish to have with the whole family on a bright summer day, or you can acquaint your guests with the taste. Get real fun with super moist creamy yam cheesecake.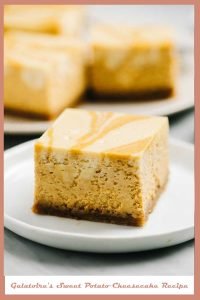 Know About the Recipe and Ingredients:
This potatoes cheese cake recipe needs common ingredients. Still, it is necessary to learn about what you are using. So, let's know more about this recipe.
Cream Cheese: Cream cheese is a delicate, typically gentle, or mild-tasting type of cheddar cheese produced using fresh milk along with the cream. It contains 33% to 55% milk fat and is the vital ingredient for preparing cheesecake. 
Sour cream: It is a popular dairy product produced by fermenting regular cream using lactic acid with some certain kind of bacteria. It is used in order to balance the taste of sweetness and spices. Also, it thickens the food in a moist way. 
Kosher salt: It is generally called the "balance-creator" and is used for enhancing all the flavors available in the food. I prefer using Kosher salt. You can add any type of salt available in your pantry. 
Sweet Potato: Sweet potatoes are sweet, bland root vegetables that are available around the world. 
They arrive in an assortment of sizes and colors like: orange, white, purple, etc., and are plentiful in nutrients, minerals, fiber, vitamins, and the main ingredient for sweet potato cheesecake pie.
How to Make Sweet Potato Cheesecake
To prepare sweet potato pie cheesecake, you need to first know what ingredients you will need. Then as per instructions, you need to gather them and prepare them. Then the cooking process! In this article, you will get a crystal clear direction for how to prepare this step by step like preparing the crust, batter, cheesecake baking time, toppings, pecans, etc. 
Mainly, there are three phases of preparing it. So, let's proceed to the recipe.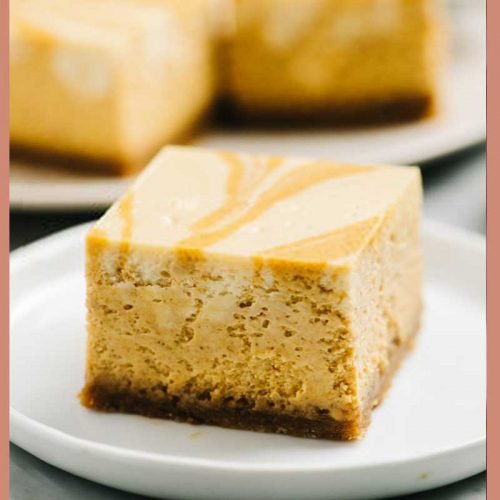 Galatoire's Sweet Potato Cheesecake Recipe
Enjoy Galatoire's sweet potato cheesecake recipe at home to make special occasions more enjoyable. This recipe will never disappoint you!
Print
Pin
Ingredients
For the crust
2

cups

graham cracker crumbs

1/4

cup

icing sugar

(I use confectioners' icing sugar)

8

tbsp

butter or margarine
For the cheesecake
4.5

cups

cream cheese

softened at room temperature

1.5

cup

white sugar

1/8

tbsp

Kosher salt

6

eggs

2

egg yolks

1/2

cup

sour cream

6

tbsp

all-purpose flour

1

tbsp

vanilla extract

1/4

tbsp

ginger powder

1/4

tbsp

ground cinnamon

1/8

tbsp

nutmeg

4

sweet potatoes

properly baked, peeled, and passed
Candied Pecans
1

cup

white sugar or granulated sugar

1

cup

toasted pecans

1

tbsp

 Butter

for greasing the pan
Instructions
Preparing the crust:
Take out a mixing bowl. Add sugar, graham cracker crumbs, along with melted butter in the bowl, and mix very finely.

With a spoon, press the mixture into the 10-inch Bundt cake pan and let chill in the refrigerator for 30 minutes.

Now, you need to set the oven for preheating at the temperature of 350 degrees F.

Bake the prepared crust for 10 minutes to 12 minutes. Then allow the crust to cool.

With a non-stick cooking spray, grease the ban lightly.
Preparing the cheesecake batter:
You need to raise the oven temperature to 450 degrees F.

Also, bring out an electric mixer and in the bowl of that mixer. Add cream cheese.

Using the paddle attachment, beat the cheese for 3 minutes to 5 minutes or until super smooth.

Continue the mixing process and one by one add salt along with sugar.

Pour one egg at a time. Then, place all-purpose flour, sour cream, vanilla extract, ginger powder, cinnamon, along with nutmeg.

Put the speed of the mixer on low and mix properly. When smooth, add sweet potato and continue mixing.

Transfer the batter into the crust-lined pan. Also, you need to place a baking pan filled with hot water, under the cheesecake pan.

Set the baking time for 15 minutes to 17 minutes at the temperature of 450 degrees F.

Lowering the temperature to 250 degrees F, continue baking for 1 hour 30 minutes or until the cheesecake becomes firm.
Preparing candied pecans:
Start by melting the white sugar. Heat up until the temperature reaches to 310 degrees F.

Add nuts and stir until finely coated.

Now, pour on the top of the buttered baking pan and try to keep the nuts in separated pieces in the food processor.

Keep the pan on the wire rack and let cool it. This will take about 30 minutes.

Wrap the cheesecake in plastic and keep it in the refrigerator.

When chilled, serve using topping and enjoy!
Tips
In this recipe, we have used fresh roasted sweet potatoes, instead, you can use 2 cups of sweet potato puree (canned) as a substitute. 
The cream cheese should not be too soft, in case it will mix with the potato layer. 
You can also use frozen sweet potatoes not roasted, but do mash with a spoon before adding to the food processor.
If you want to have pumpkin cheesecake, then the whole procedure is the same. Instead of sweet potatoes, just add pumpkin puree and instead of white sugar add brown sugar. That's it!
Nutrition
Nutrition Facts
Galatoire's Sweet Potato Cheesecake Recipe
Amount per Serving
% Daily Value*
* Percent Daily Values are based on a 2000 calorie diet.
Conclusion: 
This vanilla sweet potato cheesecake is a perfect way to prepare something impressive for your dear ones. This sweet soul comes in a very effortless way, within a few hours and of course, your grannies will love it because of the all traditional flavor. Its every bite is full of creamy flavors.
You May Also Like: