Italian style bread recipe is one of the easiest ways you can make a great dish to serve along with your choice of the main course. It can also serve as an appetizer. You can arrange the dish in any manner you like while serving because the dish will look perfect and appetizing however it is served. It is a delight to have to bake this dish and the work seems worth it.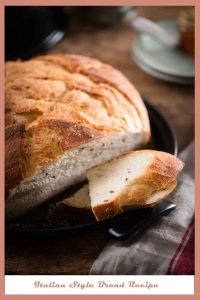 Know About Recipe and Ingredients:
Star bread ingredients are easy to find and you will not face too much hassle. Italian star cookies can be made by using sweet ingredients. There is another recipe where you can make easy Nutella star bread. That requires adjustments for the fillings. But with this recipe, you can make a savory dish. But for this savory recipe, there are certain ingredients that make the dish taste so good.
Italian dry seasoning: This particular seasoning mix goes really well with savory-style bread. It is also used to season pasta, pizza, and other Italian savory dishes. 
Parmesan cheese: Parmesan s a crumbly textured cheese. It is used in this to make one part of the filling. It tastes really well in other Italian-origin dishes too. 
Castor sugar: Castor sugar is a type of grainy sugar that is widely used in making bread-type dishes. It is widely available and quite popular among food supply chains. You can use it in your bread-making and see the effect for yourself. It does not overwhelm the amount of sweetness yet is perfect to balance with the other flavors in a dish.
How to Make Horn Bread?
Following this recipe will be really helpful because it will guide you through the whole process step by step. You can enjoy this dish with condiments and meaty main dishes. It can be enjoyed alongside pasta or gravy-inclusive dishes. 
The process is really easy but it takes a bit of time to go through all the steps. You will not regret attempting to bake this dish. You can serve this as a part of any party you throw and it is guaranteed to be a hit among the guests. The Italian infusion will make it taste awesome and hopefully, everyone will enjoy having it.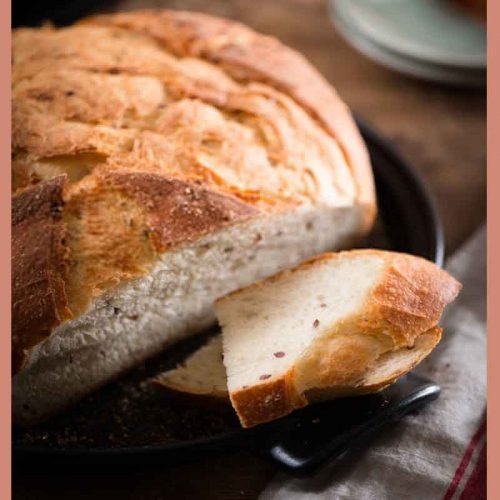 Italian Style Bread Recipe
If you try baking this delicious savory Italian style bread recipe you will not regret it, in fact, may even become a fan of this dish! It is delightful to bake and enjoy.
Print
Pin
Ingredients
For bread
1.5

cups

 full cream milk

1

tbsp

instant dry yeast

2

tbsp

castor sugar

2.5

cups

all-purpose flour

2/3

cup

unsalted butter

2

large eggs

1.5

tbsp

salt
For the Pesto Filling
2

cups

parmesan grated

1

small bunch of basil

(about 4-5 twigs worth of basil)

1/4

cup

salted cashew nuts

1

clove

minced garlic

2.5

tbsp

extra virgin olive oil
For Mozzarella filling
2

tbsp

tomato paste

3/4

tbsp

salt

1/4

tbsp

pepper

1

tbsp

dry Italian seasonings

1

tbsp

extra virgin olive oil

2

cups

grated mozzarella cheese
Instructions
Dissolve yeast and sugar in warm milk in a large mixing basin until slightly foamy. Sift in the flour, then stir in the salt, butter, and egg. Mix with your hands, then knead for 5 minutes to get a smooth dough.

When probed with a fork, the dough gently springs back. Cover the basin with a clean cloth and set it aside in a warm location for about 60 minutes, or until the dough has doubled in size.

To make the pesto, combine all of the ingredients in a food processor and pulse until a coarse mixture forms. If the mixture is too stiff, add more oil. Spreadable but not runny consistency is ideal. Combine tomato paste, herbs, salt, pepper, and olive oil in a separate bowl.

Preheat the oven to 390 degrees Fahrenheit. The dough should be knocked down, then divided into four equal pieces and shaped into smooth balls. Each piece should be rolled into a 30cm circle. Place one circle on a baking sheet that has been lined.

Half of the tomato paste mixture should be spread on top, then half of the mozzarella should be evenly distributed. Cover with a second dough circle and equally apply the pesto. Make sure it is evenly spread.

Finish with a third layer of dough and the tomato paste and mozzarella mixture, then the final layer of dough. To adhere the layers together, softly press down.

To make the star, lay a tiny glass in the center of the bread and cut 16 equally spaced slices from the glass to the edge using a sharp knife. Twist two strips apart from each other twice to separate them. To seal the seam, press the ends firmly together and fold them down.

Continue with the remaining strips until you have an eight-pointed star. Remove the glass from the situation. Brush the bread with egg wash and bake till golden brown, around 25-30 minutes. Warm the dish before serving.
Tips
Cover the leftover dough with a clean cloth while working on each layer to prevent it from drying.
You can seal the dough by pressing with your fingertips lightly but make sure the shape doesn't get ruined or the pieces will look smudgy. 
When making the filling, do not let the ingredients lump up or the filling will not feel smooth after being baked. Make sure you mix them well enough so they are pretty smooth and most importantly, have no lumps.
Nutrition
Nutrition Facts
Italian Style Bread Recipe
Amount per Serving
% Daily Value*
* Percent Daily Values are based on a 2000 calorie diet.
Conclusion
You can bake this delicious treat from the comfort of your home. The ingredients mesh really well together. You only have to be very careful while making the filling and while preparing the bread pieces with them. Otherwise, the rest of the work is done by itself. Hopefully, you will be successful in cooking this awesome dish and be able to enjoy it thoroughly.
You May Also Like: