If you intend to increase the taste of your chicken pieces, cook chicken in marinara sauce recipe. Adding chicken to marinara sauce tastes the next level. This recipe is perfect to have with pasta. It has high ratings of popularity for its extraordinary flavor. 
The chicken in marinara sauce recipe is tremendously popular for its easy cooking process. Preparing this item requires all the easily available ingredients. And also takes very less time to prepare and cook. 
Another good reason for its popularity is the storage process. You can easily store it in an airtight jar for up to 4 days.  Pretty Incredible!
So, let's check out how easily you can make this time-saving red sauce and chicken.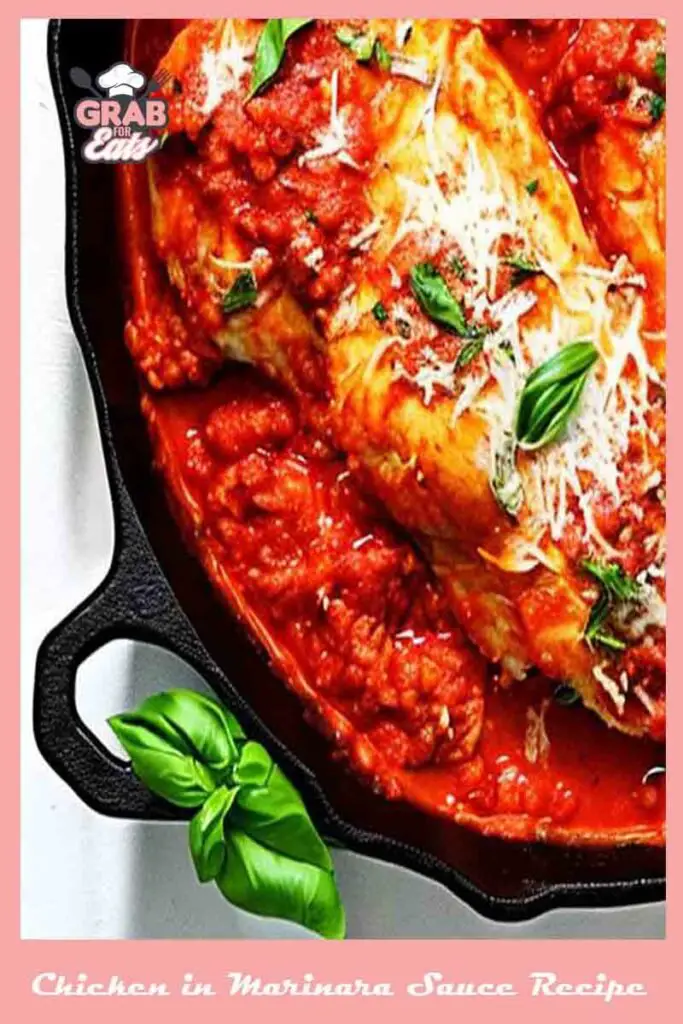 Know About the Chicken in Marinara Sauce Recipe
The chicken in marinara sauce recipe uses fresh ingredients. As a result, it comes out with a delicious taste. To prepare this sauce recipe, you never have to be in a fixed cooking format. 
Tomato is the second main ingredient after chicken. Due to the tomato, this sauce becomes thinner and simpler with pasta. 
Chicken
It offers the flexibility to choose the ingredients you prefer. For example, there are no rules for using skinless chicken thighs. It differs in your choice, and you can add chicken as you like. 
It can be boneless chicken thigh or skinless chicken breast.  And this is actually what makes this recipe easier to make any time. But we prefer to take the boneless chicken breast in 4 pieces. 
Marinara Sauce 
The amount you need is 1 ¾ cups of marinara sauce. If you want to get a strong flavor, take 2 cups straight. 
Olive Oil/Vegetable Oli
Take 2 tsp of olive oil or vegetable oil. It can be a little more if you want. 
Italian Seasoning 
This item is a blend of ground herbs that combines basil, oregano, garlic powder, thyme, sage, rosemary,  or coriander. Adding this seasoning will make your sauce more flavourful. But the marinara sauce recipe requires very little of it. You need only 1 tsp of Italian seasoning. 
Tips: Instead, you can use ½ tsp of dried basil and ½ tsp of dried oregano. It's a great substitute for Italian seasoning. 
Kosher Salt & Red Pepper Flakes
Use these two items as per your taste preference. But we prefer taking 1 tsp of kosher salt to increase the taste. And, in terms of pepper, we prefer red pepper flakes of 2 tsp. 
Garlic 
The amount of garlic can be more or less according to your taste. We have taken 4 to 7 cloves here. 
Spinach / Basil
Take fresh spinach of 2 cups. If you don't like spinach, use fresh basil instead. 
Mozzarella Cheese (Optional)
Using mozzarella cheese isn't fixed or mandatory. It enhances the chicken taste with marinara sauce. So, we like using mozzarella cheese with the chicken in marinara sauce recipe. If you take the mozzarella cheese, take 300g. 
Chopped/ Shred Onion
Yellow or white onions are the best choice for this recipe. Because both these onions can make an excellent caramel. Also, these onion has high sugar content. Take 1 cup of onion and chop them into ¼ʺ to ¾ ʺ thick size. The sizes can be bigger or smaller as you like. 
How to Make Chicken in Marinara Sauce Recipe
Cooking Chicken with marinara sauce is an easy deal as always. Let's check out the cooking process- 
Step-1 
Preheat your oven to 400° F. Put onion and 2 cloves of garlic and stir them. Stir them until they are brown and spreading fragments. Now spread the spinach on the oven evenly in a single layer. Set it aside 
Step 2
Now take a bowl and take marinara sauce 1 ¾ cups. Add garlic, tomato slices, salt, pepper, and Italian seasoning. And stir them until mixing well. 
Step 3
Take ¾ cups of mixed marinara sauce you have stirred right away. And pour them over the spinach that you have kept aside. Now pour the marinara sauce with the spinach properly. 
Step 4
Coat the chicken pieces (both sides) with salt, olive oil, and pepper. 
Step 5
Put the chicken on the spinach (top of spinach) in a single layer. Now set the remaining 3 pieces of chicken on the spinach top with the marinara sauce. Now put mozzarella cheese on the top of the chicken covered with marinara sauce. 
Step 6
Bake your chicken in marinara sauce for 30 to 50 minutes at a temperature of 165 degrees F. Ensure you bake it uncovered because baking uncovered will take less time than normal.  Now your recipe is ready to serve. 
Chicken in Marinara Sauce as Topping
This recipe works as a delicious topping to use with pasta especially. Also, you can have it with grains like rice. Making a good combination with vegetables will surely give you an amazing taste. 
You also can have this item with bread or spaghetti. Here are some more dishes that match the chicken in the marinara sauce the best-
Baked pasta
Pizza Bread
Meatballs
Bread and salad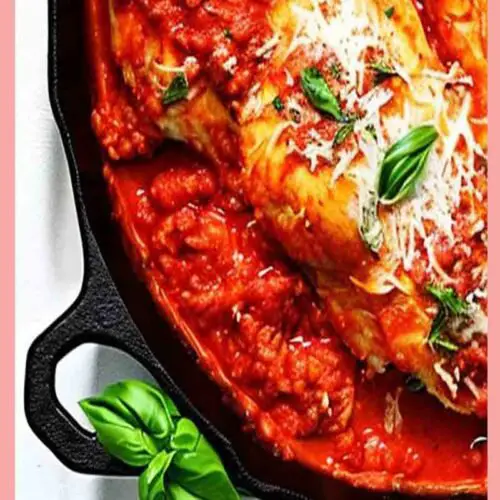 Chicken in Marinara Sauce Recipe
Serve your chicken differently. And the best way can be the chicken in marinara sauce recipe. It's a great topping for pizza, bread, or grains. 
Print
Pin
Ingredients
4

Pieces

Chicken

1 ¾

Cups

Marinara Sauce

2

Tsp

Olive Oil

1

Tsp

Italian Seasoning

1

Tsp

Kosher Salt

2

Tsp

Red Pepper Flakes

4 to 7

Cloves

Garlic

2

Cups

Spinach

300

Grams

Mozzarella Cheese
Instructions
Preheat the oven to 400° F

Saute onion and 2 cloves of garlic and  stir them until brown

Saute the spinach in medium heat with the stirred onion and garlic

Take marinara sauce and all other ingredients  and mix them well

Now pour these mixed sauces over the spinach evenly

Coat the chicken pieces with olive oil, pepper, and salt

Put the chicken pieces on the top of the spinach 

Pour cheese over the chicken pieces
Tips
You can prepare this recipe with grilled chicken as well. Cooking

grilled chicken with marinara sauce

is

as easy as this one.

Cooking this recipe is already time-saving. If you want to cook even faster, use the shredded onion. It will offer extremely quick results.

Ensure you pat your chicken pieces well before coating. Patting will allow the pieces to stick to the ingredients properly .

You can make

Italian chicken in tomato sauce

as a substitute for c

hicken in marinara sauce. 
Nutrition
Nutrition Facts
Chicken in Marinara Sauce Recipe
Amount per Serving
% Daily Value*
* Percent Daily Values are based on a 2000 calorie diet.
Conclusion
Making the chicken in marinara sauce recipe is easy and beginner-friendly. Because, this recipe requires very few ingredients and takes very little time. It's a quick recipe for kids' school or evening snacks. Also, it serves best for dinner time while having pasta or grains. 
Chicken with marinara sauce will help you bring variety to your dish. Most importantly, it holds a great nutritional profile. As a result, all age people can have this tasty food item. However, we recommend not having this recipe regularly. 
You May Also Like:
Dave's Hot Chicken Sauce Recipe