New York native Rebecca Charles started cooking at 20. After ten years of cooking in NYC, she went to Kennebunk, Maine, where she developed the White Barn Inn and Café 74 before returning to NYC. Rebecca worked at Arcadia before opening Pearl. Rebecca created Pearl Kennebunk Beach and Spat Oyster Cellar in 2016.
Claw, knuckle, and tail make up a lobster roll. The Pearl Oyster Bar Lobster Roll Recipe is served on hot, toasted bread with butter. Most of us favor the "Maine" variety. Mayonnaise, lemon juice, celery, sliced scallions, lettuce, and herbs make up the lobster roll's basis. This version is often served cold, making it a delicious salad on a hot day.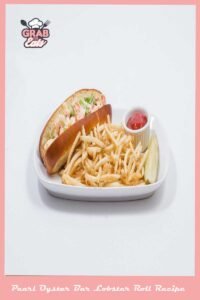 Know About Your Ingredients:  
Lobster: 2 pounds of cooked lobsters.  Lobster is full of protein and other healthy things.
Celery: 1/2 celery rib, finely chopped. Celery has fibrous strands and a mild, herbal aroma and sweet taste.
Mayonnaise: 1/4 cup Hellmann's mayonnaise. Mayonnaise has a creamy texture and a sour taste.
Lemon: A squeeze of lemon. Lemon brightens rich, creamy, sweet, and savory dishes.
Peper & Salt: Ground black pepper and kosher salt to taste. Black pepper adds depth and spice to food. Salt enhances fragrance and balances flavors.
Butter: 1-2 tablespoons of unsalted butter. Butter has a mild sweetness and a savory, buttery, rich flavor.
Hot dog buns: 2 top-split hot dog buns.
Chives: Chopped chives for garnish. The bright green color of chives makes them an eye-catching garnish.
How to Make Lobster Rolls Step by Step?
Step 1: The lobster parts (tail, knuckles, and claws) should be roughly chopped into 1/2-to 3/4-inch pieces before being used in the salad.
Step 2: Lobster, mayonnaise, lemon juice, celery, salt, and pepper should all be mixed well in a large bowl. Cover the mixture and put it in the refrigerator until it's time to serve. It will last for up to 2 days.
Step 3: To make the bun, melt the butter in a small sauté pan over low to medium heat. Put the hot dog buns into the butter on their sides. 
Step 4: To ensure that both sides of the buns get a chance to soak up the butter and brown, you'll need to flip them over a few times. Take the buns out of the pan and set them on a serving tray.
Step 5: Put lobster salad inside the buns that have been toasted. You can serve this dish with shoestring fries, slaw, or a salad and sprinkle it with chives.
The Best Lobster Rolls Recipe
The way to make a lobster roll is very simple. You first need to make a simple dressing with mayonnaise, celery, onion, and lemon juice. Then, fold in the cooked lobster meat. Lobster rolls are a great way to use up leftover grilled lobster tails. Let's talk about how to make the best lobster rolls.
Ingredients You Need: 
1 lb frozen or cooked lobster meat from two 1 1/2–2 lb live lobsters
1/4 cup mayonnaise
1/4 cup minced celery
1 tablespoon minced chives
1 tablespoon lemon zest
1 teaspoon lemon juice
1/4 teaspoon kosher salt
1/4 teaspoon freshly ground black pepper
4 split-top brioche hot dog buns in the New England style, with the sides cropped off
4 tablespoons of butter, divided
Methods of Preparing Lobster Rolls Step by Step
Step 1: Clean the lobster meat, then check it for any loose shells. For the mayo sauce to stay dry, thoroughly drain. Chop or tear it into large chunks and set it aside.
Step 2: Mix the celery, mayonnaise, chives, lemon zest, lemon juice, kosher salt, and ground black pepper in a large bowl. Taste for seasoning.
Step 3: Add lobster to 2 tablespoons of melted butter over medium heat. Stir the food for 2 minutes until it is warm and buttery all over.
Step 4: Toss the lobster meat into the mayonnaise mixture with a slotted spoon to coat. Clean the skillet after discarding the butter and lobster juice.
Step 5: In a pan over medium heat, melt the rest of the butter.  Toast the buns for about 2 minutes on each side, or until golden and toasty.
Step 6: Put the same amount of lobster meat on each bun, and add more chives if you want. Potato chips are recommended.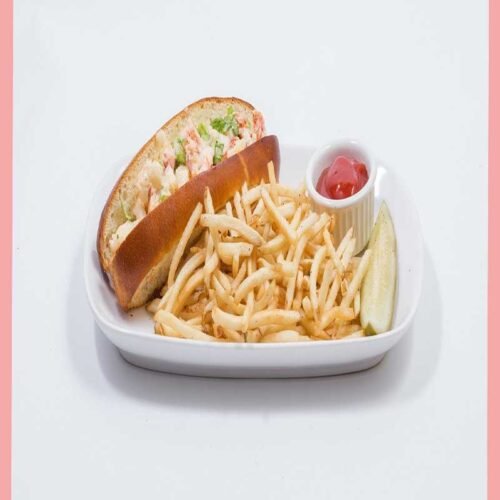 Pearl Oyster Bar Lobster Roll Recipe
Check out the Pearl Oyster Bar lobster roll recipe, that is served on hot, toasted bread with butter.
Print
Pin
Ingredients
4

lb

lobster

1/4

cup

chopped celery

1/4

cup

mayonnaise

1

tbsp

lemon juice

1/4

tbsp

sea salt

1/8

tbsp

ground pepper

1

tbsp

unsalted butter

4

hotdog buns

2

tbsp

chopped chives

optional as garnish
Instructions
Boil lobsters in a large pot. Cook for 8-10 minutes until done. Plunge lobsters into ice-cold water for 10 minutes to stop cooking and cool completely. Remove the tail and claws—cut the meat from the shells into 1/2-inch pieces

Add mayonnaise and the next four ingredients to the lobster meat, and mix well. Cover and chill until ready to eat

Melt butter in a large nonstick skillet. Press open buns and place them in the skillet, turning to coat both sides. Cook the buns until golden brown on both sides

Fill buns with lobster filling and sprinkle with chopped chives as an option
Tips
If you don't want mayonnaise, use butter. Not all butter is equal. Tastes, textures, and moisture levels vary. Kate's butter brings out the sweetness of lobster without spoiling it.
Avoid using whipped butter or light butter with your lobster rolls.
If you don't use good lobster meat, you won't be able to make an authentic lobster roll. Choose a quality live lobster from Maine and go to lobster roll paradise.
The bun is the next most important part of a traditional lobster roll. It's important to use soft white-bread rolls and avoid hard bread.
A split-top bun has flat sides, which makes it ideal for soaking up butter and developing a toasted crust that is golden in colour.
Nutrition
Nutrition Facts
Pearl Oyster Bar Lobster Roll Recipe
Amount per Serving
% Daily Value*
* Percent Daily Values are based on a 2000 calorie diet.
Final words:
A lobster roll is one of the simplest pleasures of summer. There's no reason lobster rolls should only be eaten on beach vacations and road trips. It's easy to make lobster rolls at home that taste the same.
In this recipe, the lobster is heated in butter and then mixed with a simple mayonnaise dressing. It is then put on a soft, buttered, toasted split-top bun. I think the best way to eat lobster rolls is a mix of both the Connecticut style with melted butter and the Maine style with lemony mayonnaise. I'm sure you're going to like these.
You May Also Like: