The fast-casual restaurant in the US is the Cafe Yumm. It offers healthy and mouthwatering cuisine. The Cafe Yumm is reputed for its delicious food items, especially the sauce. Some of the sauces act like the signature sauce of the company. 
Cafe Yumm offers its sauces with unique tastes to increase the food flavors. And these sauce recipes are easy to follow at home. If you want to try the Cafe Yumm sauce recipe, here you are. 
Making the Cacfe Yumm sauce at home is even easier than the regular tomato sauce. It requires no expensive ingredients or tough-to-follow instructions. So, let's try!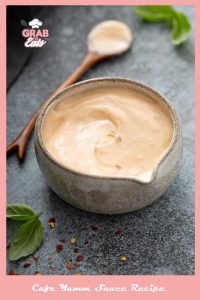 Cafe Yumm Sauce  Ingredients
Make your Cafe Yumm sauce with a very small number of ingredients. Check out the list of ingredients shared below-
Chickpeas (1 Cup)
When you want a different flavor than the regular flour, chickpeas come into play. Chickpea is a good substitute for flour. Also, it will act as a thickening agent.  It will offer a different yet supreme flavor to your dish. Chickpea is a perfect element for sauce or salad recipes. So, take 1 cup of chickpeas. It will make an ideal combination of fiber, vitamins, minerals, and protein. 
Yeast (1 Cup)
Usually, yeast is a rising agent for baked food items. However, we will add it to our recipe to increase the flavor. It will also make the sauce fluffy. Take 1 cup of yeast for today's recipe.  
Tofu (1/c Cup)
To increase the consistency, tofu is the ideal element for sauce, soups, smoothies, or desserts. So, we won't miss adding this amazing and versatile ingredient. Take ½ cup of tofu. And it will increase the consistency and the nutritional value of your recipe. 
Almonds (1 Cup)
To give a crunchy texture to your sauce recipe, apply 1 cup of almonds. It will also give a nice flavor and make the sauce more delicious. 
Curry Powder (1 Tsp)
Curry powder is required to make the sauce colorful and also to make it spicy. Take 1 tbsp of curry powder. If you like less spicy, add ½ tbsp of curry powder.
Lemon Juice (2 Tbsp)
Adding 2 tbsp of lemon juice will bring a savory taste and flavor. Don't add more than 2 tbsp. 
Salt (1 Tsp)
You also have to add 1 tsp of salt to your recipe. Using a pinch of salt will make a salty flavor. Increase or decrease the amount of salt according to your taste.
Garlic (2 Cloves)
To improve the taste, you can add 2 cloves of garlic to the mixture. It will spread a strong flavor.
Chickpea Juice (3 Cups)
And the last ingredient that you need is the chickpea juice. To bring a vegan flavor, here you need to apply the chickpea juice. Use 3 cups of homemade chickpea juice. This chickpea juice is also called the aquapaba. You can make it with ease before going to make the sauce.
How to Make Cafe Yumm Sauce?
You cannot imagine how easy it is to make the Cafe Yumm sauce recipe at home. It will take only 2 minutes to make. Because it's a no-bake or no-cook recipe. Making this sauce item requires no critical cooking process. All you need is to go for making a nice mixture. Here's how-
Step-1
Take your blender and pour chickpeas, yeast, Tofu, almonds, lemon juice, curry powder, salt, and garlic. Don't add chickpea juice at the same time. Blend them until get a smooth mixture.
Step-2
Once all the ingredients are mixed well, add the chickpea juice and blend again to give a good mixture. 
Step-3
Transfer the mixture into a jar when it's ready. 
Step-4
Your homemade Yumm sauce is ready. 
Step-5
Serve and enjoy it with the main courses. Cafe Yumm sauce is a great way to increase the taste and flavor of other recipes. Besides, it's a healthy dressing item. Using only 2 tbsp will ensure around 10 grams of protein. Once you try this amazing sauce, you'll love it to try it several times. 
Best Side Dishes to Serve With 
Yummy Shrimp
Baked Potato 
Potato Wedges
seafood
Grilled Chicken
Rice Balls and Sushi 
Sandwich
Hamburger
Meatballs
Fried Rice
Pasta, and many more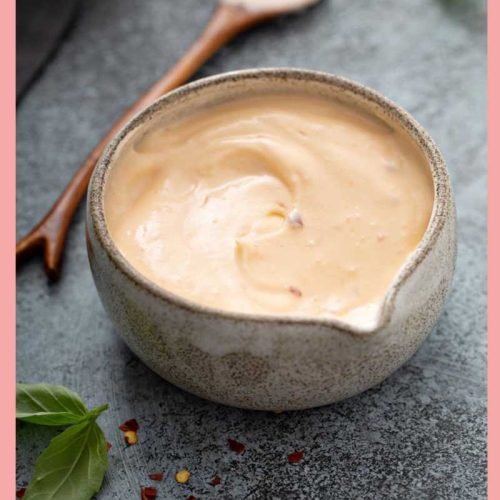 Cafe Yumm Sauce Recipe || A 5-Minute Dressing Recipe Guide
Adding sauce is always a great way to enjoy food. If you like sauce, try the Cafe Yumm sauce recipe. This ultra-creamy sauce comes full of flavor and has lots of health benefits.
Print
Pin
Ingredients
1

Cup

Chickpeas

1

Cup

Yeast

½

Cup

Tofu

1

Cup

Almonds

1

Tsp

Curry Powder

2

Tbsp

Lemon Juice

1

Tsp

Salt

2

Cloves

Garlic

3

Cups

Chickpea Juice
Instructions
Blend all the ingredients except chickpea juice 

Add the chickpea juice and blend again 

Transfer the mixture to a jar

Your Cafe Yumm sauce is ready 
Tips
Refrigerate this sauce to use for several days.

It can be a great topping for pasta, noodles, or any other stir-fried food content.

Apply 2 tbsp per serving. Apply excessive sauce will make your food items distasteful.

To make the sauce look more colorful and attractive, add 2 tsp of paprika. It will also make it spicy.

This sauce is the best suited for stir-fried food items. However, you can serve it with any item because it's a completely versatile sauce recipe.
Nutrition
Nutrition Facts
Cafe Yumm Sauce Recipe || A 5-Minute Dressing Recipe Guide
Amount per Serving
% Daily Value*
* Percent Daily Values are based on a 2000 calorie diet.
Conclusion
Cafe Yumm sauce recipe is for those who want flavor with the easiest way to their food content. It's easy to make a recipe that requires no chopping, peeling, or boiling the ingredients to prepare.
What's more, you need not be an expert in cooking to make this sauce item. It's made of all the nutritious elements. So, adding the Cafe Yumm sauce will also ensure health benefits. 
Explore These Too:
Cheddars Honey Hot Sauce Recipe