If you didn't cook the squirrel meat yet, it can be a great concern like how to cook it. What's more, it grabs the attention of which utensil to use while cooking this meat. Because Squirrel takes quite a long time to cook. To get you a solution for both of these concerns, here's our crock pot squirrel recipe guide. 
In terms of the lengthy cooking time,  you must consider the appliance. Using the right appliance will make your way easy and faster. 
Considering this fact, the crock pot is the best kitchen appliance to use. So, check out how easily you can cook the crock pot squirrel recipe.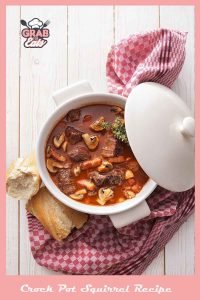 Crock Pot Squirrel Ingredients
We'll cook this squirrel recipe with a combination of vegetables. So, you can add any of your preferred vegetables. However, we like to add the following-
Squirrels (2)
Take two squirrels and cut them into 4 pieces. Keep them skinned. Increase the amount to 3 squirrels considering the number of servings.
Potato (2 Cups)
The amount of vegetables can be increased or decreased. We need 2 cups of potatoes for today's recipe. Take the potatoes and wash them to clean. Now chop them into round shapes. Ensure the slices are thin enough to get a quick cook. 
Carrot (1 Cup)
You must cut the vegetables into the same shape. So, take the carrots and cut them into small and thin pieces as same as the potatoes. 
Pumpkin (1 Cup)
You also need 1 cup of pumpkin in a thin size. Chop them into the same shape as carrot and potato slices. Taking pumpkin is optional. You can avoid adding this vegetable.
Water (3 Cups)
Take 3 cups of water to cover all the ingredients and meat properly. 
Onion (1 Cup)
No recipe of meat can be cooked without onion or garlic. So, onion is a must-have ingredient for this recipe. You need 1 cup of chopped onion. 
Minced Garlic (2 Cloves)
A very little amount of garlic you need. So, take 2 cloves and make a smooth paste. Adding minced garlic will be mixed with other ingredients properly. 
Ginger (1 Tsp)
For an added fragment or aroma to your dish, you must add ginger. Add 1 tsp minced ginger. Or you can use ginger powder as well.
Green Chili (4)
Take the regular green chili and chop them into thin and small sizes. You need 4 chilis for today's recipe. You also can substitute the green chili with the green bell pepper. In this case, the amount will be 2. And, if you don't like heat, take only 1 bell pepper and chop it into thin pieces. 
Chicken Bouillon Powder (2 ½ Tbsp)
The dehydrated chicken stock is called the chicken bouillon. Adding this ingredient to your recipe will get a tremendous flavor. And the taste will be incredible. Take 1 ½ tbsp of chicken bouillon powder. If you use the cubes, take 3 cubes. Both will get you a similar result. 
All-P urpose Flour (½ Cup)
You need ½ cup of flour to thicken the gravy. You can use any type of flour from plain flour to all-purpose flour. We prefer using all-purpose flour. Take the flour into a bowl and mix water to make a thick slurry. Keep the bowl aside. 
Pepper (1 Tap)
Take 1 tsp of pepper to increase the taste and flavor of your recipe. 
Salt (2 Tsp)
Add salt according to your taste. For today's recipe, 2 tsp of salt is perfect. If you want an additional flavor, add kosher salt. In this case, you should take ⅔ tsp of kosher salt, not 2 tsp.  
How to Make Crock Pot Squirrel?
Following only 3 simple steps, you can make your favorite crock pot squirrel recipe. It requires a very simple cooking process. All you need is to add all the ingredients and cook them for hours. Here's the best way to cook squirrel in a crock pot-
Step-1
Put the crock pot on your stove at low heat. And put potatoes, carrots, and pumpkin slices. Now put squirrel pieces on the top. 
Step-2
Once you finished adding the vegetables and meat, add all the spices. This time add water and cover the crock pot and cook for 5 hours long at medium-high heat. 
NB: No need to stir because the crock pot requires no hand touch
Step-3
After 5 hours of cooking, you need to add the flour slurry. And stir to mix well with all other ingredients. Now let it cook for 3 hours more. Your dish is ready to enjoy.
Best Side Dishes to Serve With 
The squirrel meat is extremely tender that suits any kind of spicey dish. You can serve any type of dish with this crock pot squirrel recipe. Some of the best examples can be-
Rice
Cornbread
Vegetables Salad
Baked Potatoes
Roasted Beans
Roasted Spinach
Roasted Broccoli
Grilled Potato Salad
Crispy Smashed Potatoes
Garlic Potato Wedges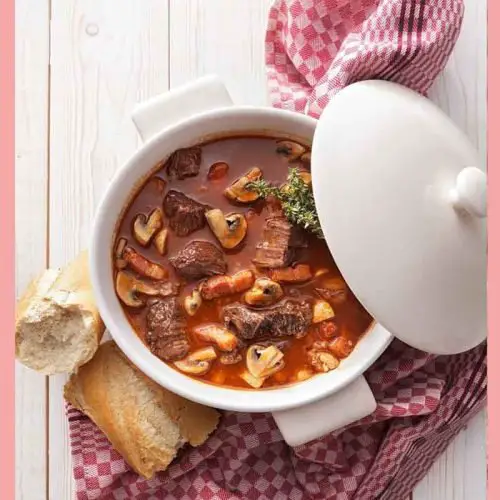 Cook Crock Pot Squirrel Recipe – Expert's Guide
Hours of cooking is a great hassle for squirrel lovers. However, crock pot cooking can lessen your efforts. Check out our expert guide on how to cook a crock pot squirrel recipe.
Print
Pin
Ingredients
2

Squirrels

2

Potatoes

Large

1

Cup

Carrot

1

Cup

Pumpkin

3

Cups

Water

1

Cup

Onion

2

Cloves

Minced Garlic

1

Tsp

Ginger

4

Green Chili

2 ½

Tbsp

Chicken Bouillon Powder

½

Cup

All-purpose Flour

1

Tsp

Pepper

2

Tsp

Salt
Instructions
Put vegetables in your crock pot

Now put squirrel pieces on the top

Add all the spices and water

Cover the crock pot and cook for 5 hours long at medium-high heat

Now add the flour slurry. And stir to mix well with all other ingredients

Let it cook for 3 hours more

Your dish is ready to enjoy
Tips
If you like vegetables with squirrel, add mushrooms, broccoli, and baby corn as well.

This dish is well-storable for up to 5 days in your refrigerator.

Add paprika if you like to get an impressive color to your dish.

Cinnamon and cloves are the top-rated spices for flavor. You can add them to your

crock pot squirrel

recipe.

And if you want the natural flavor, spread chopped parsley on top of the dish right before serving. It will increase the taste and flavor.
Nutrition
Nutrition Facts
Cook Crock Pot Squirrel Recipe – Expert's Guide
Amount per Serving
% Daily Value*
* Percent Daily Values are based on a 2000 calorie diet.
Conclusion
Using a crock pot as a kitchen appliance will help you cook tension free. Because it will offer a hand-off cooking experience. It's a perfect appliance for tough-cut meat, squirrel stew, dried beans, and many other dishes. So, it will take very less effort to cook.
Especially for recipes that require hours of cooking like the crock pot squirrel recipe. In this case, if you want to cook squirrel, the crock pot can be the best choice. 
Cooking this recipe, you'll require all the pantry spices and ingredients. So, no hassle you have to go through. So, don't miss out on this squirrel crock pot recipe. 
You May Also Like: