San Giorgio stuffed shells recipe is one of the popular items in our family. Stuffed meat jumbo pasta shells are super delicious and can be prepared quickly. My 7 years old boy is always curious to learn how I make these shells.
The day before yesterday, I prepared this for 12 members and there are still some leftovers in 1 package. I never tried cooking a full box at one time, but it turned out to be so good that many of my guests have asked for the recipe. So, here is a complete recipe for how I have prepared with proper measurements.
You may have noticed that there is a stuffed shells recipe on box of the San Giorgio package and that recipe is also good. My recipe is almost similar to that one with some modifications.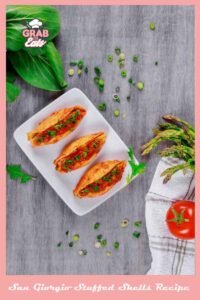 Know about Meat Filled Jumbo Shells Recipe
San Giorgio Jumbo Shells: San Giorgio is a famous company, producing pasta since 1914. Jumbo pasta is one of their popular items. The main problem with jumbo pasta is if not made properly, it becomes sticky and is unable to eat. San Giorgio comes with a perfect direction given on the package and no consideration of quality makes the shells great. They are available everywhere. For this recipe have 1 box of it for 10 servings to 12 servings.
Ricotta Cheese: Ricotta cheese has a sweet mild and soft flavor. It is a great source of calcium. Some refuse to call ricotta cheese, as it is prepared with the leftovers of other cheese. Ricotta is an Italian word that means recooked. However, 4 cups of ricotta would be enough for this recipe.
Mozzarella Cheese: Mozzarella is a softer kind of cheese. It is very popular for pasta, pizza, and many other dishes. Measure 2 cups of mozzarella here to prepare perfect San Giorgio stuffed shells with meat at home. It is loaded with nutritional essentials like protein, calcium, phosphorus, etc. For low fat, anyone can add mozzarella to his diet chart.
Parmesan Cheese: Parmesan cheese has a comparatively hard and gritty texture. It takes a while to process, so parmesan cheese is pretty expensive compared to others. The flavor of Parmesan cheese is very interesting. It has a very bold flavor along with a nutty and fruity taste. For this recipe, finely shred it and measure ½ cup.
Ground Beef: 1 lb of lean ground beef here is the base of stuffing.
Onion: Onions are considered the powerhouse of flavor. Measure 1 cup finely shredded onion for cooking with beef, completing the stuffing.
Pasta Sauce: Pasta sauce would add a great flavoring to the recipe, making it tangy. Have 1 ½ cup of pasta sauce.
Eggs: You will need 2 eggs for this recipe.
Parsley: Parsley has a great flavouring, a garnish essential in almost every food. Roughly chop parsley and measure 1 tbsp.
Ground Nutmeg: Nutmeg contains fiber that helps to keep a healthy digestive system. You will need a pinch or 1/8 tsp of nutmeg for this recipe.
Kosher Salt & Black Pepper: Measure 2 ½ tsp of kosher salt and ¼ tsp of freshly ground black pepper for this recipe.
How to Cook Jumbo Shells with Meat & Cheese Step By Step?
Step 1: At first, you need to set the oven for preheating at the temperature of 375 degrees F.
Step 2: In a large saucepan, add 6 quarts of water and bring the water to a boil over high heat. Add 2 tsp of kosher salt.
Step 3: Add jumbo pasta shells and 1 tsp of olive oil. Olive oil helps here not to stick the pasta shells with others.
Step 4: Cook for 8 minutes to 9 minutes uncovered, not more than that.
Step 5: Drain the water and rinse under cold water. Transfer to a plate lined with wax paper. Allow them to cool in a single layer or else it would stick to another.
Step 6: Take out a large mixing bowl and add 2 eggs, 4 cups of ricotta cheese, 2 cups of mozzarella cheese and ½ cup of Parmesan cheese. Beat them finely until completely combined.
Step 7: The next thing is to add the spices 1/8 tsp of nutmeg powder or ground nutmeg, ½ tsp of kosher salt and ¼ tsp of ground black pepper. Mix properly. Set the cheese mixture aside.
Step 8: In a frying pan, over medium heat place the ground beef along with shredded onion. Cook for 4 minutes to 6 minutes or until the beef is finely cooked. Drain off the extra moisture.
Step 9: Transfer the beef onion mixture to the cheese mixture and fold to combine.
Step 10 : Stuff cooked pasta shell with 1 ½ tsp of the mixture. Looking amazing right!
Step 11: Take out a 13 x 9 x 2-inch baking dish and spread ½ cup of pasta sauce at the bottom.
Step 12: Arrange the shell pasta over the sauce and finally pour the remaining 1 cup of pasta sauce. If you desire you can sprinkle some mozzarella or Parmesan cheese over.
Step 13: Cover the baking dish with aluminum foil and place on the preheated oven.
Step 14: Set the baking time 35 minutes. You will notice that the dish becomes bubbly and has an amazing odor.
A very delicious and tempting dish is ready to serve. Sprinkle chopped parsley before serving.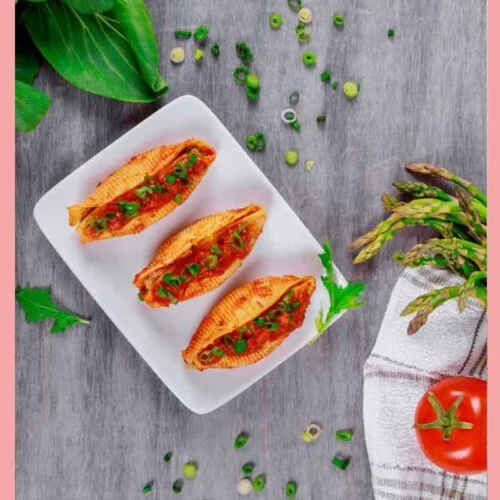 San Giorgio Stuffed Shells Recipe
Prepare the amazing San Giorgio Stuffed Shells Recipe with loads of cheese, ground beef, and spices just in time. An easy and heart-filling dish is prepared for everyone.
Print
Pin
Ingredients
12

oz

San Giorgio jumbo shells

(1 package)

4

Cup

ricotta cheese

2

Cup

mozzarella cheese

finely shredded

1/2

Cup

Parmesan cheese

finely shredded

1

lb

lean ground beef

1

Cup

chopped onion

2

eggs

1

tbsp

parsley

chopped

tbsp

Kosher salt

1/4

tbsp

Freshly ground black pepper

1/8

tbsp

ground nutmeg

1 ½

Cup

pasta sauce
Instructions
Cook the pasta as per direction

Combine all cheese and spices

Cook ground beef with onion

Mix cooked beef with cheese mixture.

Stuff the filling into the shell

Arrange in the baking dish with pasta sauce and cheese toppings

Cover and bake for 35 minutes.
Nutrition
Nutrition Facts
San Giorgio Stuffed Shells Recipe
Amount per Serving
% Daily Value*
* Percent Daily Values are based on a 2000 calorie diet.
Summary
This recipe is a classic version of  meat stuffed jumbo shells. As per your liking you can change the ingredients into the same level. You can recreate the recipe with ground pork, turkey, chicken, etc. Best of luck with your cooking experience and bon appetit!