The Smoothie king gladiator recipe is one of the best soothing flavored drinks to enjoy if you are on a keto diet. The refreshing fruity flavor with zero sugar and the presence of nine essential amino acid makes this smoothie healthy as well as tasty.
If you have protein powder at home, you can prepare this recipe along with some fruits. If protein powder is not available, you can prepare them with fruits. Also, these smoothie recipes are super adjustable. You can start experimenting with your own style.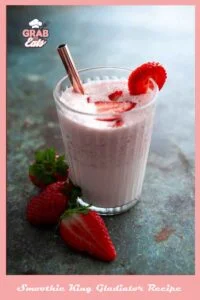 Know About the Gladiator Smoothie Ingredients
Frozen Strawberries: Take 5-6 frozen strawberries for gladiator protein strawberry. Strawberries are low-calorie fruit and packed with polyphenols (antioxidants), fiber, as well as vitamins. Apart from health benefits, the taste is so soothing. Because of this, it helps to make the perfect gladiator at home every time. Try to use frozen strawberries that make the smoothie thicker.
Milk: For smoothies, milk is essential. Measure ½ cup of milk.
Banana: Banana is full of nutrients and high in potassium. Banana gives instant energy and that's why in this recipe banana is a vital ingredient. 1 banana would be enough but if you like to have less then you can have ½ banana.
Honey: If you are on a keto diet, don't add honey, or else honey makes this smoothie super delicious. It particularly adds flowery sweet flavor. 1 tbsp of honey would be enough.
Ice: You will need 1 cup of ice.
Protein Powder: I will use here 1 scoop of vanilla ice cream flavored protein powder. It helps to weight loss and is the base ingredient for the smoothie. Vanilla-flavored ice cream protein powder has a very comforting sweet flavor.
How to Make Smoothie King Gladiator at Home- Step by Step Guideline
Step 1: Take out a blender.
Step 2: Add the aforementioned ingredients: banana, frozen strawberries, ½ cup of milk, 1 tbsp of honey, and 1 scoop of protein powder.  Beat all the ingredients for 30 seconds on medium or until finely pureed.
Step 3: Add 1 cup of ice and beat on high.
The gladiator strawberry smoothie is ready to enjoy. The smoothie is very popular for its low calorie. In 20-ounce smoothie king gladiator, it has only 180 calories. 
Smoothie King Gladiator Variation – Caribbean Style
With pineapple, strawberry, and blueberry it makes one of the best variations of gladiator smoothie without protein powder. Apart from the fruits, there are two special ingredients used: Papaya nectar and turbinado sugar.
Turbinado sugar is considered the lowest possible processed sugar. It is made from raw sugarcane and carries a unique taste. Papaya nectar carries a very refreshing and fresh papaya flavor. If you want to use raw papaya that would make the smoothie thicker, add some pineapple juice in this case. 
Ingredients We Need
1 Banana
5/6 Strawberries
1 Cup of Papaya Nectar
1/4 Cup of Turbinado Sugar
8-10 Ice Cubes or 1 ½ Cup of Ice 
Methods of Preparing Step by Step: 
Step 1: In a blender add all the ingredients except ice cubes. 
Step 2: Blend until you get a smooth mixture 
Step 3: Uncover and add ice cube. 
Step 4: Blend until smooth  
Is It Possible to Lose Weight by Drinking These Gladiator Smoothies?
Answer: You may even be able to lose weight by eating a gladiator smoothie. Because it contains a high amount of protein and fiber as it keeps you full.
Having a smoothie is a great way to increase your intake of fruit and vegetables if you're looking for something creative to do so that you don't have to do as much cooking. Avoid adding any type of sugar substance.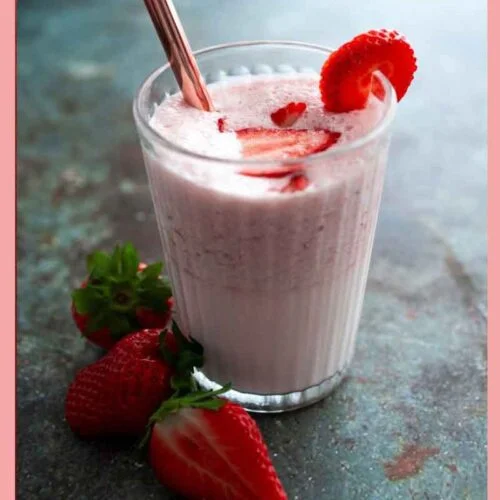 Smoothie King Gladiator Recipe
With Smoothie King Gladiator Recipe, it is very easy to prepare at home. Just grab all the ingredients, blend and serve!
Print
Pin
Ingredients
1

Cup

Ice

5

strawberries

frozen

1/½

banana

1

tbsp

Honey

1⁄2

Cup

milk

1

scoop

vanilla-ice-cream

flavored protein powder
Instructions
 Mix all the ingredients in a blender until pureed.

Add ice and blend. Serve!
Nutrition
Nutrition Facts
Smoothie King Gladiator Recipe
Amount per Serving
% Daily Value*
* Percent Daily Values are based on a 2000 calorie diet.
Sum Up
If you have fruits and some other necessary ingredients at home, enjoying the gladiator smoothie is the best possible thing you can enjoy. Make your diet enjoyable with flavorful smoothie. Share this recipe with your friends and family members. Cheers!
You May Also Like: