Lyonnaise Potatoes is a classic Frech side dish that no one can ignore. For any special night, it is a perfect side dish to enjoy. With Ruth's Chris Lyonnaise Potatoes Recipe, the  dish is even more tempting.
The creamy, buttery, crispy potatoes with caramelized onion is enough to melt heart in no time. In our family, children look forward to the day when this classic, easy lyonnaise potatoes are going to prepare. I learned it from my cooking class and since then I have prepared it at my house at least once in a month.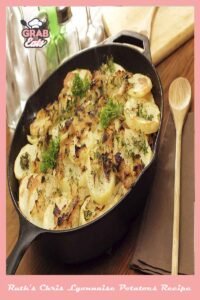 What are Lyonnaise Potatoes? 
Lyonnaise potatoes are amazing creations from french potato recipes. Lyonnaise is a french word meaning garnished with onions. Some say that lyonnaise potatoes are named after the French city Lyon and their potatoes are cooked parboiled, then baked with fried onions. Since then this potato dish is named "Lyonnaise Potatoes" 
There are three phrases in cooking lyonnaise potatoes. Don't get scared, as the cooking method is pretty easy. The main taste of this potato reveals when you see the crispy outside layer but super creamy inside layer. 
Know about the Ingredients for Ruth's Chris Lyonnaise Potatoes
Russet Potatoes: It is the base ingredient for this recipe. Russet potatoes are usually great for roasting. Use 2 pounds of russet potatoes, peeled and finely washed. You can also use Yukon Gold potatoes but they will be comparatively smaller in size.
Avocado Oil: Avocado oil has a rich nutty flavor. Mostly it feels like avocado but a lot milder. It contains oleic acid which contains several health benefits. However, I use 2 tbsp of avocado oil here. If you don't have avocado oil, canola oil or extra virgin olive oil would work. They also have a high smoke point.
Onions: Take 4 onions and slice them thinly for a savory texture to the recipe. Without onions, there would not be any balance to the seasonings. It is easier to blend flavors evenly and looks nice.
Garlic: Take 3 large garlic cloves and mince as finely as you can. This will go an amount of 2 tbsp. It ensures a strong garlic flavor to the recipe. Apart from the pungent flavor of garlic, it mellows the other flavor and texture as well.
Butter: As we know butter adds an incredible flavor to every dish. In this recipe, you will need ½ cup of butter so that all 2 lbs of potatoes, onions, and minced garlic can reveal their flavor evenly. Butter here also adds a mild sweetness that makes the dish tempting. You can use any type of oil in lieu of butter but oil won't have any buttery texture. I always recommend using butter.
White Pepper: ¼ tsp of ground white pepper would bring a mild flavor to the dishes.
Kosher Salt and Ground Black Pepper:  These two seasonings are the must-go ingredients for every dish. You can use as per your taste. I recommend using ½ tsp of kosher salt and ¼ tsp of freshly ground black pepper.
Parsley: Parsley is used here as garnish. Take 1 tbsp and sprinkle on the prepared dish.
Methods of Preparing Lyonnaise Potato Step by Step
Step 1: At first you need to preheat the oven at the temperature of 400 degrees F or 200 degrees C. Now move to the preparation process.
Step 2: Prepare the potatoes by peeling them and cutting them into ½ inches slices.
Step 3: Bring out a large stock pot and fill ½ with water or as needed. Place the potatoes and turn on the stove to high.
Step 4: Bring the water to a boil, it won't take more than 12 minutes. Check whether the potatoes are tender or not.
Step 5: When done, drain the potatoes and allow to cool.
Step 6: Take out a large oven proof skillet and add 2 tbsp of avocado oil over medium-high heat.
Step 7: Add thinly sliced onions and saute in the avocado oil for 10 minutes or until the onions are caramelized.
Step 8: Add garlic and stir in for 2 minutes or 3 minutes. By this time, you will notice an excellent fragrant from garlic and sliced onions are brown.
Step 9: Transfer the onion-garlic mixture to a bowl and set aside.
Step 10: Turning the heat to low, add ½ cup of butter to the same skillet and arrange the potato slices. This would cover ½ part of the potatoes. Sprinkle kosher salt, black pepper, and white pepper.
Step 11: Now, place the onion-garlic mixture and again place the remaining ½ part of potato over it. Sprinkle the rest of the salt and peppers or as per your taste bud.
Step 12: Now, place the skillet in the preheated oven and set the timer for 10 minutes or until the potatoes are brown in color on top.
Remove carefully from the oven, because it is going to be super hot. Let sit for a few minutes if you think it is tough to handle. Transfer the lyonaisse potatoes to the serving plate, sprinkling chopped parsley on the top. Enjoy this amazing side with roasted beef or pork, grilled chicken, savory crepes, or any of your favorite meals.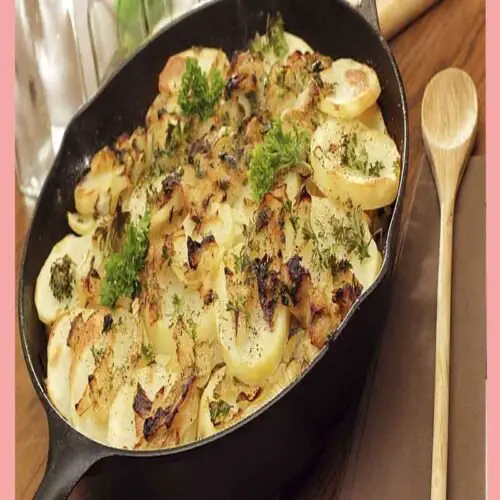 Ruth's Chris Lyonnaise Potatoes Recipe
If you are in search of the best french sides, Ruth's Chris Lyonnaise Potatoes Recipe is capable to hold the credit. Learn the recipe real quick!
Print
Pin
Ingredients
2

lbs

Russet potatoes

½

tbsp

kosher salt

¼

tbsp

freshly ground white pepper

1

tbsp

fresh parsley

2

tbsp

avocado oil

4

onions

2

tbsp

Chopped garlic

½

Cup

unsalted butter

¼

tbsp

freshly ground black pepper
Instructions
Bring the potato slices to a boil.

Prepare the onion-garlic mixture in avocado oil.

Melt butter in  an ovenproof skillet and arrange potatoes in two layers following with onion-garlic mixture and seasoning.

Bake in the preheated oven.
Nutrition
Nutrition Facts
Ruth's Chris Lyonnaise Potatoes Recipe
Amount per Serving
% Daily Value*
* Percent Daily Values are based on a 2000 calorie diet.
In Fine
Among the French side dishes, lyonnaize potato has gained huge popularity. Because of its great flavor ans creamy texture, it has won many food lovers' heart. Follow the recipe steps carefully and don't skip the boiling potatoes steps. Because that's what make the potatoes creamier than ever!
You may also like: