Apple pie is considered a popular dessert. It is a sweet tingly dish and one of my mother's inspiring baking dishes to cook. Since my childhood, my mom often served apple pie with ice cream, whipped cream, or cheese. My mom also followed the very special joy of cooking apple pie recipe.
By following this recipe anyone can make it, whoever once learns it and cooks it, will recommend my recipe for sure, because it's easy and tastes like heaven!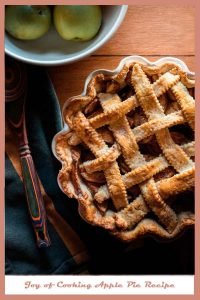 Know About the Apple Pie Recipe and Ingredients:
If you want to cook apple pie perfectly with its original flavor you must know about the ingredients and why you are using those. 
Choose the best apples:
Best apples are chosen for the richness of the great pie crust and firm texture. The best apples are:
Honey-crisp apples
Pink Lady apples
Brae burn apples 
 Granny Smith apples
Pink Pearl apples
All-purpose flour:
It provides a generous amount of protein and gluten. The elasticity of the dough depends on this gluten and it helps to trap the gases when using yeast or any kind of leavening agent.
Unsalted butter:
It brings complete control of all flavors of the recipe. It lets the real true flavor of the recipe come through.
Sugar: 
Sugar lets the baked product soft and moist.
Kosher salt:
It is larger than table salt and its uneven texture provides the actual measurement like how much salt we need.
Ice water:
It prevents the fat to spread all over and enhances the taste.
Vinegar:   
As an acid, it helps to formulate all the chemical reactions in the recipe.
Eggs:
It makes the structure and emulsifies all ingredients.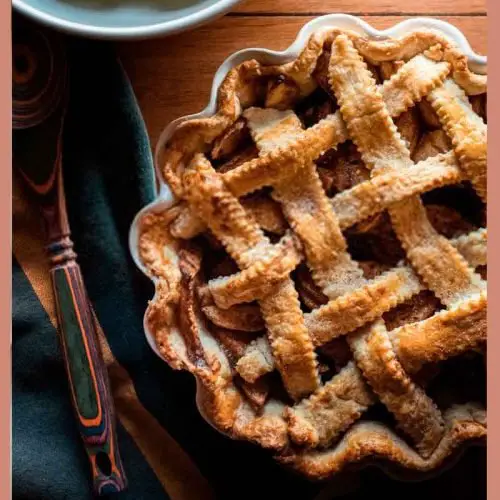 Joy of Cooking Apple Pie Recipe
Make dessert night special with the very special joy of cooking apple pie recipe. Collect all ingredients and follow the instructions I have given below and give your life some new flavor.
Print
Pin
Ingredients
For the Crust:
2

cups

flour

1

cup

unsalted butter

, cut into pieces

1

tbsp

kosher salt

1

tbsp

sugar

1

tbsp

apple cider vinegar or white vinegar

1

tbsp

ice water

1

egg

(beaten with the same amount of water)
For the Crumple:
3/4

cup

all-purpose flour

1/3

cup

brown sugar

1/2

tbsp

salt

6

tbsp

unsalted butter
For the filing:
4

medium size apples

1

tbsp

lemon juice

1.5

cinnamon powder

1/4

cup

 sugar
Instructions
Prepare the filling:

Peel, cut the cores, and cut it into 1 inch thick. Place those in a bowl and mix it with sugar, cinnamon and lemon juice.

Mix the pie crust:

Mix the salt, sugar and flour in a medium bowl. It's time to butter the pie and mash it between your fingers.

Knead the crust:

Place the dough onto a clean surface, add vinegar and ice water. Mix with your fingers until combined, then start to knead the dough. It takes only a few minutes to divide into two discs, approximately 1 inch thick. Pack the dough and refrigerate it for at least 2 hours.

Blind-bake and form the bottom crust:

Bring 1 disc from the refrigerator and roll it to fit about a 9 inch pie pan. Preheat the oven to 375°F. Crimp the edges with your fingers and seal it with egg wash. You can sprinkle it with Demerara sugar if you prefer.

Top crust and add the filling:

Bring the second disc, when it has cooled enough add the filling and top the second crust. Crimp the edges with a fork and seal with egg wash. Cut the top crust to steam out from the filling.

Bake the pie:

bake it for 40 minutes or until crust is deep golden brown, rotate it once halfway through. (If edges start to burn before the pie is baked then cover it with aluminum foil)

Allow to cool:

After removing it from the oven, cool it at least 30 minutes before cutting. Serve it with whipped cream or ice cream or you can add cheddar cheese.
Tips
Important tips for making the apple pie and other details which will help you through cooking.
The saddest thing is when you get a crackling pie top and soggy bottom. To prevent the soggy bottom you have to seal the top crust, it also strengthens the bottom crust. 
Here egg is just used for washing the dough and it helps you to seal the edges and get a perfect glossy finish. So, egg wash is important, don't skip it.
You can over-knead it and it will make your pie crust into a disaster and taste can disgust you. Knead it until the dough comes together perfectly. It can disperse the butter.
After making the pie dough, you must chill it for about two hours and chill after baking also. It gives you the flavour all together, otherwise some of the ingredients can melt and affect the flavour.
Using butter and too much melted butter can decrease the buttery flavour. If you love the flavour of butter then melt it properly.
Nutrition
Nutrition Facts
Joy of Cooking Apple Pie Recipe
Amount per Serving
% Daily Value*
* Percent Daily Values are based on a 2000 calorie diet.
How Long to Bake an Apple Pie?
When you put the pie pan in the oven you must put it on the bottom rack. The worst mistake is not to put it in the bottom rack. If you do that then your pie will be a soggy and doughy mess. 
After preheat oven to 375 degrees, put the pie in the oven and lightly cover the edges with foil paper. For 9 inch pie pan, first bake for 15 to 20 minutes then turnovers will take about 12 to 15 minutes. 
When you see filling bubbling around the edges and top crust is golden brown then you are done with baking it's time to remove the pie from the oven. Now you can enjoy the fruitful taste of pie which will give you the strength to make it again!
Which Is Accurate for Baking Apple Pie Temperature?
Preheat the oven to 375 degrees Fahrenheit and after putting the apple pie in the oven the temperature should be 195 degrees Fahrenheit. Bake the pie half way about 15 to 20 minutes then turn it and bake it for 12 to 15 minutes.
You should refrigerate apple pie after the first cut if you want to store it and while cutting it should be untouched. By following this you can store more than you think but keep it in your mind that you have to set it only for two to four days. After that you can heat the pie for the next storing.
Conclusion:
This is the original apple pie recipe, you can make different types but this pie rules among all pies. 
It's so easy to prepare and the best part is you can store it. So, all hard work doesn't go to waste after one meal. If you want to surprise your loving ones with your baking dish then dig in and start to prepare. Then everyone around you will scream and make me some "apple pie"!!
You May Also Like:
Campbell Soup Shepherd's Pie Recipe