Pampered Chef Ice Cream recipes are some of the best dishes that you can make from. There are many dishes that you can make from these recipes. Vanilla soft serve ice creams are one of the best flavored ice creams as the majority of people suggest. 
You can make vanilla ice cream easily but it takes a bit of time. In the end though, it's all worth it because of the results that come out. So, let's dive into the whole process.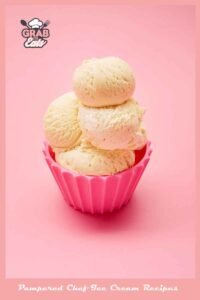 Know about the Ingredients and the Recipe
Whole milk: Use 1 cup of whole milk for this recipe. Whole milk is filled with good nutrients. It will also add texture and flavor to the recipe.
Heavy whipping cream: Use 2 cups of heavy whipping cream in the recipe to add thickness and weigh to the ice cream. This will also help the ice cream to have a smoother texture. 
Sugar: You will need ½ a cup of sugar in this recipe for sweetness. There will be no additives in this recipe to increase sweetness. So this much amount of sugar is necessary to dissolve and mix well with the rest of the ingredients. 
Vanilla extract:  Make sure you add 1 teaspoon of vanilla extract to the mixture because the ice cream in all seriousness is a vanilla flavored ice cream. So, you need to add the flavoring to the recipe to have that delicious vanilla taste in the final dish.
How to Make Cream for Ice Cream
Not only are these mini ice cream maker recipes easy to make, they are also super delicious. You can find all the ingredients you need from your closest grocery store. The method of preparing the ice cream is simple. It takes a bit longer than normal recipes.
But the process is easy and if you can be patient you will have a great dessert to enjoy. Most children love ice cream and if you serve these ice creams after a big meal it will surely be a big hit with them. 
To make this dish, you need to gather all the ingredients and start the ice cream making process. Make sure your ice cream maker is clean. Then put the ingredients in and dissolve the sugar. After the mixture is smooth, place a transparent lid on it and let it in the freezer.
Keep it there for 3 hours and then take it out and let it soften at room temperature. Then slowly mix it in the mixer for 15-20 minutes. After that, chill it for another 2 hours. And serve.
 Here is the step by step instructions for making the ice cream. So, let's start with the recipe!
Step 1: 
To make this delicious ice cream com, firstly, place the Ice Cream Maker bowl properly.  You need to churn all the ingredients together to make the ice cream so it has to be sturdily put up so that it is set up in place. Pour the milk, heavy whipping cream, sugar and vanilla extract. Start the machine and let it mix the ingredients together well. Only stop it when the mixture is smooth. Take the whole bowl out and put it in the freezer for at least 3 hours on the coldest setting.
Step 2: 
Remove the Ice Cream maker bowl from the freezer, check if the ice cream is frosted. If it's frosted, keep it at room temperature for a while. 
Step 3: 
Replace the transparent lid from the top of the bowl. Pour the cream mixture into the bowl as soon as the paddle starts rotating. Set the timer for 20 or 25 minutes and let it mix.  
Step 4:
Check the mix if it is done when the Ice Cream maker stops rotating. A soft-serve consistency should be achieved. Add more time if necessary until you achieve the desired consistency. Then chill it for 2 more hours. Then take it out and start the serving process. 
Step 5: 
You can serve it in a cone and add toppings. You can also serve it in serving bowls and top with chocolate sauce or caramel sauce. Remember, it has to be a soft serve and not a hardened version of ice cream. Serve cold and enjoy!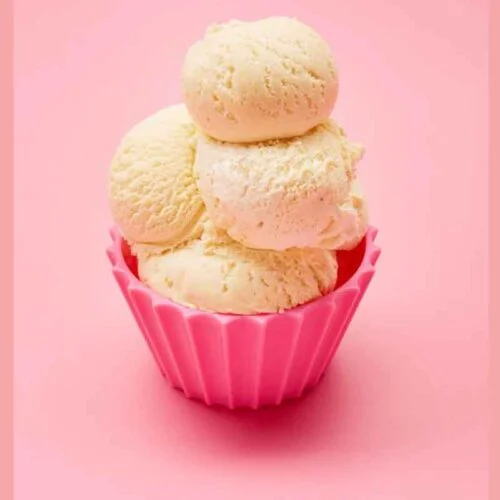 Pampered Chef Ice Cream Recipes
Pampered chef ice cream recipes are very easy to make and you can attempt to make it with the ingredients. You should try to make it today!
Print
Pin
Ingredients
2

Cup

Heavy whipping cream

1

Cup

Whole milk

½

Cup

Sugar

1

tbsp

Vanilla extract
Instructions
In a batter bowl, mix together all of the ingredients for 1 minute, or until the sugar is completely dissolved. Place the Ice Cream maker bowl in the freezer for at least 1 hour.

Pour the cream mixture into the bowl after the paddle begins to rotate, and set the timer for 20 minutes.

Check if it's after the timer stops spinning.

Add more time if necessary until the desired consistency is achieved.

Chill in the freezer for at least 3 hours.
Tips
While making the pampered chef ice cream, make sure the consistency does not get too thick or it will not be a soft serve ice cream. 

You can add cherry toppings, chocolate and caramel sauce on top of the ice cream serve. 

Here is a bonus point if you want to do: as a topping, you can make a small chocolate cake. Then shred it into crumbs. After that, sprinkle it on top of the ice cream before serving. Make sure it doesn't get soggy. Soggy cake crumbs don't taste good with ice creams, because ice creams will melt after a certain point. You can also add chopped up almonds or pecans to the top if you like something crunchy to have in your ice cream.
Nutrition
Nutrition Facts
Pampered Chef Ice Cream Recipes
Amount per Serving
% Daily Value*
* Percent Daily Values are based on a 2000 calorie diet.
Wrapping Up
Hopefully, this soft serve vanilla ice cream recipe will help you to make a great dessert. Ice cream is a great finishing to a heavy meal. You can keep it stored in your freezer for more than a week and serve it whenever you want. You can keep it as a dessert option at parties or events. Most people like vanilla soft serve ice creams.
So, it is bound to be a hit among people as a dessert. The best part about this dessert is that you can store it and serve however you want. Even though the process is a bit time consuming, in the end, it will really be worth all the work. It is absolutely recommended to make and you can make it as soon as you can to try it out!