Making tasty and crunchy snacks with all the inexpensive pantry ingredients is stressless. If you want an easy snack idea, go for the never fail popovers recipe. You've flour, salt, sugar, and milk in your kitchen pantry means, you've almost everything to make this delicious treat. 
The no-fail popovers are the popular sweet tasty treat to have any time. To enjoy a friend's get-together or mini party, it can be an ideal recipe. Popovers are well-match with a variety of dishes. For example, salad, roasted chicken, soup, roasted beef, and many other dishes. 
This tasty treat is popular due to its crispy, buttery, creamy, and eggy flavor. It can be an ideal snack for all ages, from kids to adults.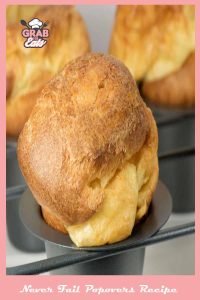 Never Fail Popovers Ingredients
Adding ingredients isn't specific and fixed. You can add according to your preference. Like, for a sweet taste, add cinnamon or  cheese can be for a cheesy flavor. Again, you can make them with the common ingredients. It's all up to you. Here's what we'll take today-
Eggs (4)
Take 4 large eggs and keep them a room temperature before you blend. Eggs are a primary ingredient in making cake-type recipes. Because it's blended perfectly. If the eggs are too cold, put them in the water for a while. 
Milk (1 ½ Cups)
For today's recipe, 1 ½ cups of milk will be perfect. 
Kosher Salt ( ¾ Tsp)
We'll use kosher salt for a salty flavor. Since kosher salt comes with large grains and is very salty, take ¾ tsp.  You can use regular salt as well. In this case, the amount will be ½ tsp. 
Flour (1 ½ Cups)
You'll need 1 ½ cups of flour. It can be either all-purpose flour or can be plain flour. 
Butter (3 Tbsp)
You'll also need 3 tbsp of melted butter. 
How to Make A Popovers?
We're going to make our Popover recipe in a very traditional way. But there will be so many variations in this recipe. 
Step-1
Take a rack and place it on the bottom of your oven. Now preheat the oven to 450° F.
Step-2
Usually, the regular popover pan comes with congested holes and small hole sizes. Take a muffin tin and spray on each coop. Muffin tins come in different sizes and shapes. They also have deep holes and plenty of space between holes. As a result, you can easily make your high altitude popovers. 
Don't spray excessively, or the muffin tin will be pretty sticky. You also can brush the holes with butter instead.  Once your spraying is done, set the muffin tin aside.
NB: Spray the top lip of the holes because the popovers will rise up and touch the rim. 
Step-3
Take your blender and add eggs to it. Now add milk, kosher salt and blend all together. Let them blend properly.
Step-4
Now add flour to the mixture and blend for 30 seconds. 
Step-5
Once the mixture is finished, you need to add the melted butter to the batter. Now blend for 20 more seconds and let them mix properly. You're almost near.
Step-6
Take the batter and pour them into your prepped sprayed muffin pans. Fill each pan close to full, pouring the batter. Ensure each pan has the same amount of batter. If anyone gets overfilled, take away tbs of batter and fill in the pan that needs more.
Step-7
Now put the muffin tin on the bottom rack you placed in your oven. And let them bake for 30 minutes. This time you must decrease the temperature to 350° F and bake. 
Step-8
Take a toothpick and insert it into each popover. Check out that the toothpick is clean. If not, your popovers need to bake for a few more minutes. So, bake them for 5 or 10 minutes extra. You're done!
What to Serve with Popovers?
There're plenty of exciting dishes you can serve with your classic popovers. In this case, you need to consider when you have this food. The type of side dishes will vary depending on whether you're having the popovers for breakfast, lunch, or dinner. 
Breakfast
If you serve the popovers during breakfast, serve them with the following side dishes-
Scrambled Eggs
For a healthy breakfast, serve scrambled eggs with popovers. It will keep the breakfast simple yet yummy for kids and adults. The airy texture of popovers will match the scrambled eggs perfectly. 
Bacon Jam
To prepare your breakfast, go with the bacon jam and popovers. It's ready, and you no longer have to spend time making it in the kitchen. So, bacon jam can be a time-saving option for a quick breakfast. It will boost your rush morning. 
Honey Butter
Another ideal and healthy side dish to serve with popovers can be honey butter. Serving popovers and honey butter in the breakfast brings a good combination. Just top the popovers with the honey butter and have them. It will taste yummy. 
Lunch
Chicken Roast
Traditional chicken roast, along with gravy and popovers, comes in handy to make a heavy lunch. You'll like the combination of these two recipes together. 
Chicken Pot Pie
Serve popovers and chicken pot pie together to make your lunch mouthwatering, healthy, and satisfying. 
Mashed Potatoes
An ideal staple to serve with popovers is mashed potatoes. With your favorite dip and sauce, these two come in excellent flavor and taste. To make your lunch more cheerful, serve mashed potatoes with popovers. Preparing mashed potatoes will also take a simple process and less time. 
Dinner
Pumpkin Soup
During dinner, a light food platter suits the best. In this case, pumpkin soup is a great match for dinner-time popovers. The creamy texture of the pumpkin soup will give a good taste. Dip your popovers into the creamy pumpkin soup and eat like bread. 
Unique Crab Salad
The most popular dish to serve with popovers during your dinner is the crab salad. It will help you make a quick and light dinner. Amazingly you need only 10 minutes to make this salad. So, if you want a quick dinner arrangement, go for crab salad and popovers. 
Stewed Apples
If you want an ideal dessert, stewed apples can be a great option. Adding the popovers with stewed apples will allow you to make a wonderful dessert for your dinner.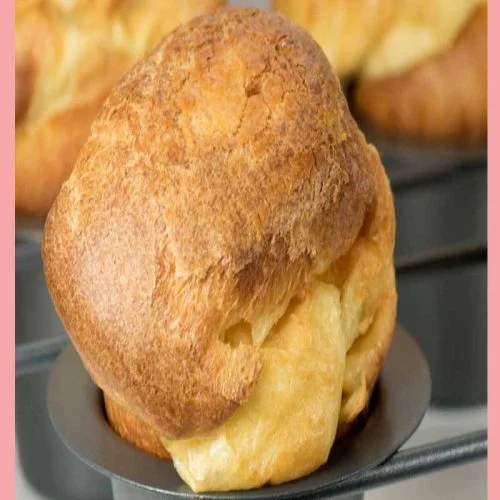 Never Fail Popovers Recipe|| The Tastiest Snacks Ever
Never fail Popovers recipe is an excellent recipe to add variety to your tea time. Follow our expert guide and learn how to make popovers without failing.
Print
Pin
Ingredients
4

Eggs

1 ½

Cups

Milk

¾

Tsp

Kosher Salt

1 ½

Cups

Flour

3

Tbsp

Butter
Instructions
Place a rack on the bottom of your oven.

Preheat the oven to 450° F.

Take a muffin tin and spray on each pan.

Blend eggs, milk, and kosher salt.

Add flour to the mixture and blend for 30 seconds.

Add the melted butter to the batter and blend for 20 more seconds.

Pour your prepared batter into your prepped sprayed muffin pans.

Decrease the temperature to 350° F in your oven.

Place the muffin tin on the bottom rack that you put in your oven and bake for 30 minutes.
Tips
Don't open the oven door until your popovers are fluffy and golden. Opening the door halfway will deflate the cakes.

Never let the poppers cool in the cooling rack or pan. The shape of them will be changed of your

cold oven popovers.

Add the ingredients in an accurate ratio.

Your poppers won't rise properly unless you preheat the oven to the correct temperature.

Keeping the milk and egg at room temperature before making the batter is essential. Otherwise, your poppers will fail to get a food texture.
Nutrition
Nutrition Facts
Never Fail Popovers Recipe|| The Tastiest Snacks Ever
Amount per Serving
% Daily Value*
* Percent Daily Values are based on a 2000 calorie diet.
Conclusion
The never fail popovers recipe is tasty with its spongy, hollow interior and crispy exterior. Its versatile use will enable you to keep it on your meal menu anytime. This cake greatly suits meals from breakfast to dinner. 
Also, no fail popovers are extremely popular snacks to celebrate the holidays. It's a foolproof and simple recipe that anyone can make with only 5 staple ingredients. Making this easiest recipe at home will give a good feel of delicious taste.