More or less, we all like beans in our regular recipes. It's a healthy vegetable that contains a huge amount of fiber. And, to remove your heart disease, high blood pressure, high cholesterol, or digestive issues, fiber is a great remedy. 
Considering all these health benefits, beans can be a regular cooking element. However, having the same style of recipe each day can make you bored. If you want to have beans in a different and delicious way, try the Marlboro beans recipe. 
The idea of this recipe is taken from the Malboro booklet. We can guarantee that you'll love this.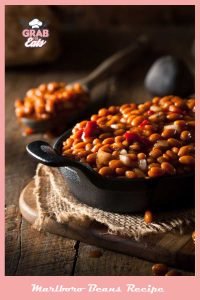 What is Marlboro Cook Book?
Marlboro cookbook is a wonderful collection of various recipes. It's a cookbook full of recipe ideas. To tailor your cooking skill, the Marlboro cookbook can be your best guide. 
You'll get clear instructions and information about each recipe. Thus, it won't create any confusion while cooking any recipe from Marlboro. Your passion for cooking will be easily standardized with the Marlboro cookbook.
Some of the Best Recipes from This Book Are- 
Homemade Chicken Pot Pie
Beef Recipes
Marlboro Chili Recipe
Cowboy Bean Recipes
Marlboro Beans Ingredients
This recipe is easy to make with all the pantry ingredients. The following ingredients will be required to cook your today's Marlboro beans recipe-
Beans (15 Ounce)
You can use either canned beans or fresh beans. If use regular beans, then you need to process them before cooking. So, take the beans and wash them. Stain and rinse well the extra water from them. 
Canned beans, on the other hand, will require to be drained well to remove the extra water. 
Pork & Beans (15 Ounce)
Purchase 1 can of pork and beans that comes with 15 ounces of measurement. You'll get them in your nearby shop.
Pink Beans (1 Can)
You'll also need to take 1 can of pink beans. Pink beans are rare to get. If you don't get this, take pinto beans. Pinto beans work as a great substitute for pink beans.
NB: To make this delicious Marlboro bean recipe, you'll need to collect three types of beans that we have mentioned above. 
Green Chili (2)
Take 2 large green chilies and chop them into small pieces. If you like more heat, add 1 jalapeno with the chili.
Onion (1)
Take 1 large size onion and chop it. Keep the chopped onion aside.
Garlic (2 Cloves)
For a strong flavor, take 2 cloves of garlic and mince them. Minced garlic mixed with other ingredients and spread a nice aroma. 
Bacon (½ lbs)
Bacon will enhance the taste and appearance of your dish in a meaty look. So, take ½ lb of bacon. 
Sugar (⅓ Cup)
Adding sugar will get a mild combination of sweet and spicy tastes. So, take ⅓ cup of sugar. If you can use the brown sugar, it will be even better.
Kosher Salt (⅓ Tsp)
For an added flavor, kosher salt is a good source. So, take ⅓ tsp of kosher salt. However, regular white salt is also applicable. In this case, take ½ tsp. 
Barbecue Sauce (1 cup)
Since we'll make a barbecue-style Marlboro beans recipe, we need barbecue sauce. So, take 1 cup of sauce for this recipe. 
How to Cook Marlboro Beans Recipe?
It's delicious and also takes only a few ingredients to cook. What's more, it requires only 3 steps to cook. 
Step-1
Take the bacon and cook them for 10 minutes. Now chop them into small pieces. 
Step-2
Put a large-size saucepan on the stove at medium heat. Now put beans of all three types. Stir and mix them. Now add onion, garlic, and chili and mixed them all together. Once the beans are soft, add sugar, bacon, and barbecue sauce. Keep stirring for 1 hour.
Step-3
Keep stirring for the entire 1 hour. You need to stir the beans with other ingredients slowly but frequently. Slowly because fast stirring can mash the beans. Make sure that, your beans aren't meshed or broken. Cause it's a Marlboro BBQ recipe. Once the beans are softened, your dish is ready.
Best Side Dishes to Serve With
Fried Okra
Turnip Greens
Meatloaf
Jalapeno Cornbread
Rice 
Southern Coleslaw
Cornbread
Fried Chicken
Toasted Vegetables
Zucchini Fritters
Sour Cream Cornbread
Pot Collard Greens
Creamed Corn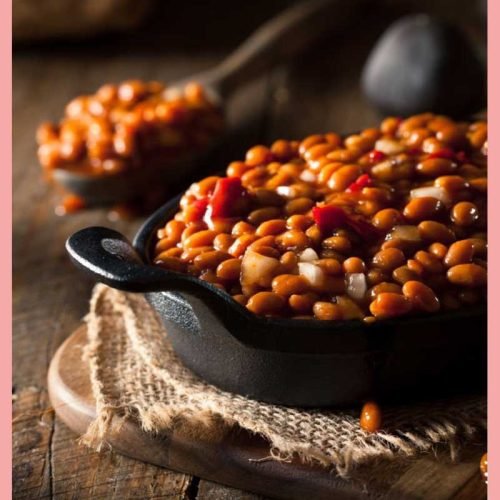 The Tasties BBQ Marlboro Beans Recipe
If you want lots of recipe ideas, the Marlboro cookbook is right here. So, start the first Marlboro recipe with the Marlboro beans recipe. It's a super delicious BBQ dish for all.
Print
Pin
Ingredients
15

Ounce

Beans

15

Ounce

Pork & Beans

1

Can

Pink Beans

2

Green Chili

1

Onion

2

Cloves

Garlic

½

Lbs

Bacon

⅓

Cup

Sugar

1

Cup

Barbecue Sauce
Instructions
Chop the bacon into small pieces and cook them for 10 minutes.

Put beans in a saucepan and mix them.

Add onion, garlic, and chili and mixed them all together.

Once the beans are soft, add sugar, bacon, and barbecue sauce and stir for 1 hour.

Stir the beans with other ingredients slowly but frequently.

Make sure, your beans aren't meshed or broken.
Tips
Adding

woodsy herbs

, for

instance, rosemary, thyme, or sage will make your recipe tastier

Try making your

barbecued beans recipe

with fresh beans if you're not using canned beans. It will be delicious.

Adding mustard powder is another key secret to improving the taste of your BBQ recipe.
To get a meaty flavor and feel, use ham besides pork and bacon.

Adding no herbs parsley, mint, thyme, etc won't bring any delicious smells to your recipe.

Also, aromatic spices like paprika can be a good choice to bring a mouthwatering flavor.
Nutrition
Nutrition Facts
The Tasties BBQ Marlboro Beans Recipe
Amount per Serving
% Daily Value*
* Percent Daily Values are based on a 2000 calorie diet.
Conclusion
Bean is a quick choice for effortless breakfast or dinner recipe preparation. If you can make your bean recipe a bit tactfully, it will taste great. So, the Marlboro beans recipe is one of the best ways to cook beans. 
It's a BBQ recipe that tastes so different and delicious. This recipe is versatile and you can serve it at any time mealing from lunch to dinner. Also, for breakfast, serving this dish with cornbread or creamy meatloaf is an excellent idea.
Read More: