If you love mushrooms then the Ruth's Chris Mushroom Recipe is a great choice for your dinner. There are times when your mushrooms may start to look bleak and you don't want them to go to waste. Our Ruth Chris recipe is great for cooking any type of mushroom on the go. You can even cook wild mushrooms using this recipe.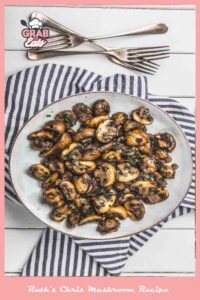 We visited Chris Steakhouse and loved their original sauteed mushroom. And after a bit of research, we tried to make them at home. As it turns out, cooking the recipe is not extremely hard. Just a moderate knowledge of cooking can help you cook this at home. Here we will instruct you how to prepare this recipe at home with easy steps and minimum home ingredients. 
How to Cook Ruth's Chris Mushroom Recipe?
Ruth's Chris steakhouse is a popular place to eat steak. They have their stores in a number of locations and people just love their steaks. However, they also have some of the best side dishes like this sauteed mushroom recipe. We tried this dish alongside pasta, mashed potatoes, and steaks. However, the sauteed mushroom is a great addition to your burger. Not to mention, you can use this with gravy and as it turns out, Ruth Chris mushroom is a great appetizer. 
This versatile recipe is easy to make and you can prepare this every day. On the other hand, this simple dish can hold its own as a holiday dish appetizer. If we are honest, we always prepare this recipe alongside our meat dish and we always eat most of them right from the pan. 
Cooking the sauteed mushroom is easy enough and you don't need too many ingredients. Well, the best thing about this recipe is that you only need 15 minutes to cook the recipe. Preparing takes only 5 minutes and another 10 minutes for cooking. 
On the other hand, it's an affordable option for you at home. You can use just about any type of mushroom and even wild ones. In this recipe, we will be using Sherry mushrooms. But we recommend you don't use this recipe for Oyster mushrooms or any expensive mushrooms. 
Mainly you use this recipe as an appetizer for your main course. So, you will be using mild ingredients to serve your tastebuds. Mushroom-loving friends are sure to be impressed with the great flavors in this recipe. 
However, there's room for added creativity with this recipe. You can add more seasonings to enhance the flavors. But make sure you don't add too much to enhance the taste. Otherwise, you might ruin this simple dish. We will guide you with all things you need for cooking this recipe at home. So, stay with us.
How to Prepare the Ruth's Chris Mushroom Recipe?
Well, preparing the Ruth's Chris mushroom recipe copycat is very straightforward and takes just 5 minutes of your time. First, you need to prepare the Sherry mushrooms. Rinse the mushrooms with a little water and pat them quickly using a kitchen towel or tissue. Cut the stems off so that the base is parallel. 
After that, you need to prepare the seasonings for a simpler cooking process. Now, collect 2 tablespoons of lemon juice from a large lemon. Finely chop 1 tablespoon of fresh parsley. Keep all the ingredients in separate bowls to identify them quickly. After preparing the ingredients, you need to know when you should use them. 
Ingredients that You Will Need Are:
You need the following ingredients to start cooking this recipe: 
Sherry Mushroom: To prepare this perry's steakhouse mushroom recipe alternative, you will need 24 oz of sherry mushroom. You can use baby Bella or any other wild mushrooms too. We loved it with sherry mushrooms a lot. 
Butter: You will require 2 Tablespoons of butter to saute the mushrooms. Butter is great for sauteing and it releases a mild flavor for your recipe. 
Olive Oil: Adding an additional 2 Tablespoons of light olive oil can enhance the flavors a lot.  
Salt and Garlic Powder: You can use salt and garlic powder to taste. The aroma from the garlic powder will surely increase your appetite a lot. But don't add too much as it might give you a garlicky flavor. 
Lemon Juice: The lemon juice will work with common seasonings like pepper and salt. For this recipe, you need just 1 or 2 tablespoons of lemon juice from a big-sized lemon. 
Fresh Parsley: 1 tablespoon of finely chopped fresh parsley will balance your savory dish. 
Step by Step Instructions for Ruth's Chris mushroom recipe
Step 1: Put a large heavy pan on medium heat and wait for a few minutes. 
Step 2: Now, put 2 tablespoons of butter and 2 tablespoons of olive oil into the pan. When the oil and butter are hot, you need to add the Sherry mushrooms in a single layer. 
Step 3: Now, you need to sprinkle some garlic powder and salt to taste. Sautee the bottom part for 5 minutes and wait until the bottoms are browned. 
Step 4: Flip the mushrooms one by one and sautee them for another 5 minutes. Again sprinkle some salt, garlic powder, and pepper. 
Step 5: Now, you need to add the lemon juice and sprinkle finely chopped parsley. Stir fry the mushrooms for 1 or 2 minutes. You can add more seasonings to enhance the taste of the mushrooms. 
Step 6: Remove the pan from heat and you can serve the dish. Our recipe is enough to serve 4 people at your table.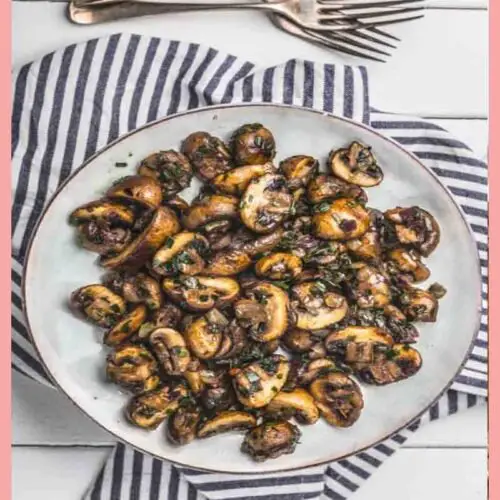 Ruth's Chris Mushroom Recipe
Ruths Chris Mushroom Recipe is a great choice for an appetizer course in any event. If you're looking for authentic recipes, look here.
Print
Pin
Ingredients
24

oz

Sherry mushroom

Garlic Powder

(to taste)

Salt

(to taste)

1

tbsp

Parsley

2

tbsp

Butter

2

tbsp

 Lemon Juice
Instructions
Put a large pan on medium heat

Put butter and olive oil on the pan

Add sherry mushroom on a layer and sprinkle seasonings and saute the bottom part for 5 minutes

Flip the mushrooms and saute the other side for another 5 minutes

Add lemon juice and parsley. Finally, stir fry the mushrooms

Remove the pan from the oven
Tips
For sauteing your mushroom, use a large pan on medium-high heat. 
Cutting the stems of your mushroom can help the mushroom stay parallel with the mushroom's base. This will help to saute easier for you.
Nutrition
Nutrition Facts
Ruth's Chris Mushroom Recipe
Amount per Serving
% Daily Value*
* Percent Daily Values are based on a 2000 calorie diet.
Wrapping Up
The Ruth's Chris Steakhouse Dinner offers a versatile mushrooms for steak dinner recipe. You can easily prepare this at home and it doesn't require too many ingredients to cook. We tried to give you the right copycat for this recipe.