In the 1970s, the Lou Malnati restaurant started its journey in Chicago. It's now the  world's recognized deep-dish pizza restaurant. Although it's specialized in pizza delivery, you also can enjoy other food items, including salad recipes.  
Once you try Lou Malnati's salad recipe at this restaurant, you'll be a fan of it. To get you this salad dish available anytime, we have Lou Malnati's salad recipe guide for you. 
Making this same dish at home will bring the exact taste and flavor from the original Malnati one. So, let's give it a try today.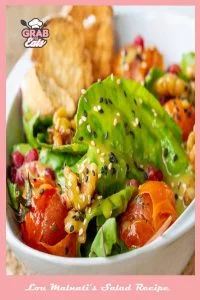 Lou Malnati's Sweet Vinaigrette Salad Dressing Ingredients 
You need for salad and the salad dressing are as follows-
Cherry Tomatoes (6)
To make this salad recipe, you need 6 large cherry tomatoes. Take the tomatoes and wash them to clean. Now chop the tomatoes into half. Don't dice or slice them. Keep them in a bowl aside. 
White Mushrooms (4)
Take 4 white mushrooms and wash them to clean. Now slice the mushroom and keep them in the bowl of tomatoes. 
Romaine Lettuce (1)
This ingredient comes with vast health benefits. It's extremely good for heart disease. Also, each serving of romaine lettuce will provide the high-powerful Vitamin C and beta-carotene. It also comes in handy in lowering the blood pressure. 
So, take 1 head of romaine lettuce and slice it into small pieces. 
Salami (½ Cup)
The sausage made of fermented meat is called salami. Adding salami to your salad will bring a meaty and fleshy flavor. As a result, the taste will also be doubled.  You'll need ½ cup of diced salami.
Gorgonzola Cheese (¼ Cup)
To develop your immune and nervous system, you need Vitamin B12, B6, and also Vitamin B2. And all these elements are highly available in the Gorgonzola Cheese. So, adding this highly rich element to your salad will make it healthier for an ideal diet. Here, you need 1/4 cup of crumbled gorgonzola cheese. 
Vegetable Oil (¼ Cup)
Take ¼ cup of vegetable oil. Considering the unavailability, substitute it with olive oil or canola oil. You also can apply regular cooking oil. 
Black Olives (¼ Cup)
To hydrate, protect, and nourish your health, you need antioxidants and fatty acids. And black olives are highly rich in all these two elements. So, take ¼ cup of black olives and dice them. 
Honey (2 Tbsp)
Take 2 tbsp of honey to add a sweet flavor to the salad dish. 
Parmesan Cheese (¼ Cup)
You'll also require ¼ cup of grated parmesan cheese 
White Wine Vinegar (2 Tbsp)
Vinegar is required to make the salad dressing. Take 2 tbsp of white vinegar. Adding vinegar will give a moist texture to your dish. 
Lemon Juice (1 Whole Lemon)
Take 1 whole lemon and squeeze the juice into a cup. Adding lemon juice will make the salad slightly tangy with its sweet flavor. So it will taste even more. 
Kosher Salt (¼ Tsp)
Applying kosher salt will increase the taste. Therefore, kosher salt is highly appreciated than regular white salt. You need ¼ tsp of kosher salt. 
Garlic (2 Cloves)
Take 2 cloves of minced garlic.
How to Make Lou Malnati's Salad?
The following steps are how you can make your radish-
Step-1
In the first step, you should make the salad dressing. Therefore take a bowl and add the followings-
Olive Oil
White Wine Vinegar
Honey
Minced Garlic
Parmesan Cheese 
Lemon Juice, and
Kosher Salt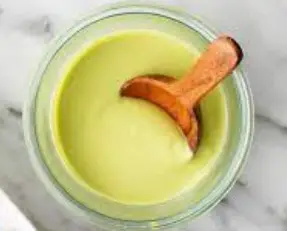 Whisk them together and mix well. If the mixture looks smooth and well mixed, keep the bowl aside and let the dressing set. 
Step-2
Take the diced salami and fry them in the air fryer for 10 minutes. Make sure they are crispy. You can fry the salami on your frying pan, too.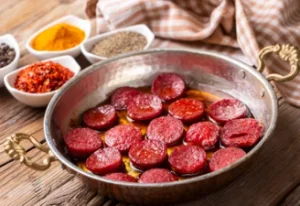 Step-3
Take a large bowl to make your salad. Bring together the following veggies-
Chopped Romaine Lettuce
Fried Crispy Salami
Cherry Tomatoes
Sliced White Mushrooms
Gorgonzola Cheese
Black Olives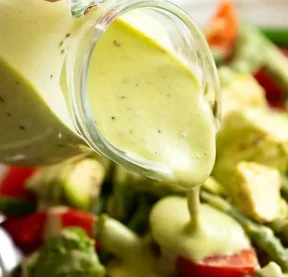 Step-4
Mix them properly and drizzle the dressing you made in step-1. Toss everything again nicely and make sure the ingredients are mixed perfectly. Your salad is ready, and you can enjoy the main dishes.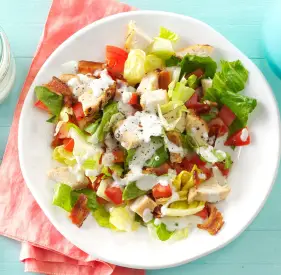 Best Main Dishes to Serve With
It's a versatile salad recipe that matches any dish. So you have no restriction to serve it with any of your favorite dishes. Here are some of the best examples-
Fried Rice
Fried Chicken
Pasta
Cornbread 
Grilled Shrimp
Grilled Steak
Hard Boiled Eggs and Shrimp
Buffalo Chicken
Burger 
Sandwich 
Pizza
Baked Potatoes
Corn 
Steaks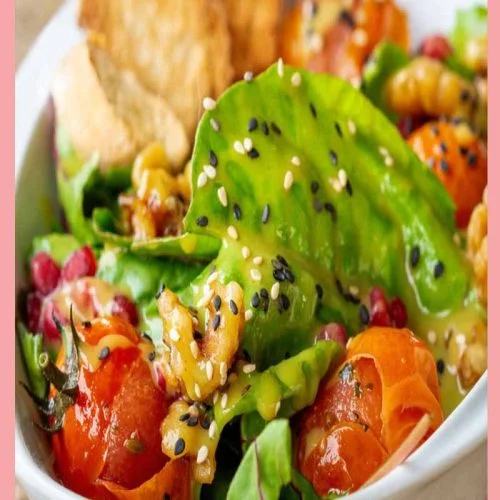 Lou Malnati's Salad Recipe for Dinner
If you love having salad at your dinner, check out Lou Malnati's salad. It's rich in protein, minerals, and vitamins to maintain an ideal diet.
Print
Pin
Ingredients
6

Cherry Tomatoes

4

White Mushrooms

1

Romaine Lettuce

½

Cup

Salami

¼

Cup

Gorgonzola Cheese

¼

Cup

Vegetable Oil

¼

Cup

Black Olives

2

Tbsp

Honey

¼

Cup

Parmesan Cheese

2

Tbsp

White Wine Vinegar

1

Lemon Juice

Whole Lemon

¼

Tsp

Kosher Salt

2

Cloves

Minced Garlic
Instructions
Whisk together the olive oil, vinegar, honey, garlic, parmesan cheese, lemon juice, and salt. Mix them well and set aside.

Fry the salami in the air fryer for 10 minutes.

In a large bowl,  mix the lettuce, fried salami, tomatoes, gorgonzola cheese, mushrooms, and olives .

Mix them properly and drizzle the dressing you made in step-1.

Toss all the ingredients nicely.
Tips
Add yogurt to increase the taste.

You also can add parsley for an added flavor.

Adding bacon instead of salami can be a good substitution.
Nutrition
Nutrition Facts
Lou Malnati's Salad Recipe for Dinner
Amount per Serving
% Daily Value*
* Percent Daily Values are based on a 2000 calorie diet.
Conclusion
A salad made with mushrooms, lettuce, or cherry tomatoes tastes natural. But if you add some more ingredients to them, your salad recipe will be amazingly tasty.  In this case, you can try Lou Malnati's salad recipe.
Salads with greens are an essential part of maintaining a healthy diet. Because it can be a great source of nutrients year-round, among all other salad types, Lou Malnati's salad is the easiest one to make. 
You can achieve all types of Vitamins, proteins, and minerals from this ion dish. So, enlisting it on your dinner or lunch menu will tremendously benefit you.
You May Also Like:
La Madeleine Chicken Salad Recipe
Mcalister's Chicken Salad Recipe