Are you tired of having the same meal for dinner? Give this old fashioned salmon loaf recipe a try. Made with canned salmon, eggs, milk and a few simple ingredients, this healthy yet filling dish is perfect for any night of the week. Serve it with your favorite sides and voila! Everyone will be asking for more.
There's just something about the old fashioned salmon loaf that makes it so special. It's a classic dish that's been around for ages and always hits the right spot when you need something cozy and comforting. 
So, on busy weeknights or lazy weekends when you have a can of salmon sitting in your fridge, making an old fashioned salmon loaf would be a smart idea!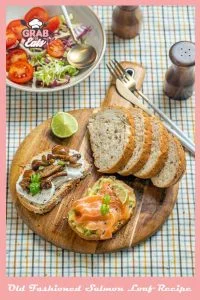 Know about the Old Fashioned Salmon Loaf Ingredients  
We've come up with a full-proof, old fashioned salmon loaf recipe that will help you whip up the dish in no time. And it won't wreck havoc in your kitchen, unlike other fancy dinner recipes. The ingredients used in this recipe are not only affordable, but there's a good chance you already have all the ingredients lying around in your pantry!
Ingredients
Salmon: Well, it's a no-brainer that you will need salmon to make a salmon loaf. While you can always go for fresh salmon, using leftover salmon is the traditional way to go about it. However, if you don't have any leftover salmon on hand, you can always opt for the salmon loaf recipe with canned salmon. Around 16 oz of canned tuna will do the job.
For this particular recipe, you can get your hands on the regular canned salmon found in your nearest supermarket. All you have to do is drain the liquid and discard the large bones, and voila! The canned salmon is ready to be incorporated into the recipe.
Saltine crackers: While the majority of people tend to use breadcrumbs in salmon loaf, the old fashioned recipe calls for saltine crackers. Salmon loaf recipe with crackers helps add a subtle saltiness and flavor to the dish, which complements the somewhat bland flavors of the salmon. Crushed saltine crackers work as a binding agent and do a great job of holding the shape of the loaf. Not to mention, they are low in calories as well! For this recipe, you will need about 1 ½ cup of crushed saltine crackers.
Milk: Milk is another key ingredient in the old fashioned salmon loaf recipe. Milk helps moisten the texture of the loaf mixture while adding a subtle hint of creaminess. You can use whole milk for the best result, but any non-dairy alternatives will work just as well. Just ½ cup of milk will do a decent job in adding the moisture in your loaf mixture.
Eggs: Eggs work as yet another binding agent in the traditional salmon loaf recipe. When using eggs in this recipe, it's important to beat them well before adding them to the mixture. This will contribute to the light and airy texture of the loaf. And, only two eggs will do the job.
Butter:  An old fashioned salmon loaf recipe is incomplete without melted butter. Butter adds the much needed richness to the loaf while making it soft and tender. You'll need butter to grease the loaf pan as well, so about two tablespoons will work just fine.
Onions: Onions are a great addition to the old fashioned salmon loaf recipe. Finely chopped onions add a savory flavor and a crunchy texture to the dish, making it more flavorful. This recipe calls for only one finely chopped onion.
Salt and pepper: Here come two of the most crucial ingredients. They may not seem as important as the rest of the ingredients, but adding the right amount of salt and pepper can make all the difference. Therefore, when seasoning the loaf mix, it's important to taste as you go and adjust the amount of salt and pepper accordingly.
Spices: While spices are optional ingredients in the recipe, they can certainly take the flavor of an old fashioned salmon loaf a notch higher! There are so many spices that work well in this recipe. 
If you want to add a hint of freshness to the dish, going for dill or parsley would be a good idea. However, if you want to add a spicy kick, adding a little paprika or cayenne powder is the way to go. But make sure not to go overboard with it. Using too much spice can overpower the flavor, while too little can make it bland. So, striking the right balance is the key!
How to Make Salmon Loaf?
Apart from being super easy to make, the best thing about the old fashioned salmon loaf recipe is that you can tailor it to your taste. If you don't have all the ingredients on hand, you can easily substitute or even omit them without compromising the taste of the dish. You can also be creative and put your own spin on the recipe by adding different spices and veggies. 
Directions: 
Step 1
Preheat your oven to 350°F.
Step 2:
Drain the can of salmon and remove any skin or bones. Flake the salmon using a fork.
Step 3
Add the chopped onion, salt, and pepper to a large bowl. 
Step 4
In a separate bowl, beat the eggs and then add them to the salmon mixture.
Step 5
Add the crushed saltine crackers, butter and milk to the salmon mixture and mix well.
Step 6
Grease a loaf pan and transfer the mixture into the pan. Spread it out evenly.
Step 7
Bake for about 40-45 minutes or until the loaf is golden brown on top.
Step 8
Let it rest for 5 minutes and serve while piping hot!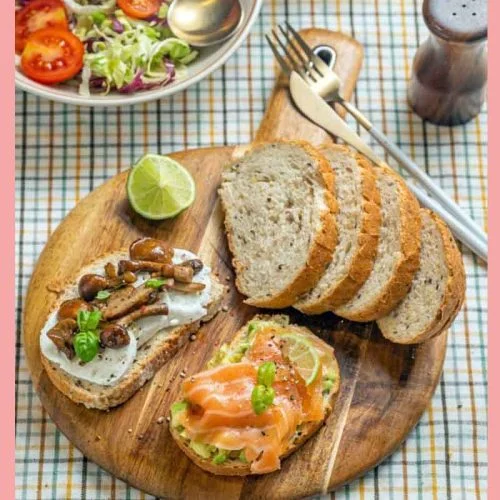 Old Fashioned Salmon Loaf Recipe
Salmon loaf is a classic dish that has stood the test of time. This old fashioned salmon loaf recipe makes a simple yet delicious meal that can be enjoyed any time of day.
Print
Pin
Ingredients
16

Oz

Salmon

1

Finely Chopped Onion

2

Large Eggs

Beaten

1 ½

Cup

Crushed Saltine Crackers

1/2

Cup

Milk

2

Tbsp

Melted Butter

Salt and Pepper

As you need
Instructions
Preheat the oven to 350°F.

In a bowl, combine all the ingredients together.

Grease the loaf pan, and pour in the salmon mixture.

Bake for 45-50 minutes  until golden brown.

Let it rest for 5 minutes before slicing and serving.
Tips
If your loaf mix seems dry, adding a dash of milk or canned salmon liquid will help. However, if the mixture is too runny, adding veggies or breadcrumbs is the way to go. 

A freshly baked slice of

salmon loaf with egg sauce

tastes heavenly. Egg sauce, also known as hollandaise sauce, is super easy to make. You can make it from scratch using a few ingredients. 

To enjoy the taste of the loaf to the fullest, pair it with your favorite side. Mashed potatoes, peas, pasta, french fries-there are just so many options to choose from!

A non-stick loaf pan will prevent your loaf from sticking to the bottom. However, if you don't have one, just placing parchment paper on your regular pan will do the job.

Cheese makes everything better. Adding some freshly grated parmesan to your loaf can make all the difference!
Nutrition
Nutrition Facts
Old Fashioned Salmon Loaf Recipe
Amount per Serving
% Daily Value*
* Percent Daily Values are based on a 2000 calorie diet.
Final Words
Old fashioned salmon loaf is a timeless dish that will never go out of style. If you are craving comfort food but don't want to splurge a lot of money, this dish will save the day. 
With just a few simple ingredients, you can make a delicious salmon loaf that will surely be a hit at the dinner table. So, what are you waiting for? Give the recipe a try, and see for yourself!