Yesterday, We got into an argument about the origin of the Leidenheimer french bread recipe, when my sister and I were making the bread. The New Orleans bread recipe does not originate from France! Knowing this I was quite surprised. It originated in Louisiana's New Orleans. This bread has been a favorite of mine since I was a child. I tried this recipe on a boring or free day or when I was in a bad mood. Believe me, when I eat that my mind becomes refreshed. This is why, sometimes my sister poked me on the shoulder and said, "Hey, Orleans bread's bestie."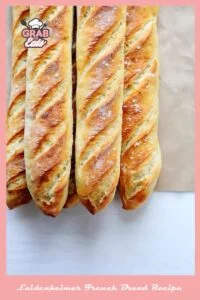 Know About Leidenheimer Bread
Leidenheimer produces French bread with a crisp crust and light, airy inside that compliments rather than competes with food using the finest ingredients and a time-consuming procedure. Leidenheimer French bread is a cholesterol-free, low-fat bread.
If you are growing up in the South, you are already familiar with the bread. But if you don't, try it once at your home. I can assure your family members will also be fans of it, especially children. 
What Makes the New Orleans French Bread Recipe Unique?
If you've ever visited New Orleans and eaten a Po-Boy, you'll know that New Orleans French Bread is unlike any other French Bread, or any other bread for that matter. Most French bread has a hefty crust that is substantial but not crunchy, with a dense interior. 
New Orleans French Bread is a one-of-a-kind product that they are rich with butter and sugar, both of which work as tenderizers and preservatives, allowing them to last for several days. The converse is true with New Orleans-style French bread. It has minimal to no fat, sugar, or preservatives. For a limited amount of time, French bread is fresh.
Leidenheimer's bread is New Orleans' most famous bread, a literal legend with a shatteringly crisp crust and a wonderfully soft, pillowy middle, measuring around 4 inches broad by 3 inches long and prepared fresh for the city's famous sandwiches. Leidenheimer is a well-known French bread brand in this area, and it is the best.
Secret to Leidenheimer Bread
Hours of baking, tons of experimentation, and lots of failures later, finally I was able to made this bread. The ideal loaf of French bread or Po' Boy bread will have a hard exterior that can withstand gravy or mayonnaise but will come apart if overstuffed with deli meat or seafood, as well as a fluffy and airy interior.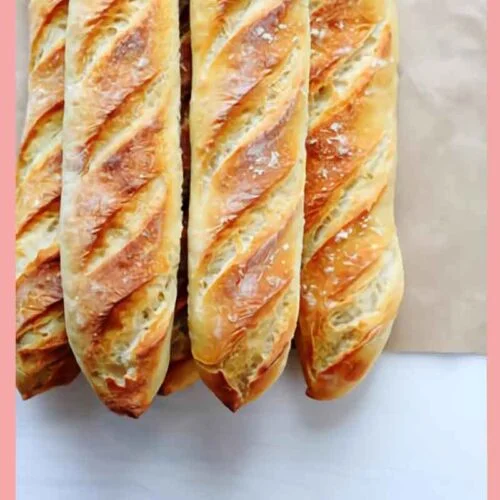 Leidenheimer French Bread Recipe
Check out this leidenheimer french bread recipe, absolutely delicious and easy to make at home! Enjoy and share this recipe with your friends and family.
Print
Pin
Ingredients
2

cups

hot water

2

tbsp

sugar

2

tbsp

dry yeast granules

2

tbsp

shortening

(vegetarian)

6.5

cups

Bread flour

1

tbsp

salt
Instructions
In a large bowl, combine the flour, salt, sugar, and yeast.

Add the warm water and olive oil, and stir until the dough is wet and sticky.

Place the dough on a floured surface and knead for about 10 minutes.

Place the dough in a greased bowl, cover, and let it rise for about an hour.

Preheat the oven to 350 degrees Fahrenheit.

Cut the dough into 12-16 pieces, and shape into rolls.

Place the rolls on a greased baking sheet and let them rise for about 20 minutes

Bake the rolls for 20-25 minutes, or until they are golden brown.

And that's it! You have now made the perfect loaf of Leidenheimer bread. Enjoy!
Tips
While baking, the humidity and temperature of your home will have an impact on your product. It is feasible to make French bread at home, but it will never taste the same as it does in a bakery.
Another thing to keep in mind is that they are baking in large amounts, whilst you are creating a smaller dish. All of this contributes to the final result.
Two elements are essential for success in this recipe, as they are in all of my bread recipes. To begin with, I always use my bread machine to do the majority of the labor, such as mixing and kneading. 
I weigh the flour and liquid ingredients every single time. Before I started doing this, the end product's quality was hit or miss. Now that I've found the correct flour-to-liquid ratio, I don't stray from it!
My friend reports the same thing about some Chicago bread bakeries. The baking process is influenced by the unique combination of humidity, salinity, and other factors found in specific locales.
Nutrition
Nutrition Facts
Leidenheimer French Bread Recipe
Amount per Serving
% Daily Value*
* Percent Daily Values are based on a 2000 calorie diet.
Lastly
Enjoy it as a po,boy or sandwich.  Spread garlic butter and cheese. Alone or with butter. Every Thanksgiving or Christmas, we have Cajun Turkey Po' Boys with Brown Gravy in my house as a tradition. For the previous ten years, my family has been eating that kind of Po' Boys, and I've been cooking this bread for the last five. It is certainly delicious traditional food.
You May Also Like: