Jello-O is an American company offering all gelatin desserts. Although Jello is a brand, this food product is sold by different manufacturers. We all know about the food products of jello. It's a gelatin-based well-flavored dessert that is a perfect sweet for all ages of eaters. 
The jello jigglers recipe is the easiest recipe you've ever tried. It takes the least time to prepare ingredients and refrigerate than other recipes. Although Jello has been sold in stores, it was first discovered in 1897 for homely use.  
A carpenter named Pearly Wait discovered this recipe as laxative tea. This colorful recipe isn't just delicious, it's also a great remedy for cough. Besides, jello jiggers are considered low in fat and calories.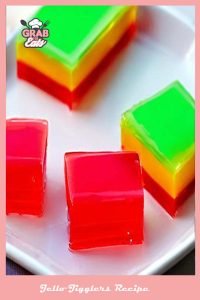 Jello Jigglers Recipe Ingredients
Can you imagine only 3 ingredients you need to make this gelatin dessert recipe? It's incredible. And you can do it on your own. Let's check out what 3 ingredients for jello you'll need-
Jello (4 Packets)
You'll need to buy the packs of Jello of 4 packs. Each pack should be 3 oz. 
Boil Water (2 ½ Cups)
2 cups of boiled water you'll need to make a good mixture. 
Cooking Spray (1 Tbsp)
To brush the cake pan, 1 tbsp cooking spray will be perfect.
How to Make Jello Jigglers?
Here's the fastest way to make jello how effortlessly you can make the Jello Jiggler-
Step-1
Take a saucepan and boil 2.5 cups of water for 5 minutes.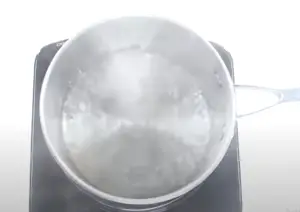 Step-2 
Pour 4 packets of jello into a mixing bowl. Now take the boiling water and add it to the jello. Keep mixing until dissolved.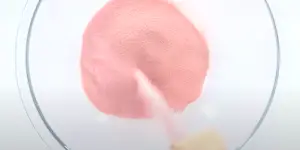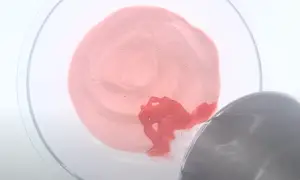 Step-3
This time, you need to spray the cake pan. So, take the cooking spray and spray the pan. Now pour the jello mixture into the cake pan and refrigerate it for 3 hours straight.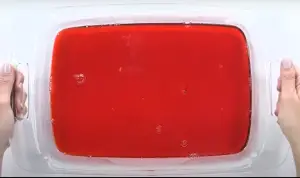 Step-5
Get the cake pan from the fridge and keep it at room temperature to loosen the gelatin. Or you can keep it in warm water for 15 seconds, and it will help loosen the gelatin quickly. 
Step-6
Take fun cookie cutters of different shapes and cut the Jello jiggler into your preferred ones.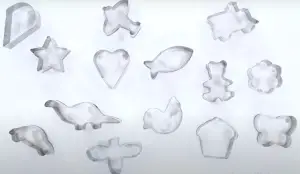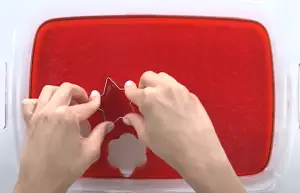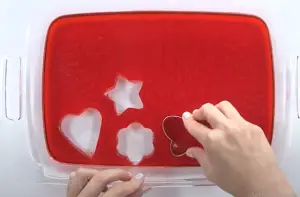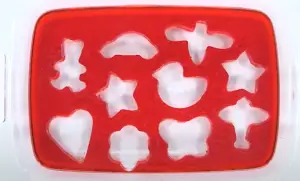 Step-7
Your jello jiggler is ready.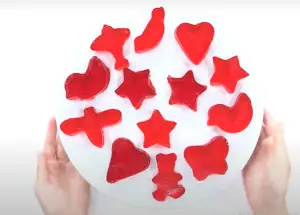 Best Salad Recipes to Make with Jello Jiggler
Jello is the best item to make different salad recipes with. Here are the 5 best examples of delicious salad recipes you can make using your Jello Jigglers-
Watergate Jello Salad 
It's easy to make using simple ingredients like pistachio, cool whip, marshmallows, and jello. Also, it takes very less time.
Layered White, Blue, & Red Jello Recipe
If you prefer having your jello in a layered texture with multiple tastes, try this Layered white, blue, and red jello. It's a fantastic recipe to celebrate the holidays. 
Christmas Jello Salad
The Christmas jello salad is a special dessert recipe to celebrate your Christmas holidays. Keeping this recipe on your Christmas menu will surely increase the fun. 
Sparkling Jello Salad
To bring a different taste to your party night celebration, the Sparkling Jello salad is a great dessert.  Everyone will just love it.
Pretzel Jello Salad
If you like having a dessert with a savory and sweet taste, try the Pretzel jello salad recipe. This recipe is prepared with pretzels, cheese cream, and jello. And taste very unique.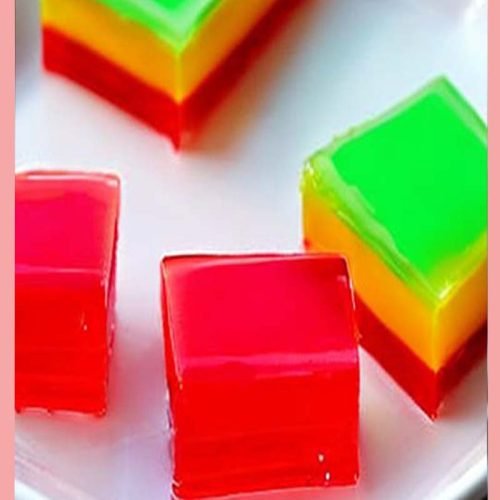 Jello Jigglers Recipe || The Simplest Recipe Ever
Do you want a quick dessert for morning or evening snack time? Give a try to the Jello Jigglers recipe. It's a perfect and delicious dessert for any meal.
Print
Pin
Ingredients
4

Packets

Jello

2 ½

Cups

Boil Water

1

Tbsp

Cooking Spray
Instructions
Boil 2.5 cups of water for 5 minutes.

Take a mixing bowl and pour 4 packets of jello. Now add boiling water with the jello. Keep mixing.

Take the cooking spray and spray the cake pan. Now pour the jello mixture into the cake pan.

Refrigerate it for 3 hours at least.

Keep the cake pan in warm water for 15 seconds.

Take fun cookie cutters of different shapes and cut your Jello jiggler into your preferred shape.

Your jello jiggler is ready.
Tips
Try not to use other options besides the fridge to set your jello. The fridge will bring your perfection.

If you're in a rush and do not have enough time to let this dessert set for 3 or 4 hours, go for batch settings. It will faster your setting process.

Jello jigglers with fruit

are super tasty, as always. So, adding fruits of a different kind will enhance the flavor.

Some people think wrapping the jello with plastic paper is a faster way to speed up the setting process. But they are wrong. It will delay your setting process. and also make the jello hard. So, wrap the jello while keeping it in the fridge

You can refrigerate your jello shot jigglers

for 10 days long.
Nutrition
Nutrition Facts
Jello Jigglers Recipe || The Simplest Recipe Ever
Amount per Serving
% Daily Value*
* Percent Daily Values are based on a 2000 calorie diet.
How to Make Jello Thicker : 3 Easy Ways
Usually, it seems making jello is easy. However, there can be numerous reasons you can mess up the whole process. And later, your jello won't thick and set properly. No worries if you failed to make perfect jello several times. Following our instructions, you can surely solve your problem-
Follow the Package's Instructions
It's very important to follow the instructions given in the packet. Once you read the instructions, setting the jello will bring you an excellent result. 
Add Fruits
If you follow the manufacturer's instructions, your jello must be thickened. Still, you might add excessive water if the jello isn't thickening. Adding fruits like bananas, apples, berries, grapes, etc will help you thicken the jello quickly. 
Add Boiling Water
You also can fix this issue by adding boiling water. The measurement should be-
1 Cup Boiling water = 3 Oz Box of Jello
Whisk properly and keep stirring. Then keep it in the fridge and let it set. No fixed timing for refrigerating. Just check out whether or not the jello is set. It can be for 30 minutes, 50 minutes, or even more. 
How Long Does Jello Take to Set in The Fridge, Freezer, or Roome Temperature?
You can set your jello dessert in many ways. Here are 3 main ways to set your jello hassle-free-
Setting Jello in The Fridge
Refrigerating is a great way to set Jello, considering all other ways. Usually, it takes 2 to 4 hours for Jello to set in the fridge. However, it can be more or less depending on your amount. And  it will  take approximately 6 hours to set in the fridge if it's about an extra-large serving portion of your jello dessert.
Setting Jello in Room Temperature
What if you've no fridge? Well, it doesn't mean you can't prepare this tasty treat. However, room temperature won't set the jello the same as it sets in the fridge or freezer. And it will get a soft texture rather than a firm texture. But still, you can enjoy having this dessert in the way it sets. 
If you want to set your jello at room temperature, you have to ensure the room temperature is below 21°. In this case, take a large bowl full of ice cubes. And keep the cake pan in that bowl. Let it be in the bowl for 6 hours at least. It will be hardened. 
Setting Jello in the Freezer
If you want the fastest way to set your jello, you can use a freezer instead. It will speed up your settings and won't let you wait for 3 or 4 hours long. Setting the jello in a freezer will take only 20 minutes. Now, keep your jello in the freezer for 20 minutes and transfer it to your fridge immediately.  
Remember, keeping the jello in the freezer for more than 20 minutes will make the jello edges extremely stiff and hard. If the jello becomes so hard, your jello will be ruined all the way. 
Conclusion
The Jello Jiggler recipe is, although low in calories and fat, actually high in sugar, so you'll have to consume it in a measured amount. Not too much you can have this. Adding fruits to the jello is your choice. You can use any fruit like bananas, berries, apples, and whatever you like the most. 
You have options to make your jello shot jigglers recipe more healthy. Making it takes very little time. Therefore, you'll enjoy both making and eating. 
It's great fun for kids to have jello as the pieces appear in different shapes and colors like red, green, and yellow. But we've made only the red ones today.  All it seems like toys among kids, and they enjoy making their breakfast with this recipe. 
Read More: