If someone asked an American what their comfort meal would be, there would be two answers. One would be mac and cheese, and the other would-be hamburger steak. The grilled hamburger steak recipe is one of my staples for barbecue. It's a must-have. The recipe might sound like too much hassle. But it's all about practice. Most people like to add tons of herbs and spices to their burgers. But for me, I like to taste meat rather than herbs. On most days, I'll skip almost all the herbs except salt and pepper. But for the sake of the properly grilled hamburger steak here, we'll be adding the fancy version.
There's hardly anyone who doesn't like a hefty steak. And what's better than beef? The steak is the real hero of the recipe. So, it's better to go with a beef piece that has the least amount of fat. The hamburger steak can be served with almost anything. And I like steak with gravy. So here we'll also include our hamburger steak gravy recipe.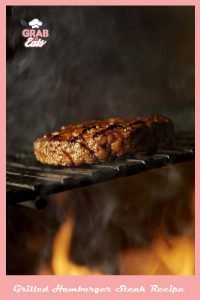 Know About the Grilled Hamburger Steak Recipe Ingredients
Homemade hamburger steaks are mouthwatering. But the main challenge lies in getting the meat done properly. Most people will choose a serving of beef that is on the thinner side. And that's because it's easy and quick to cook. But for me, the best way to enjoy a grilled hamburger steak is when the patties are thick. And with the addition of gravy, it just feels out of this world. Here we include the ingredients used for the hamburger steak.
Ingredients
Beef: You can't make a steak without beef. Here we used three pounds of beef or chuck. We first gathered the meat as a steak. And we ground the meat fresh at home. This makes a whole lot of difference in taste. For each serving, 1 or 12 pounds of steak are made. Low-fat beef is preferable.
Breadcrumbs: You can make your own breadcrumbs at home or buy them from a store. 2 cups of breadcrumbs are used in this recipe. Breadcrumbs will help hold the shape of the steak.
Eggs: Eggs are also important to hold the steak together. Most of the time, two large eggs are used in this recipe.
Onion Powder: 3 Teaspoons of onion powder are used on the beef. It adds more flavor and savoryness.
Chili Flakes: I like my beef spicier. So, with the black pepper, I also add the flakes. But this is optional.
Oregano: 3 Teaspoons of oregano are added to the steak. It gives a good aroma and also adds a hint of soy sauce to the steak.
Flour: The flour is used on the hamburger steak before putting it on the skillet. This helps to give a good color to each side of the meat. Also adds an additional crunch. Two cups of flour are used to coarsely chop the steak.
Butter: To cook the steak, butter is put on the skillet first. A small amount of butter or oil is preferable.
For the Gravy
Mushrooms: This is an essential part of gravy. 4 or 5 cups of mushrooms are shredded and added.
Onions: Mushrooms and onions go really well together. Using two medium-sized onions or one large onion will get the job done.
Beef Broth: 3 Cups of beef broth are added to the gravy. It adds more flavor than water.
Flour and Milk: The mixture of flour and milk is added to the gravy to thicken it up. You can also add cornstarch here.
How To Cook Hamburger Steak?
Here we'll be adding the recipe for the grilled hamburger steak from scratch. If you like your hamburger steak without gravy, then ignore the gravy part and only follow the steak recipe. The hamburger steak will have to be cooked twice when you add that to the gravy. You might want to grab your cooking thermometer to get the proper steak. Here we are including a step-by-step method for making an easy hamburger steak recipe with onion soup mix or gravy.
Step 1
Prepare the Steak: The first part of preparing the recipe would be to prepare the ground chuck. Grab two pieces of low-fat beef. If there's a high-fat percentage around the beef, the steak will be cooked early on the outside and stay rare on the inside. So, grab the steak and cut off the fat parts. And then cut it into square cubes.
Step 2
Grind the Beef: The next part will be to grind the beef. We used a traditional meat grinder. You can even use a food mixer.
Step 3
Add the Breadcrumbs: 1 Cup of breadcrumbs are added to the steak. And then mix them. After that, pour in the rest of the breadcrumbs.
Step 4
Add eggs: 2 Large eggs will go straight to the ground beef. Make sure that the eggs are at room temperature.
Step 5
Seasoning: You can go with a simple salt and pepper mix on the steak. Or add garlic and onion powder with some dried oregano in it. Make sure that the herbs don't overpower the taste of the streak.
Step 6
Coat with Flour: The breaded hamburger steak is then mixed well and made into a large patty. Then they are coated in flour.
Step 7
Grill: Use an iron skillet and warm it up. Add oil or butter to it. And then add your steaks. Cook the steaks for 5 to 6 minutes on each side. Use a thermometer to check the temperature inside. If the temperature is around 160 degrees, then the steak is medium rare.
Step 8
Gravy: Add mushrooms and onions with some oil to the pan and sauté them. Then add beef stock and cook them for a few minutes. Add the mix of flour and milk to thicken it up. A few minutes later, place the steak on the pan and let the meat soak up the gravy.
Step 9
Serve with side dishes.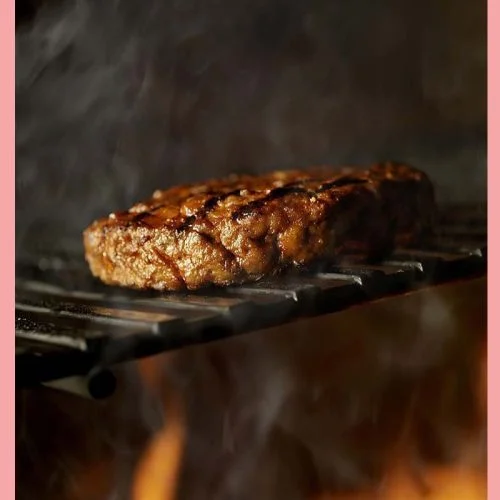 Grilled Hamburger Steak Recipe – A Statement of American Food
The Grilled Hamburger Steak Is One of the Staples of American Cuisine. It Can Be Made with Meat and Very Few Seasonings.
Print
Pin
Ingredients
2

Pieces

Beef steak

Per Piece 3 Pounds

2

Cups

Breadcrumbs

2

Eggs

Salt

As you need

Pepper

As you need

3

Tsp

Onion powder

3

Tsp

Chili flakes 

3

Tsp

Oregano

2

Cups

Flour 

1

Tbsp

Oil/butter
For Gravy
4

Cups

Mushrooms

2

Medium onions

3

Cups

Beef broth

½

Cup

Flour 

1

Cup

Milk
Instructions
First, you have to start with 3 pounds of steak. Grind them.

Then put breadcrumbs, eggs, salt, and pepper in it.

Add two cups of flour to a plate and place the steaks in there. Coat two sides of the flakes generously.

Place them on the grill. Cook them until medium rare.

Make gravy with mushrooms and onions.  Add beef broth.

To thicken up the gravy, add the mixture of milk and flour.

After a few minutes, place the steaks on the gravy and put a lid on the pan.
Tips
Some additional tips to make the grilled hamburger steak recipe are:
Use low-fat beef.

To cook the meat properly, put it in an oven on low heat for some time.

Use nonstick pans if you're new to cooking.
Nutrition
Nutrition Facts
Grilled Hamburger Steak Recipe – A Statement of American Food
Amount per Serving
% Daily Value*
* Percent Daily Values are based on a 2000 calorie diet.
Last Words
Our serving of one grilled hamburger steak recipe is around 1½ pounds each. So, when you think of it, there's tons of meat. But that is not necessary every time. You can cut down the serving piece. We like to serve steak with some bread and sweet corn. But you can choose literally anything to go with it. The hamburger steaks are hefty, and they'll definitely fill you up. But still, the taste and smell are something to die for.
Read More: