Dominican beef recipes are some of the best dishes to exist that originated from the Dominican Republic. You can now enjoy having these dishes by making them on your own. These recipes are a direct rendition of how the stews and beef steaks are made in the specific country style. You can enjoy them by attempting these recipes. All you need to do is gather the necessary ingredients and follow the instructions accurately.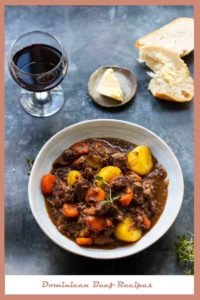 Know About Recipe and Ingredients:
Onion powder: Onion powder is a version of a spice that is processed from fresh onions. The onions are thinly sliced and dried. Then they are crushed and refined into dry powder. This spice goes really well with Dominican pepper steak and other savory dishes. 
How to Make Guiso De Res?
The process of making the Dominican beef steak dishes is easy. The meat needs to be marinated for a good amount of time. Then cooked to perfection and served with rice or other add-ons. The ingredients are fairly easy to collect. And you can attempt and have a good dish to enjoy in no time. You must follow the instructions precisely so you get the optimum outcome.
Soy sauce: Soy sauce is a type of sauce that adds a tang of flavor into any dish that it is out in. These Dominican recipes call for light soy sauce. They are widely available in the market. You can also dilute dark soy sauce with vinegar and water to make it lighter. But it is best to stick to the recipe.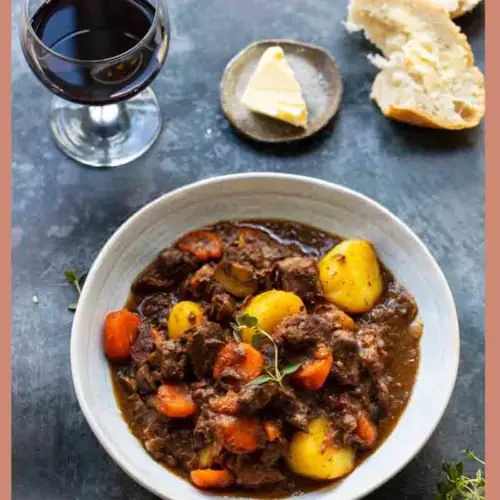 Dominican Beef Recipes
Try cooking these awesome Dominican beef recipes and add a variety of cuisine to your daily meal plans. These recipes are delicious and easy to make. Check them out and cook them today at home!
Print
Pin
Ingredients
2

pounds

beef 

4

cloves

garlic , crushed

1

tbsp

dried oregano

1

lime , juiced

1/2

tbsp

chicken bouillon powder

1

tbsp

light soy sauce

1/2

tbsp

onion powder

1

pinch

ground black pepper

2

tbsp

cooking oil

1/2

onion , sliced

1/2

cubanelle

pepper , sliced

1/2

red bell pepper , sliced

1/4

cup

tomato paste

fresh cilantro , chopped
Instructions
Beef should be cut into one-inch chunks. Lime should be juiced. Using a garlic press or a mortar and pestle, crush the garlic cloves. Combine with oregano that has been dried. Cut the onion into thin slices. Cut the Cubanelle pepper into slices. Cut the red bell pepper into slices. Cut the fresh cilantro into small pieces.

Season beef with chicken bouillon powder, onion Powder, ground black pepper, lime juice, light soy sauce, and the garlic-oregano mixture in a large mixing bowl. Mix until all of the ingredients are well combined. It's fine to marinate overnight for more taste, but it's not required.

Cooking oil should be heated in a big saucepan over medium high heat. Cook for 5 minutes, uncovered, with the beef. Reduce the heat to medium, give it a toss, and cook until the meat absorbs its own juices, about 15 minutes.

When there are no more liquids left in the pan, add 1/2 cup of water at a time until the meat is tender. If the meat is still not tender after absorbing the water, add more water and repeat until the meat is tender.

Stir in the onion, cubanelle pepper, and red bell pepper once the steak is soft. Whisk in enough water to form a stew-like gravy consistency, then stir everything together well. Cook for 3-5 minutes with the lid on. Remove from heat and whisk in the cilantro. Serve over rice and enjoy!
Nutrition
Nutrition Facts
Dominican Beef Recipes
Amount per Serving
% Daily Value*
* Percent Daily Values are based on a 2000 calorie diet.
How to Make Dominican Style Beef Stew?
The process of making Dominican style beef stew is fairly easy and it is not that complicated for you to feel hopeless. You can accomplish making this dish quickly and efficiently if you go through the steps as discussed here.
Ingredients we used:
2 pounds of cubed sirloin steak
1 thinly sliced onion
½ of a green pepper sliced
3 tablespoons of sofrito
2 tablespoons of olives
1 ½ tablespoons of chicken bouillon
½ tbs dominican orégano
1 tablespoon of sazón
½ of a teaspoon of white sugar
1 teaspoon of tomato paste
1 lime
Black pepper, to taste
Salt, to taste
1 teaspoon of white vinegar
2 tablespoons of olive oil, for cooking
2½ cups of water
Method of Preparing Steak Guisado Recipes
Step 1: In a mixing dish, combine the sliced and peppers. Pour in the vinegar. Remove from the equation. Season cubed steak with sofrito, Dominican oregano, sazon, Chicken Bouillon/Adobo or salt of choice, black pepper, and fresh lime in a big mixing basin. Mix everything together until it's completely smooth. Allow meat to marinade for at least 20 minutes, if not overnight.
Step 2: In the center of a deep-sided skillet over medium heat, add olive oil (or other oil of choice) and 1 tsp sugar. Warm the oil until the sugar begins to caramelize.
Step 3: Carefully add the meat once the sugar has caramelized. All sides of the meat should be browned. The meat will begin to release its own juices over time. After that, add water, making sure that it thoroughly covers the meat. Place it on a pot with a little aperture to let the steam and pressure out. Cook for around 25-30 minutes in a slow cooker. Keep an eye on the pot at all times. If the water runs out before the meat has a chance to tenderize, add more.
Step 4: Check for discomfort after 25-30 minutes. If the meat remains tough, add extra water and continue to simmer. Add tomato paste once it has attained the desired softness and tenderness. Make sure the tomato paste is fully incorporated into the sauce.
Step 5: Finally, add the olives and sliced onions and peppers that have been sitting in 1 tsp white vinegar (optional). Turn off the burner after mixing until the meat is well mixed. Cover for 5 minutes to allow steam to soften the onions and peppers. Serve with rice and enjoy!
Tips From Our Chefs
Here are some tips and recommendations for you to follow about these recipes: 
These dishes taste really well with Moro de Habichuela, mashed potatoes,Congri, Spanish yellow rice, Mangu, etc. 
Almost like a gravy or au jus, you want to make sure you have adequate sauce. Make sure the sauce doesn't dry out too much. Simply add more water if it has become too dry.
If you don't have any homemade sofrito on hand, you may make your own by combining diced onions, peppers, and garlic.
Conclusion
Hopefully you will enjoy cooking these dishes by following through with the recipes exactly. The instructions are easy enough for you to follow and you will be more at ease by following them rather than making up alternate ideas. You can then enjoy having amazing flavors from a different cuisine that you cooked from the comfort of your own home.