Ruth chris mac and cheese recipe is a recipe that blends cheese, pasta and lobster meat. Basically, it's an Italian and American fusion that provides sweet and savory flavors. You may need a lot of ingredients to cook this main course, but the hard work will be worth your time. If you want to make this recipe at home, follow our Ruth's Chris Lobster Mac and Cheese Recipe.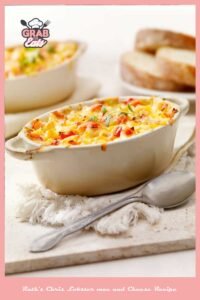 Instead of flattening taste, this creamy lobster mac and cheese recipe gives you an overall taste of different popular courses. In short, the macaroni, lobster, and cheese creates a unique dish altogether. Here we will guide you through the whole cooking process in two different sections to make it easier for cooks with minimum skills. 
How to Cook Lobster for Mac and Cheese?
Now, you may argue that cheese and lobster usually don't go together. However, thanks to the savory and sweet taste, Ruth Chris mac and cheese recipe tells a different story. Currently, it's one of the best-selling menu items in Ruth Kitchen Restaurant. But what's the success of this sweet and savory dish? 
To tell you the truth, this Ruth's lobster recipe requires high-efficiency cooking skills. It's due to the fact that you will need hard-to-find cooking ingredients for this dish. Not to mention, the cooking process is a little more complex than any other seafood recipe. However, it's not wrong to try out a special recipe once in a while. 
Mainly, you have to use multiple varieties of cheese for this seafood dish. Of course, the Gruyčre cheese is an expensive item. Also, it will be hard to find oyster crackers in any nearby grocery stores. If you can collect all the ingredients, you are set for cooking this special meal. 
Yes, it's a special dish but requires only 1 hour and 5 minutes to fully prepare the course. Prepare the ingredients within 15 minutes and another 50 minutes to cook your steak lobster mac and cheese. 
We will guide you bit by bit so that with minimum cooking skills, you can dish out this recipe. Yes, all you need is care and patience while cooking. Don't overdo anything or skip any ingredients. Otherwise, the taste might go wrong for you. 
How to Prepare the creamy lobster mac and cheese ingredients?
You don't have to spend most of your time preparing the lobster dish. Collect the following ingredients and you are all set. But keep the basics in mind and first mince 2 large garlic cloves. Filter all-purpose flour in a separate bowl or you can purchase filtered all-purpose flour. 
After that, grind ¼ cup of red onion in a small glass bowl. Also, finely chop and prepare ½ cups of fresh chives. After preparing the chives and onion you have to focus on the oyster crackers. Mash the oyster crackers and prepare 2 cups of mashed oyster crackers. 
You should separate all the ingredients into small bowls so that you can get what you want while cooking. 
Finally, you have to prepare the lobster. Make sure to cook the lobster before preparing it. We recommend not to use any cooked lobster from the grocery shop. Instead, get a fresh lobster and boil it until it's cooked. Shred the lobster meat for a better taste. No need to grind the lobster meat as it will become mushy in texture. After preparing all the ingredients, you are set for cooking. 
Ingredients that You Will Need Are:
You need the following ingredients to start cooking this recipe: 
Corkscrew Pasta: You need 16 Oz corkscrew pasta for this lobster recipe. 
Cheddar Cheese: Just ½ cup of Cheddar cheese for extra sharp flavors. 
Gruyčre cheese: Adding 1/2 cup of this semi-cheese will add a nutty taste to the lobster recipe. 
Melted Butter: Seafood goes great with melted butter and you need 6 tablespoons of melted butter. 
Dijon Mustard: Dijon mustard is a great alternative for lemon juice and uses 1 Tablespoon for this recipe. 
Garlic Cloves: Finely chop 2 large garlic cloves so that there's a garlicky smell in the aroma. 
Red Onions: Grind 1/2 cup of red onion to reduce the mushiness of the cheese and lobster. 
All-Purpose Flour: 1/4 cup of all-purpose flour is important as a binding agent and gravy for the recipe. 
Whole Milk: 3 Cups of whole milk are less likely to crumble. The milk will add a smoother texture to your dish. 
Fresh Chives: Finely chop and prepare 1/2 cup of fresh chives. Chive is popular as a universal garnish and this will serve as the garnish for your lobster recipe. 
Cayenne pepper: The spiciness of cayenne pepper will balance the sweet and savory flavors of the creamy lobster. You just need 1/8 tablespoon of Cayenne Pepper. 
Salt: Just a 1/2 tablespoon of salt will do fine. 
Lobster: You need 1 lb. cooked lobster 
Oyster Crackers: 2 cups of these spicy crackers is a great addition to your no-bake recipe. 
Step by Step Instructions for Ruth's Chris Lobster Mac and Cheese Recipe
Step 1: Put water in a pot and add salt. Start boiling the water and boil the corkscrew pasta for a short period. Make sure to stir the pasta continuously while boiling. 
Step 2: Now, take the pasta out of your boiling pot. Rinse the corkscrew pasta using cold water. Let it rest for a while. 
Step 3: Take a saucepot and set it in medium-low heat. Add 4 Tablespoons of melted butter into the saucepot. 
Step 4: Slowly add the red onions and minced garlic to the saucepot. Now cook them for 5 minutes until the onion is translucent. 
Step 5: Add all-purpose flour and stir it for another 1 minute. 
Step 6: While stirring the flour, add the whole milk. Keep the medium-high heat on your stove and let the mixture boil. Make sure to whisk frequently otherwise it may burn. 
Step 7: Now, lower the heat of your stove to medium-low. Now, you have to  wait for another 3 minutes. You will notice the mixture is becoming lumpy and smooth. 
Step 8: After that, remove the saucepot from your stove. Then start to whisk in the cheese. After whisking the cheese, add 1/4 Tbsp salt, and 1/4 teaspoon pepper. You have prepared the baking mixture for this recipe.
Step 9: Now, you have to add pasta and shredded lobster meat into the baking mixture.
Step 10: Now, you have to add the remaining 2 Tbsp melted butter and the mashed Oyster crackers. 
Step 10: Sprinkle 1/4 Tbsp pepper and salt over the casserole. 
Step 11: Now, you have to bake it at 375 degrees Fahrenheit for 30 minutes. The casserole will start to turn crisp and produce sauce bubbles. 
Step 12: Take the dish out of the oven. Now, let it sink for about 5 minutes or more. 
Step 13: You can serve the lobster dish on the plate.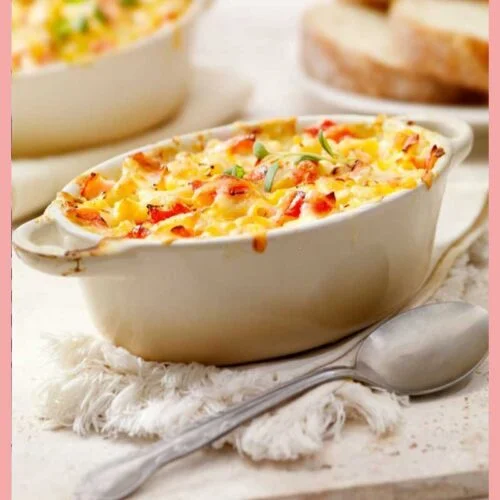 Ruth's Chris Lobster Mac and Cheese Recipe
Who says lobster and cheese don't work together? Try our simple Ruth's Chris Lobster Mac and Cheese Recipe.
Print
Pin
Ingredients
16

oz

Corkscrew Pasta

1/2

cup

Cheddar Cheese

1/2

cup

Gruyčre cheese

6

tbsp

Melted Butter

1

tbsp

Dijon Mustard

2

Garlic Cloves

1/2

cup

Red Onions

1/4

All-purpose Flour

3

cup

Whole milk

1/2

cup

Fresh Chives

1/8

tbsp

Cayenne Pepper

1/2

tbsp

Salt

1

lb

Cooked Lobster Meat

2

cup

 Oyster Crackers
Instructions
Get the pasta out of the pot and rinse the paste using cold water

Take a saucepot and set it on medium heat. Now, add 4 Tbsp melted butter

Slowly add red onions and minced garlic and cook them until translucent

Now add all-purpose flour and stir for another 1 minute

While stirring add the whole milk and whisk it

Set the stove to medium-low and cook for about 3 minutes

Add the pasta and lobster meat to the baking mixture

Add remaining 2 Tbsp melted butter and mashed oyster crackers

Sprinkle 1/4 Tbsp pepper and salt over the casserole

Bake the mixture at 375 degrees Fahrenheit for 30 minutes

Take the dish out of the oven and let it sink for 10 minutes.

Now, serve the dish on your plate.
Tips
Be sure not to make the pasta fragile or mushy. 
Mince or shred the lobster meat thoroughly to get a better bite
Nutrition
Nutrition Facts
Ruth's Chris Lobster Mac and Cheese Recipe
Amount per Serving
% Daily Value*
* Percent Daily Values are based on a 2000 calorie diet.
Wrapping Up
Cooking the pasta will be the main challenge for this recipe. But you know what they say, you have to boil and stir to get the pasta right. Other than that, simply follow these instructions to produce a luxury dinner at home.
You May Also Like: