Betty Crocker chicken croquettes recipe is one dish you will never regret cooking. It is so convenient for you to make, that there's a high possibility that you'll make it a habit. This dish oozes Spanish ancestry and the technique resonates with that as well.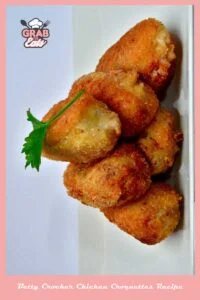 How to Cook Homemade Chicken Croquettes
Any type of croquettes are pretty easy to make yet delicious. Especially for this dish, the light and fluffy yet crumbly texture will fill not only your stomach, but also your heart. There's a special touch to this dish being homemade. It gives out an ode to the Spanish ancestry it has and how cultures ingrain into each other. 
The technique of the recipe is very straightforward. You basically mix everything else up, then brush and roll with egg and lemon juice mix, and breadcrumbs. Then you fry it till it's cooked well. You can dry some of the excess oil off and serve with your favourite condiments. You can chop some fresh parsley too and sprinkle as garnish. 
How Do You Make Chicken Croquettes
You will need to gather the ingredients and follow the step by step instructions. The recipe is really easy to follow. You will realise so as you start making the dish. 
You will have to keep an eye on things, sure. But it will not prove to be too much of a hassle. You're getting to enjoy the fruits of your labor soon, anyway. So, the least enough effort you can give is good enough for the dish to be good and enjoyable! 
Ingredients that You Will Need Are:
Flour: Use ⅓ of a cup of flour. Make sure it is thoroughly sifted through. 
Salt: 1 teaspoon of salt is needed for the recipe. 
Milk: It is recommended to have whole milk but you can use substitute milk as well. Whichever kind you use, you will need 1 cup of milk.
Chicken: Make sure you're using boneless chicken. Cook and ready 2 cups of chopped chicken.
Onion: Use 1 tablespoon of minced onion. Thinly slicing them will not have the same texture.
Parsley: Make sure the parsley is fresh before use. Add 2 tablespoons of minced parsley to the mix.
Hot chilli pepper seeds: Powder the seeds and add ¼ of a teaspoon to the dish.
Egg: Sprinkle some salt and beat 2 eggs for brushing on the croquettes.
Lemon juice: Use 2 tablespoons of lemon juice. It will take a large lemon or two small lemons to fill 2 tablespoons worth of lemon juice.
Breadcrumbs: Use ⅓ of a cup of breadcrumbs to roll the croquettes in brushing them in egg mixture.
Step by Step Instructions to Make Betty Crocker Chicken Croquettes
 Step 1: 
In a pan, melt the butter. Gradually start mixing the flour and milk. Don't overdo it or the texture will feel mealy. 
Step 2: 
Slowly add the chicken cubes, powdered hot chili seed,  minced onions and minced parsley. Adjust seasoning of salt if you feel necessary. 
Step 3: 
Beat the eggs with a sprinkle of salt, in another bowl keep the breadcrumbs. First do an egg wash, then roll the croquettes in breadcrumbs. Fry till fully cooked, it may take about 8-10 minutes. Serve warm with freshly chopped parsley as garnish. Enjoy!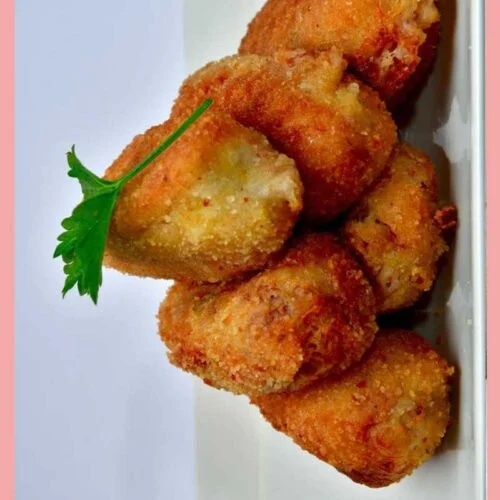 Betty Crocker Chicken Croquettes
Try cooking this famous Betty crocker chicken croquettes recipe at home. Follow
Print
Pin
Ingredients
⅓

Cup

flour

1

tbsp

salt

1

Cup

Milk

2

Cup

chopped chicken

1

tbsp

minced onion

2

tbsp

minced parsley

¼

tbsp

hot chilli pepper seeds

2

Eggs

2

tbsp

Lemon juice

⅓

Cup

Breadcrumbs
Instructions
Melt butter and mix flour and milk gradually

Add chicken, powdered chilli pepper seed, onion, parsley, mix and set to cool

Divide, brush with beaten eggs and coat with crumbs
Tips
If you want to substitute chicken with other meat, turkey croquettes recipe can pose a great candidate. You just replace the chicken with turkey meat. Rest of the recipe stays the same. 

Be careful when you mix the flour and milk so that they don't lumo too much.
Nutrition
Nutrition Facts
Betty Crocker Chicken Croquettes
Amount per Serving
% Daily Value*
* Percent Daily Values are based on a 2000 calorie diet.
Wrapping Up
Betty Crocker chicken salad is also a winning dish that you can try. The method of that dish is as easy as this one. This particular recipe will help you through the whole process of cooking perfect croquettes, that too, savory ones. So, get ready and get cooking to conquer another great dish!
You May Also Like: