Paula Dean Corn Bread Recipe is one of the oldest "quick bread" recipes in American cooking. It's a southern staple, but it belongs on dinner tables all over the country. You can make this in any baking dish, but a cast-iron skillet makes the edge crisp and unique.
This simple recipe is made from scratch with no mixes. It's a classic side dish from the South that goes with everything. You'll love how easy and foolproof this recipe is, and you'll also love how good that cornbread tastes. You could even make stuffing for your Thanksgiving meal with this sweet golden cornbread.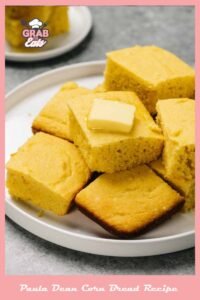 Know About Your Ingredients:
Butter: 6 tablespoons of melted unsalted baking butter. Butter improves food's taste.
Cornmeal: 1 cup of cornmeal. Cornmeal is a meal or a cell membrane made by grinding dried corn.
Flour: 3/4 cup of all-purpose flour. Flour is a key ingredient in making all baked goods.
Sugar: 1 tablespoon of sugar. Granulated sugar is white sugar. This sugar is used to make baked goods.
Baking powder: 1 ½ teaspoons of baking powder. Baking powder makes baked foods soft and fluffy.
Baking soda: 1/2 teaspoon of baking soda. Baking soda makes baked goods rise, such as cakes, muffins, and cookies.
Salt: 1/4 teaspoon of salt. It balances the sweetness and helps hide other flavours.
Eggs: 2 large, lightly beaten eggs. Eggs give baked foods structure, rise, creaminess, colour, and flavour.
Buttermilk: 1 ½ cups of buttermilk. It is the liquid left over after making butter from cultured cream.
How to Make Paula Deen Cornbread:
Step 1: Turn the oven temperature up to 425 degrees. Grease an 8-inch baking dish with a bit of oil.
Step 2: Mix the flour, cornmeal, sugar, baking soda, baking powder, and salt in a large bowl.
Step 3: Mix the eggs, buttermilk, and butter in a separate bowl. After no more dry patches, continue pouring the buttermilk mixture into the cornmeal mixture.
Step 4: Put the batter into the prepared baking dish.
Step 5: About 20 to 25 minutes into the baking process, the cornbread should reach a golden brown colour on top, and a tester placed into the centre should come out clean.
Step 6: Remove the cornbread from the oven and allow it cool for ten minutes before cutting it into pieces and serving it.
Moist Cornbread Recipe
This easy recipe for moist cornbread is a traditional southern dish. It's made with tangy buttermilk and cooked in a cast-iron skillet to get that crispy bottom. This one-bowl recipe is versatile and an excellent base for variations.
Know About Your Ingredients:
2 cups of flour
1 cup of cornmeal
1 cup of sugar
1 ½ tablespoons of baking powder
1 teaspoon of salt
½ cup of melted butter
½ cup of oil
1 ¼ cups of milk
3 large eggs
Honey and extra butter for serving – optional
How to Make Moist Cornbread: 
Step 1: Get a 9×13-inch pan ready and heat to 350 degrees.
Step 2: Mix flour, baking powder, cornmeal, sugar, and salt in a large bowl.
Step 3: Mix butter, oil, milk, and eggs in a medium bowl.
Step 4: Mix all the dry and wet ingredients.
Step 5: Bake for 35 to 45 minutes until golden brown and a toothpick inserted in the middle comes out clean or with just a few crumbs (no wet batter) and no crumbs.
Step 6: Cool in the pan for 15–20 minutes before cutting into squares. If you like, serve it with butter and honey.
How to Keep Cornbread from Crumbling:
Use between 1/2 and 1 cup of these naturally moist ingredients to keep the cornbread from falling apart. They won't change the way the recipe turns out. Alternatively, you can increase the amount of a wet ingredient already in the recipe or use a wet ingredient instead of a dry one. These are:
Replace the milk or water in your recipe with buttermilk. Buttermilk breaks down the tough gluten molecules in flour and keeps cornbread soft and moist.
Add 1/2 cup of sour cream to the wet ingredients for extra fat and moisture.
When you mix the wet ingredients, add grated cheese. Cheddar or pepper jack gives the bread flavour and moisture.
Creamed corn blends more entirely into the batter than corn kernels, which add texture and flavour, so feel free to use either.
You can add an extra egg yolk or a whole egg to your recipe.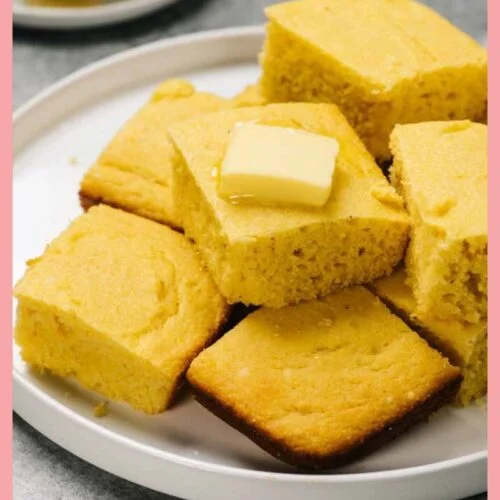 Paula Dean Corn Bread Recipe
This Paula Dean Corn Bread Recipe has a soft, crispy, moist centre and a lot of flavour from the buttermilk. The classic side dish goes with everything.
Print
Pin
Ingredients
6

Tbsp

Unsalted butter

1

Cup

Cornmeal

3/4

Cup

Flour

1

Tbsp

Sugar

1 ½

Tsp

Baking powder

1/2

Tsp

Baking soda

1/4

Tsp

Salt

2

Large eggs

1 ½

Cups

Buttermilk
Instructions
Turn the oven to 425 degrees. Grease an 8-inch pan with oil.

Mix cornmeal, flour, baking powder, soda, sugar, and salt in a bowl.

Separately, mix eggs, buttermilk, and butter. Then, pour in the buttermilk mixture.

Put the batter into the prepared baking dish.

After 20 to 25 minutes, a tester inserted into the cornbread should come out clean.

Wait 10 minutes before cutting and serving the cornbread.
Tips
To make this recipe gluten-free, substitute the all-purpose flour for a gluten-free 1:1 baking flour.

In this recipe, use yellow cornmeal. White works just fine, but it doesn't look as good. Cornbread that's golden yellow is a must. Also, don't try to use other cornmeals to make tamales because they are ground differently and don't have the same texture.

Before using cornmeal in a recipe, you should sniff it to ensure it doesn't have a stinky smell.

Cornbread is best eaten the day it is baked but can be stored in the refrigerator for up to three days if wrapped in plastic and then aluminium foil.

If you want to make perfect cornbread every time, you need to preheat your oven for at least 20 minutes. Make sure the temperature is accurate by checking your thermometer.
Nutrition
Nutrition Facts
Paula Dean Corn Bread Recipe
Amount per Serving
% Daily Value*
* Percent Daily Values are based on a 2000 calorie diet.
Final words: 
The aroma of freshly baked cornbread will fill your home. It's been a family tradition to make this simple cornbread recipe for decades. If you want to know how to make cornbread, this simple recipe is just what you need. It makes perfect buttery cornbread every time. Also, it only takes 25 minutes from start to finish! You can cook it in a skillet or any baking dish.
You May Also Like: