The Julia Child pie crust recipe has been proven to be a great recipe to start a journey as a baker. You can absolutely do it too! All you need are the right kitchen essentials and the willingness to do it. It doesn't require a lot of effort and you can get it done fast and enjoy the experience at the same time. 
Since you are looking into a pie crust recipe, you surely have a complete dish you want to try out. This pie crust recipe is an ideal one to get you started with the basics of baking. It may take time to become an expert but you have to start somewhere. So why not Julia Childs pie crust recipe?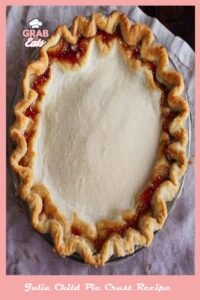 Ingredients That You will Need Are: 
Flour: 5 1/4 cups pastry flour or all-purpose flour. Flour is the base element out of all the other ones included in the Julia Childs pie crust recipe. 
Kosher Salt: 1 tablespoon kosher salt. Kosher salt is usually used to add flavoring and binding all the other flavors in a dish.
Butter: 1 ½ stick (6 ounces) cold unsalted butter, cut into small pieces
Vegetable Shortening: 1 ¾ cups solid vegetable shortening, chilled. Vegetable shortening is used in dishes that require pure fat and altered instead of vegetable oil or similar elements.  
Water: 1 cup iced water. This adds a flaky element to the crust.
How To Make A Flaky Pie Crust
By Hand
Step 1: In a large mixing basin, combine the flour and salt.
Step 2: Using your hands or a pastry blender, add the butter (or two forks)
Step 3: Mix in the cooled shortening until it forms clumps.
Step 4: Mix in the cold water with a wooden spoon.
Step 5: Form balls and divide them to freeze and reserve them in the freeze. 
With Food Processor
Step 1: Begin with extremely cold ingredients and avoid overworking them.
In a food processor equipped with a metal blade, pulse the flour and salt once, then add the butter and pulse 5 or 6 times to break up the butter before adding the shortening or lard.
Step 2: Remove the cover and distribute the cooled butter and shortening evenly over the dry ingredients. Pulse until it resembles crumbs, then add the cold water and continue to pulse until you have a cohesive dough that holds together when pressed in your fingers.
Step 3: Cover and pulse just until the fats are incorporated.
Add cold water in little amounts, pulsing a few times after each addition, until all of the water is mixed.
Step 4: Dump out onto the work surface and form into two disks. Wrap in plastic and refrigerate for at least 30 minutes I find an hour is preferable. This can be made in advance and kept refrigerated for several days.
Step 5: Simply take the dough from the freezer and let it aside for 30 minutes before spreading it out to bake it however you want.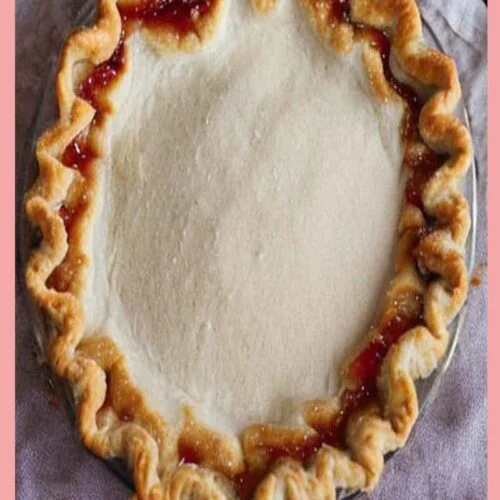 Julia Child Pie Crust Recipe
Get to dough-making and baking all by yourself with this easy and quick Julia Child Pie Crust Recipe! Check out the instructions and start now!
Print
Pin
Ingredients
5 1/4

Cups

Pastry flour or all-purpose flour

1

Tbsp

Kosher salt

1 ½

Stick

Cold unsalted butter

1 ¾

Cups

Solid vegetable shortening

1

Cup

 Iced water
Instructions
If using a food processor add the flour and salt and pulse once.

Now add the butter and pulse 5 or 6 times to break up the butter. 

Add the shortening or lard and mix it so that it resembles crumbs. 

Form into two disks, wrap in plastic wrap, and refrigerate for at least 30 minutes.
Tips
Don't process until the dough forms a ball that rides on the blade–that's overdoing it while gathering the dough for the Julia Child pie crust recipe.

To see little pieces of butter in the dough, add the water a little at a time until you have a cohesive dough that holds together when pressed in your hand.

You can let the dough balls defrost before you knead and flatten them into shape, to ready them for baking.
Nutrition
Nutrition Facts
Julia Child Pie Crust Recipe
Amount per Serving
% Daily Value*
* Percent Daily Values are based on a 2000 calorie diet.
Final Words
This Julia Childs recipe is also known as an old Crisco pie crust recipe. If you are into baking but unsure how to get started, you can definitely begin with this easy to maneuver pie crust recipe. You can bake different sorts of dishes with them and recreate them in multiplied quantities. 
It is well recommended to consume these crusts within 2 weeks after kneading them. That is the best timeframe within which the pie crust would stay fresh enough. This is also the time frame in which the pie crust, when baked, would taste the best and not have a mealy taste to it. 
We would suggest trying it out with savory fillings as well, you might be surprised in a good way!
You May Like Also: