The answer to this question, "Is nacho cheese gluten free?" can be tricky. We don't know what type of nacho cheese you are consuming. Here is a general answer. 
Nacho Cheese is a cheese sauce prepared with processed cheese (cheddar, white American) and other ingredients. In primary level, nacho cheese can be called gluten-free. As time goes on food brands continue to make substitutes and add vinegar, flour, seasonings, etc. thus making nacho cheese no longer gluten free. 
If you are willing to make them at home under your inspection, then nacho cheese can be 100% gluten free. Some brands offer gluten free nachos they are labeled specifically as gluten free but if not then, it will not be safe to consume too much.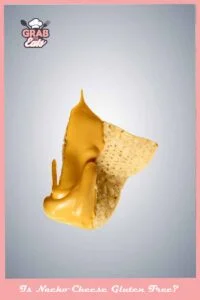 What is Nacho Cheese?
Many of you may wonder whether it is a type of cheese or not. Nacho cheese is often called nacho cheese sauce for a triangle tortilla. Usually nacho cheese is made with milk, flour, cheese, butter,  vinegar, flavors, tomato paste, cayenne pepper, etc. 
Nacho cheese sauces are available in many different brands on the market. If you want the gluten free version, check the ingredients list or whether there is a gluten free label available or not. 
History Behind Nacho Cheese and Nachos
Nachos are very popular in any sports, there are various types of nacho cheese and nachos selling brands available. This is one of the most popular American snacks. Nachos, topped with concession cheese, were not available in mass production until 1978.
Howard Cosell, a celebrated sportscaster, mentioned his favorite snack, the ballpark nachos, during a Monday Night Football game he broadcasted. From then, nachos and nacho cheese have won the heart of people vastly. Until then they are very popular as sports snack. 
Nachos and cheese sauce were invented at the Victory Club restaurant in 1943. Soldiers' wives from Fort Duncan went shopping, then went to the restaurant afterward. Ignacio Anaya, the hotel's maitre d', had little time in hand so he prepared a snack for the ladies. So, Anaya fried some tortilla triangles and topped them with cheddar cheese. After heating them, he added some peppers and pickled jalapenos to the dish before serving it.
The snack he created was named Nacho, after his own nickname – El Nacho. Thus, a wonderful combination of tortilla chips topped with melted cheese and jalapenos, nachos was born in America.
See, the very first nacho cheese was totally gluten-free. Only shredded cheddar cheese and peppers. From then it can't be sure whether the nacho cheese is gluten free or not.
Nacho Cheese Brands of All Time
Let me tell you about the famous nacho cheese brands. They taste so good and favorite of every American nachos lover. However, none of these brands clarify that nacho cheese sauce is gluten-free. 
Rosarita has claimed that they make cheese sauce with all gluten free ingredients but never labled cheese sauce as gluten free. 
El Mexicano
Rosarita 
Chef-mate
Campbell
Farano 
Canned Nacho Cheese Ingredients: 
Brands have disclosed the ingredients. There is not any certified answer of whether cheese sauce is gluten free or not. Let's find out- 
Cheddar cheese
Oil from partially hydrogenated soybeans
Modified food starch
Jalapenos
MSG
Monoglycerides and diglycerides
Salt maltodextrin
Distilled vinegar
sodium stearoyl-2-lactylate
Artificial colors
Natural flavors
Whey cheese
Sodium phosphate
Since they are made from non-gluten products, some websites like Ricos have labeled them gluten-free. Food companies, however, haven't labeled them gluten-free.  So, to be safe, limit your consumption of the cheese sauce to small portions to avoid triggering an allergic reaction. 
Movie Theater Nacho Cheese Recipe
Movie theater style nacho cheese recipe is one of the most popular nachos recipes. But that would be best if you can make it gluten-free at home without any hassle. Here we have a perfect recipe for you to enjoy healthy nachos at home. 
Ingredients We Need: 
4 tbsp of butter 
4 tbsp of gluten free plain flour
500 ml of full fat milk  
2 cups of cheddar cheese, finely grated 
Kosher slat to taste 
Freshly ground black pepper to taste 
Methods of Preparing Step by Step: 
Step 1 : Bring out a saucepan and add 4 tbsp of butter to it. 
Step 2: Keep the heat low until the butter melts finely. Don't brown the butter.
Step 3: Sprinkle 4 tbsp of flour in 2 or 3 batches, stirring constantly for 3 minutes maximum or until there is no grain left. 
Step 4: Pour milk slowly and whisk to combine completely. 
Step 5: Leave the mixture to a simmer for 2 minutes to 3 minutes in order to make the sauce thicker. 
Step 6: When done, turn off the heat and add cheddar (about ½ cup at a time) and keep stirring until melted. 
Step 7: Continue the process with remaining cheese and finally season with kosher salt and black pepper as per your taste. 
The demanding gluten free cheese sauce is ready to enjoy!