You must have tried the roast beef sandwiches at least once. The juicy, tasty food is loaded with flavors and is an all-time favorite of food lovers. No matter whether you are making it for lunch or trying to use up leftovers, this dish is guaranteed to be a hit. 
Around the world, there are people looking for the right recipes depending on their taste buds and the availability of certain ingredients in their area. The question that comes to mind when people make their own roasted beef is often "What cheese goes with roast beef?"
There are several types of cheese that can be used with this recipe to enhance the roast beef sandwich. Cheeses such as Parmesan, Provolone, Cheddar, Blue, Fontina, and so on are pretty good.  
In addition to cheese, the whole recipe is changeable and the other ingredients can be substituted as well.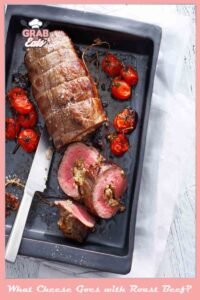 How to Make the Best Roast Beef Sandwich with Horseradish Cream?
With its thinly sliced roast beef, roasted potatoes, and horseradish cream, this Roast Beef Sandwich Recipe with Horseradish Cream is bursting with flavor. It is a delicious sandwich recipe for all the delicious food lovers out there.
Here is the ingredient list and step by step instructions written below: 
Ingredients we need: 
For the Cream Sauce:
1 cup of mayo 
2 tbsp of parmesan cheese, finely grated
2 ¼ tbsp of sour cream
3 tsp of chiffonade basil
2 tbsp of cream cheese
1 tbsp of shallots, finely sliced 
1 1/2 tbsp of horseradish, freshly grated
1 tsp of Worcestershire sauce
A pinch of Kosher salt or to taste
A pinch of freshly ground black pepper or to taste
For vegetables:
4 tbsp of extra virgin olive oil 
½ cup of russet potato, thinly sliced 
1 ½ cup of shallot, peeled & thinly sliced
½ cup of sweet potato, thinly sliced
1 tsp of regular sugar
¼ cup of balsamic vinegar
2 tsp of Kosher salt 
1 tsp of freshly cracked black pepper 
For the Sandwich Fixings:
2 lbs of roast beef, thickly sliced
8 white pieces of bread, sliced and toasted
2 cups of kale microgreens
2 tbsp of watercress, finely trimmed, cleaned, and dried
2 cups of carrot, very thinly sliced 
Preparation Process: 
Step 1: Take out a medium-sized mixing bowl and add mayo, sour cream, parmesan cheese, chiffonade basil, cream cheese, horseradish, Worcestershire sauce, Kosher salt, and black pepper. 
Step 2: Whisk them all together until they are finely mixed. 
Step 3: Cover the bowl with plastic wrap and keep the bowl in the refrigerator. 
Step 4: For preparing the vegetables, first you need to preheat the oven to a temperature of 400 degrees F. 
Step 5: Bring out a baking sheet lined with parchment paper.
Step 6: Spread ½ cup of finely sliced potatoes over the parchment paper and brush with 2 or 3 tbsp of extra virgin olive oil
Step 7: Season with 2 tsp of salt and 1 tsp of black pepper. 
Step 8: On another baking sheet, place the shallots lining evenly. 
Step 9: Take out a small bowl and add ¼ cup of balsamic vinegar, 1 tsp of regular sugar, and 2 tbsp of extra virgin olive oil. Whisk them all together. 
Step 10: Brush the sugar vinegar mixture lightly over the shallot. 
Step 11: Bake the potatoes for 20 minutes to 22 minutes until lightly browned and tender. 
Step 12: Bake shallots setting the timer for 6 minutes, after that add some vinegar sugar mixture and continue the process with the next 4 batches. 
Step 13: In a slice of the white bun, spread a generous layer ous cream sauce with some kale microgreens, and watercress. 
Step 14: Add a slice of roast beef with roasted potatoes, cooked shallot, and carrot slices. Top with another white bread. 
Chef's Words:
We have the complete recipe for roast beef with a cheese sandwich. I have used Parmesan cheese here. But you can use others as well. I had plain white bread so I made sandwiches with them but you can use Ciabatta, French Bread, Sourdough, Kaisar, Boule Bread, Focaccia, Croissant, Rustic Artisan, etc. as well. Just slice them into halves. 
When I prepare hot roast beef sub, I use French bread and Kaisar for a great looking. In a sandwich, the more you add ingredients, the more they will taste good. 
Best Cheese for Roast Beef Sandwich
Roast beef sandwich along with other variations is a very flexible dish to cook. When choosing cheese, there are so many confusions, but trust me you can use any type of cheese for a roast beef sandwich. Here is a list of some popular cheeses for roast beef sandwiches
Parmesan
Cheddar 
Provolone
Blue Cheese
Havarti 
Fontina
Muenster
Pepper Jack 
Asiago
Gouda 
Also, use cream cheese to make your sandwich even better. 
In Fine
Roast Beef is a very popular dish whether with sandwiches or alone. The flavorful cheesy blust is always tempting to everyone. Hope you have enjoyed this article and learned something more that would help you in exploring your cooking interests. Bon appetit!