Bobby Flay, the full name is Robert William Flay. He's an American Chef, a Reality TV personality, and a Restaurateur. He's the owner and also an executive chef of many restaurants. 
In a word, Bobby Flay is the creator of thousands of recipes, and we'll introduce you to one of his most famous recipes today. That's Bobby Flay's salsa recipe.
It's the fastest recipe you have ever made. When you have no time to make an additional dish, this can be your best supportive menu. With only 2 simple steps, this salsa recipe can be ready. Just imagine how easy it is to make and serve.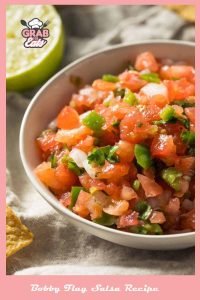 Bobby Flay Salsa Ingredients
You never be troubled to arrange and prepare the elements. Because all the ingredients are extremely easy to find and effortless to prepare. This salsa recipe necessitates the following ingredients-
Lime Juice (1 Tbsp)
When mixing all the ingredients together and adding lime juice into them, a tangy flavor will be developed. And this savory flavor is the key to this salsa taste.
Tomatoes ( 1 Cup)
Take 2 large tomatoes and chop them. You'll need 1 cup of chopped tomatoes for the Bobby Flay salsa recipe. 
Vegetable Oil (1 Tbsp)
To make your salsa a bit soft and moist, add 1 tbsp of vegetable oil. It can be substituted with the olive oil as well.
Onion (½ Cup)
Adding chopped onion of 1/2 cup will give a fresh flavor to this salsa recipe.
Garlic (1 Clove)
1 clove of minced garlic will give a strong flavor. 
Chopped Cilantro & Parsley (½ Cup Each)
Since it's a salsa recipe, adding fresh veggies will make it more natural to taste. So, fresh herbs are another key element to enhance the taste and flavor. Take the most flavorful herbs like cilantro of ½ cup and parsley of ½ cup. Don't forget to chop them before adding them to your salsa recipe.
Habanera Pepper (¼ Cup)
To add heat, you can add ¼ of chopped habanera pepper. However, you can apply jalapeno instead. 
Cumin (1/2 Tsp)
Adding ½ tsp of ground cumin makes the salsa rich and warm. 
Salt (1 Tsp)
Without applying an accurate amount of salt, your salsa won't be tasty anyway. So, take 1 tsp of white salt. 
How to Make Salsa?
You'll be amazed to explore the salsa-making process. It requires only an effortless mixing method. No cooking, boiling, baking, or frying process you have to go through. Let's check out how to make this recipe-  
Step-1
Take a mixing bowl and mix chopped tomatoes with the following-
Onion
Garlic
Parsley
Cilantro
Cumin
Black pepper
Habanera
Salt, and 
Lime Juice
Step-2
Now add the vegetable oil and mix. Stir all the ingredients properly to mix the spices, oil, and herbs nicely. Your Bobby Flay salsa recipe is ready to serve. You can serve it primarily with cornbreads.  
Best Main Dish to Serve With
Almost all main courses or dishes are well-suitable for this salsa recipe. You can serve anything you want with your favorite Bobby Flay salsa. Here are some of the best dishes you can serve-
Roasted Garlic
Grilled Broccoli
Fried Chicken 
Roasted Shrimp
Chicken with Roquefort
Ginger Pumpkin Pie
Salmon Tartare
Mashed Potatoes
Green Beans
White Rice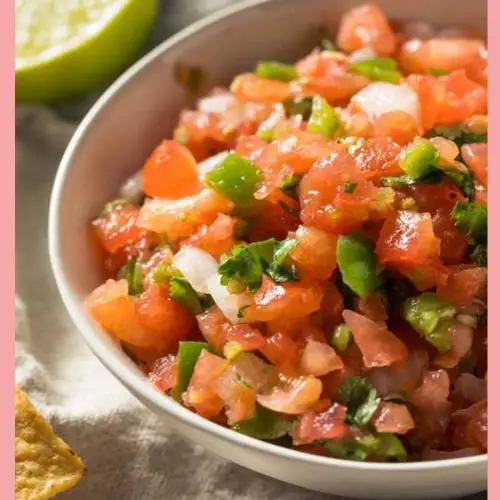 The Delicious Bobby Flay Salsa Recipe Ever
Concerned about how to boost your metabolism even more? Boost it naturally with the fresh Bobby Flay salsa recipe. This homemade salsa is also a great remedy for inflammation.
Print
Pin
Ingredients
1

Tbsp

Lime Juice

1

Cup

Tomatoes

1

Tbsp

Vegetable Oil

½

Cup

Onion

1

Clove

Minced Garlic

½

Cup 

Chopped Cilantro

½

Cup

Parsley

¼

Cup

Habanera Pepper

1/2

Tsp

Cumin

1

Tsp

Salt
Instructions
Take a mixing bowl and mix chopped tomatoes with onion, garlic, parsley, cilantro, cumin, black pepper, habanera, salt, and lime Juice.

Now add the vegetable oil and stir all the ingredients properly to mix.

Your Bobby Flay dish is ready to serve.

Serve it with cornbreads.
Tips
If you want to make the original Bobby Flay salsa recipe, you have nothing to include or exclude from the recipe guide we've shared today. However, if you want to modify the dish to your own tastes and flavors, go for the following tips-
Don't make the salsa too runny or too thick. Keep it in between runny and thick consistency.

Add yogurt or whipped cream to get a creamy texture.

Adding minced cilantro to the chopped ones will spread more flavor.

If you taste it too hot

a

fter making your Bobby Flay salsa recipe, add 1 tbsp of honey. The heat flavor will become mild with the sweet taste.
Nutrition
Nutrition Facts
The Delicious Bobby Flay Salsa Recipe Ever
Amount per Serving
% Daily Value*
* Percent Daily Values are based on a 2000 calorie diet.
Conclusion
Bobby Flay salsa recipe is versatile. You can apply it as the filling for sandwiches, buns, or pie types of recipes. Again it can be a good example of a veggie salad recipe. It's the best side dish for your main course.
Since this recipe comes with all the fresh elements, it's an ideal source of Vitamins. It's high in lycopene and Vitamin C. Besides, having this dish regularly will help you boost your metabolism. Moreover, it will prevent harmful inflammation and symptom of cancer. 
It won't create any harm in having it regularly as this recipe is made with all the fresh ingredients.
Read More: