Any bread with sugar, butter, and flour will be tasty, isn't that right? Johnny Carino is one of our favorite Italian chains. Obviously, their bread and oil pair up well. We visited the place more than three times. And guess what, we tried to make the exact copycat of Johnny Carino's bread and oil recipe. 
Yes, we can't assure the final output will be the same as the Italian chain itself. But at least, the bread turned out fine. And once you make the oil dip, the bread becomes more flavorful. So, here's our version of Johnny Carino's bread recipe.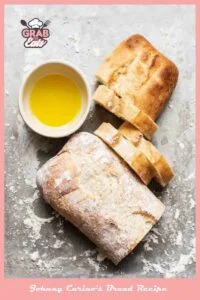 Know About the Recipe and the Ingredients
00 Flour: 00 flour is high in protein and low in gluten. And to get authentic Italian flavors, we need 6 cups of 00 bread flour. You can find the flour in any Italian grocery store. 
Honey: Instead of sugar, we will use honey for our bread. The honey will add moisture to our bread dough. Not to mention, we will get a better texture and ensure a crunchy or toasty texture. For our bread, we need ¾ cup of honey. 
Active Yeast: First, you have to check whether the yeast is active or not. Just take a small bowl and add sugar. Then, throw in ½ tablespoon of yeast. The sugar is the grub for our yeast. When you see the yeast creating bubbles, you can rest assured that the yeast is active. 
Kosher Salt: It's easy to evenly distribute kosher salt all over the bread dough. That's why we always pick kosher salt for baking. 
Unsalted Butter: We will use unsalted butter because it gives us full control over the flavors in our bread. We will use salt and excess salt from salted butter may ruin our bread.  
Low-fat Milk: The low-fat milk adds moisture and better structure to our 00 flour bread. 
Water: Normal water is enough for activating yeast and kneading the dough. 
Eggs: Egg is a good binding agent for bread. The already beaten eggs will create small gaps inside the bread, and we will get better texture. 
Olive Oil: Olive oil is good for baking because it has a high rise in temperature. So, baking is quicker with olive oil. 
Melted Butter: Melted butter doesn't have any excess moisture in it. So, we can wait for a better consistency in our Johnny bread. 
How to Make Johnny Carino's Bread?
Making the bread by Johnny is pretty simple. Well, you have to make the oil dip and the bread – both at the same time. And it will take around an hour to bake our bread and prepare the oil dip. Now, the oil dip is a combination of parmesan cheese, olive oil, and spice blends. 
For the spice blend, you have to combine rosemary, parsley, crushed red pepper, oregano, black pepper, and kosher salt. Further, it's better to add roasted garlic to the blend. It will bring out a good roasted flavor for the dip. You don't have to restrain yourself while using olive oil. You can always follow Carino's recipe to prepare the dip.
The magic is obviously the crunchy texture of our bread. So, we have to be very careful while preparing the dough. But you don't have to worry as we don't need plenty of kneading with the dough. Anyway, it's important to get all the ingredients right. Now, you can add sugar or honey to the dough. This way, the bread will have a slightly sweeter taste with each bite. 
Follow our instructions to make Johnny Carino's bread. 
Ingredients we need
6 Cup 00 Flour
3/4 Cup Honey
1/2 Tablespoon Yeast
1 Teaspoon of Kosher Salt
1/2 Cup of Unsalted Butter
2 Cups of Low Fat Milk
1 Cup of Water
4 Large Eggs
1/4 Cup Olive Oil
1/4 Cup Melted Butter
Step by Step Instructions
Step 1: Take a mixing bowl to stiff together 00 flour and the active yeast. 
Step 2: Then, add the honey and kosher salt. 
Step 3: Use your fingers to gently knead the stick of unsalted butter until it's properly mixed with the dough. 
Step 4: Now add the eggs, olive oil, milk, and water. Use a spoon to mix the ingredients until it gains a proper dough texture. 
Step 5: Preheat your oven to 400 degrees Fahrenheit
Step 6: knead the dough for 5 minutes. 
Step 7: Give the bread a breadstick shape. 
Step 8: Bake for 30 minutes
Step 9: After 30 minutes, bring the bread out and brush melted butter
Step 10: Bake for another 15 minutes until the bread gets a golden brown color
Step 11: Serve the bread with oil dip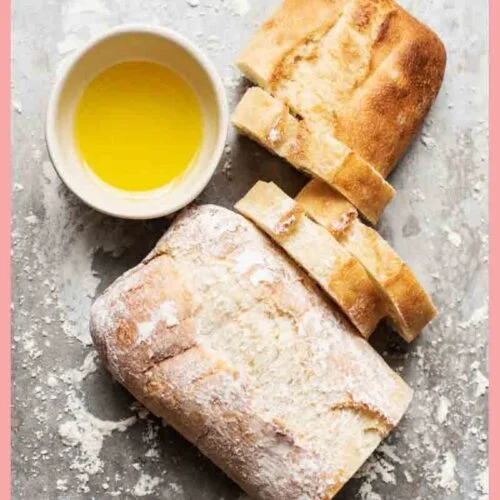 Johnny Carino's Bread Recipe
Follow our Johnny Carino's Bread recipe to get a great breakfast with oil dip.
Print
Pin
Ingredients
6

Cup

00 Flour

3/4

Cup

Honey

1/2

tbsp

Yeast

1

tbsp

Kosher Salt

1/2

Cup

Unsalted Butter

2

Cup

Low Fat Milk

1

Cup

Water

4

Eggs

1/4

Cup

Olive Oil

1/4

Cup

Melted Butter
Instructions
Prepare the dough using flour, active yeast, eggs, olive oil, milk, water, and butter.

Preheat the oven to 400 degrees F.

Knead the dough finely for 5 minutes or more, giving the right shape.

Bake in the preheated oven for 30 minutes at the first phase.

Bring the bread out and brush melted butter and bake for another 15 minutes.
Nutrition
Nutrition Facts
Johnny Carino's Bread Recipe
Amount per Serving
% Daily Value*
* Percent Daily Values are based on a 2000 calorie diet.
Final Verdict
Once you have baked the bread, you get crunchy and sweet bread on your breakfast table. Serve it with the olive oil dip to get the authentic flavors from the Italian chain.
You May Also Like: