Are you looking to add a Southern test to your dinner? Then the Southern cornish chicken recipe is the best option for you. Tender and juicy, these hens are coated in a delicious blend of spices that will leave your taste buds tingling. 
In this blog post, I'll walk you through the steps of the recipe for cornish hen in the Southern style, including how to season the hens and what cooking method to use. I'll also provide some helpful tips on serving suggestions. 
So put on your apron, preheat your oven, and prepare a delicious southern-style Cornish hen dinner tonight!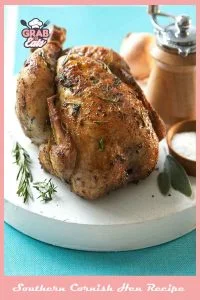 Know About The Southern Cornish Hen Recipe Ingredients:
Southern cornish hen is a delicious dish that can be enjoyed by everyone. To make this mouth-watering recipe, you will need a few key ingredients. 
Cornish Hens: Cornish chickens are only one type of chicken. This breed of chicken, sometimes known as Cornish game hens, is substantially smaller than the ordinary birds in grocery shops. They weigh between 1 and 2 pounds. 
Unsalted Butter: One of the main elements in producing the ideal southern cornish hen recipe is unsalted butter. Unsalted butter, with its smooth and creamy texture, can assist in highlighting the flavors of the hen while providing a touch of luxury to your supper. 
Olive Oil: Olive oil is an essential component of this recipe because it is used to coat the hens before they are cooked until they are done. The oil helps keep the meat moist and soft and gives the dish a light taste that goes well with the other spices and ingredients. 
Garlic: Garlic is one of the most essential parts of the dish for the southern cornish hen. This tasty herb is known for its strong smell and unique flavor and goes well with chicken recipes. Garlic gives the dish a spicy depth that brings out the natural tastes of the hen. 
Onion: The onion is a significant element in this recipe. Onions are a great addition to any dish since they offer depth and variety to the taste profile. Cut the onion into small pieces for this dish and sauté it until it's tender and transparent.
Then, combine the remaining ingredients and allow them to boil for a delightful and tasty supper. The southern Cornish hen recipe has a distinct taste profile.
Lemon Juice: Southern cornish hen recipe requires a few essential ingredients to bring out the best flavors. One such ingredient is lemon juice, which adds a tangy and refreshing taste to the dish. The acidity of lemon juice helps tenderize the meat and balances out the richness of other ingredients. It is usually used as a marinade or seasoning for the cornish hen before roasting it in the oven. 
Smoked Paprika: When preparing a delicious southern Cornish hen, smoked paprika is an essential ingredient that adds a rich and smoky flavor to the dish. It boosts the Cornish hen taste. To make a tasty hen rub, smoked paprika is usually mixed with garlic powder, salt, and black pepper. When cooked properly, the flesh is juicy, luscious, and smokey, delighting your taste senses.
Black Pepper: While black pepper may appear to be an essential ingredient, it is an essential component of the southern Cornish hen recipe. Black pepper, when coupled with other elements, provides depth and complexity to the taste profile of the food. It also adds a mild heat that enhances the hen's richness. 
Red Chili Flakes: Red chili flakes are a significant component in this recipe, adding a fiery bite to the meal. When adding red chili flakes to the Southern Cornish hen recipe, use them sparingly because they can rapidly overshadow the other tastes. 
Kosher Salt: Regarding the perfect southern Cornish hen dish, kosher salt is essential. This salt differs from conventional table salt because it has no additives and has a more apparent grain size. As a result, it is ideal for flavoring meats such as Cornish chickens since it can penetrate deep into the flesh and impart flavor throughout.
Rosemary & Thyme: One of the most significant components of this recipe is the rosemary and Thyme, which give the dish a great smell and taste. Rosemary is a plant that smells like pine and tastes slightly like mint. Conversely, Thyme tastes like lemon with hints of mint and pepper. Together, these herbs make a tasty and fragrant dressing that goes well with the soft meat of the cornish chicken. 
How To Bake Cornish Hens In Southern Style?
Preparing the Hens: 
Mix all the dry rub ingredients in a small basin to prepare the hens. Dry the hens with a paper towel and thoroughly sprinkle over them, being careful to season the internal cavity as well. 
Preparing the Baking Dish:
Step-1
Preheat the oven to 450 degrees Fahrenheit.
Step-2
In the bottom of a 9 x 13-inch baking dish, spread the chopped onion, rosemary, and Thyme.
Step-3
Lightly coat the Cornish chickens in olive oil. Place aside.
Step-4
Arrange the chickens on top of the veggie bed.
Step-5
To loosen the skin, run your fingers beneath it.
Step-6
Put a piece of butter under the hen's skin.
Step-7
Use kitchen twine or foil paper to tie the legs together. 
Bake The Cornish Hen
Bake for 50-60 minutes or until the internal temperature reaches 165°F, depending on the size of the cornish hen. Rubbing the hens with the butter mixture regularly will keep them moist and tasty. Allow 15 minutes for the hens to rest before serving.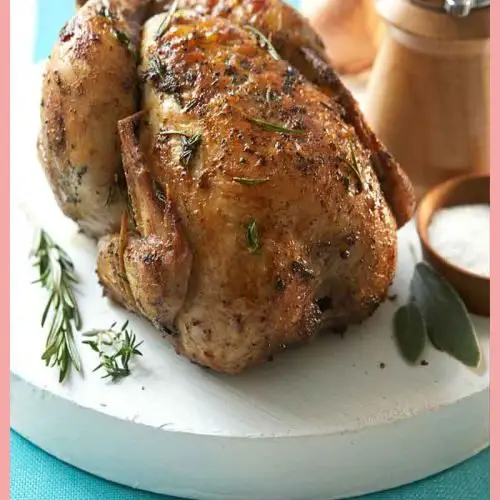 Southern cornish hen Recipe
Looking to add a southern flavor to your dinner? Then Southern Cornish hen recipe is the best option for you. Here's how to make it and serve it.
Print
Pin
Ingredients
2

Cornish hens

Whole

2

Springs

Rosemary

2

Springs

Thyme

1

Onion

Large

6

Cloves

Garlic

1

Lemon

Large

2

Tbsp

Olive oil

3/4

Cup

Unsalted butter

Room temperature

1

Tbsp

Kosher salt

1

Tbsp

Black pepper

2

Tbsp

Smoked paprika

2

Tbsp

Red chili flakes
Instructions
In a small bowl, mix all the ingredients for the dry rub.

Dry the hens with paper towels and season them inside and out with a lot of the dry rub.

Get your oven ready at 425°F.

Put the rosemary, thyme, garlic, onion, and half of the lemon slices in a baking pan.

Place the chickens in the baking pan on top of the herbs and onions.

Drizzle the butter over the chickens.

Place the baking pan in a preheated oven and bake for 50 to 60 minutes, or until an instant-read thermometer placed into the thickest part of the breast reads 165°F.

Take the hens out of the oven and give them 20 minutes to rest.
Tips
Southern Style Cornish Hen is a delicious dish perfect for any occasion. To make the ideal Southern Style Cornish Hen, you should keep a few baking tips in mind.
Make sure the dry rub covers every part of your hens by rubbing it on with your hands.
After seasoning the hens generously with a blend of herbs and spices, you can take it on a side for 30-60 minutes to enhance the flavor. 
Add chopped vegetables like carrots, celery, broccoli, and lemon slices, and add some extra flavor.
Baste the hens regularly with butter. This will help to keep them moist and tender while they bake.
Get a digital thermometer with a quick reading to tell when your hens are done. This way, you won't have to guess, overcook or undercook the hens or cut into them to check and lose all the juices.
Nutrition
Nutrition Facts
Southern cornish hen Recipe
Amount per Serving
% Daily Value*
* Percent Daily Values are based on a 2000 calorie diet.
How To save The Leftovers?
Your leftover baked Cornish hens will keep in the fridge for 3-4 days or in the freezer for 1-3 months. It reheats quickly in the microwave. To keep the chicken from drying out, save some of the pan drippings and reheat it in a skillet with the drippings. You can also utilize leftover chicken to make delicious salads.
Last Words
Southern-style Cornish hens are a perfect way to add some southern flair to your dinner table. With their tender and juicy meat coated in a delicious blend of spices, these hens are sure to be a hit with your family and friends. By following the steps outlined in this post, you'll have a mouth-watering dish that is both easy to make and full of flavor.