Kale slaw is a nutrient full healthy dish. Addition of apple with kale slaw which is known as kale apple slaw is a crunchy and flavorful healthy side dish.it easy to make at home. You can make it at home using a little and very available ingredients and it can become your favorite kind of salad. You can make it in just minutes with crispy apples, slivered almonds, bright kale, and a tangy or your favorite homemade dressing. It's a perfect salad because it has a great nutritional value along with versatile taste which make it exciting from other boring salad.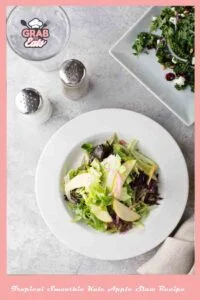 Know About The Tropical Smoothie Kale Apple Slaw Ingredients
Kale apple slaw is a variation of salad which is full with color and nutrition. Most of the ingredients use to make kale apple slaw are organic and healthy.
 Kale:  Kale is the key ingredient of this which it is name after. Kale is a super food which means it has the proper nutritional value.in this recipe we use the whole leaf of kale removing its stem.
Apple: To this slaw we need to use the kind of apple that is crispy and add crisp to the slaw. In addition it adds a delicious sweetness to the salad.
Red onion:  here we are using red onion for the variation of color actually otherwise you can also use a yellow/brown onion or spring if you prefer to use.
Mayonnaise:  Mayonnaise are used to add flavor and a bit thickness to our dressing. Here whole egg mayonnaise could be the best choice for this recipe
Yoghurt: Use fat free plain yoghurt to add the thickness and creaminess to the dressing.
Apple cider vinegar: Add and balance the flavor of the dressing. It's a great ingredient for stomach
Olive oil – olive oil add a flavor to our dressing. Using extra virgin olive oil could be the best option for this.
Lemon juice: The citrus flavor of lemon juice add freshness and balance the pH of the dressing
Honey/maple syrup: this ingredient help to make even the flavor of the dressing
San-flower seed: The high in protein protein value and richness in healthy fat make it a great choice for dressing, as well as it contain antioxidants that can lower your risk of developing serious conditions.
Tahini: tahini is a sesame kind of seed which is full with antioxidant and adding this to our recipe make our slaw more nutritious
How to Make Tropical Smoothie Kale Apple Slaw?
Here we're covering the proper recipe how to make Tropical Smoothie Kale Apple Slaw. This is a popular vegetarian side dish from the Tropical Smoothie Café in the United States.
It's an easy to make recipe at home which provides a lot of nutrition and save time as well. You can serve it with the topical smoothie flatbread sandwich which can be perfect calorie package.
The topical smoothie flatbread calorie is 490.
Ingredients that You Will Need
2 Tbsp of Apple Cider Vinegar
1tbsp of Lime Juice.
1 Tbsp of Extra Virgin Olive Oil
1 Tbsp of Pure Maple Syrup
¼ Tbsp or a Pinch of Salt
¼ Tbsp or a Pinch of Pepper
a Pinch of for Adding Flavor
a Pinch of for Adding Flavor
2/3 Cup or 2 Oz. of Finely Chopped Red Onion
4cups or 4 Oz. Finely Chopped Stems Removed Kale 
1 Carrot Shredded
1 Whole Apple Cored and Finely Chopped 
2 Tbsp of Toasted Sunflower Seeds
2 Tbsp of Mayonnaise
¼ Cup of Non-Fat Plain Yogurt
1 Tsp of Tahini
Step by Step Instructions for Kale Apple Slaw Tropical Smoothie Recipe
Kale slaw Dressing
Step 1: Take a medium size bowl for mixing the dressing ingredients
Step 2: Add apple cider vinegar, maple syrup or honey, olive oil, lime juice according to the measurement
Step 3: Add salt according to your taste, and a pinch of pepper to the bowl and mix properly by whisking all together. 
Step 4: Now add the thinly sliced red onion to the mixer and put it aside to soak all for 10 to 15 minutes.
Salad Preparation
Step 1: In the meanwhile, take a large size bowl and place your nicely chopped kale, chopped apples, and shredded carrots
Step 2: Take the dressing and add the red onion and dressing to the large bowl,
Step 3: Now stir all the ingredients of the bowl to combine all evenly.
Step 4: Now Taste the slaw if needed then add additional oil, vinegar, or honey as desired. Step 5: Now cover your slaw bowl with a foil and let it sit for at least 30 minutes to let all the flavors come together.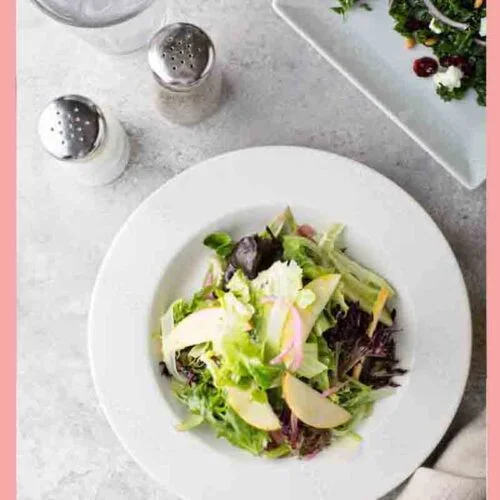 Tropical Smoothie Kale Apple Slaw Recipe
Tropical Smoothie Kale Apple Slaw Recipe is a great choice for a Side Dish. If you're looking for authentic recipes, look here.
Print
Pin
Ingredients
2

tbsp

Apple cider vinegar

1

tbsp

lime juice

1

tbsp

olive oil

1

tbsp

maple syrup

(or honey)

¼

tbsp

 salt

¼

tbsp

pepper

1

pinch

Garlic powder

1

pinch

Onion powder

Dried dill

2/3

Cup

red onion

4

Cup

kale

finely chopped stems removed

1

1 carrot shredded

1

apple

whole apple cored and  finely chopped

Toasted sunflower seeds

Mayonese

Non-fat plain yogurt

Tahini
Instructions
Mix all the dressing ingredients together, add pepper and salt to it and mix all the ingredients by whisking

Let the dressing set up for at least 15 minutes

Meanwhile cut all the salad ingredients as kale, apple, carrot in a large size bowl

Stir and Mix all properly

Let it set for at least 30 minutes
Tips
Tips 1: The onions soak up some of the dressing, so you should add a bit more then needed.
Tips 2: If you aren't serving your salad within an hour of making it, refrigerate it until ready to serve. Kale apple slaw taste the best on the day it's made, but you can eat the leftovers the next day with refrigeration too.
Nutrition
Nutrition Facts
Tropical Smoothie Kale Apple Slaw Recipe
Amount per Serving
% Daily Value*
* Percent Daily Values are based on a 2000 calorie diet.
Wrapping Up
I tried this kale apple slaw recipe several time and it is a most favorite to my friends and family. You don't need to try out something special while preparing apple kale slaw. Just cut your kale and add your dressing to enjoy a flavorful kale apple slaw.
Read More: