Panchos flautas recipe is a Mexican recipe, and the flautas are amazing to have. The fun part is, as tasty as they are, they are easy to make as well. The process is basic and if you have a good hand at cooking basics, you will have no worries at all while cooking panchos flautas. So, let's get cooking flautas!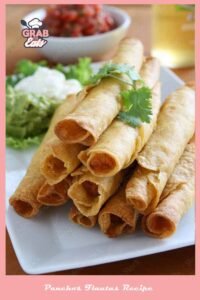 How to Cook Baked Flautas De Pollo ?
In Mexico, this fish is called Flautas de Pollo. It is amazing how we can attempt to cook delicious dishes from other cultures than our own and not have to search high and low for the ingredients either. 
Cultural integration has worked out in our favor, it seems! To make this dish, you must focus on the meat and the tortillas. The rest is just seasoning. If you're a beginner, be aware of the amount of seasoning you're putting in as well. 
How to Make Flautas
Flautas are really easy to make. You can use any kind of ground meat to cook this delicious Mexican dish. Although we have used beef, you can surely make ground turkey flautas. 
Instead of beef meat, you will only need to use turkey meat. Make sure it is well ground and you're good to go. You do not have to adjust the other ingredients either. Those ingredients are versatile enough so they will go just fine with the kind of meat you choose. 
Ingredients that You Will Need Are:
1 tablespoon olive oil
1 small red onion
5 cloves garlic
1 pound ground beef
2 teaspoons cumin
2 teaspoons diced chiles in adobo
1 teaspoon chili powder
¾ of a cup of shredded cheese
8 flour tortillas
Vegetable oil for frying, as much needed
Kosher salt, according to taste
Freshly cracked pepper, according to taste
2 pitted and diced ripe avocados
¼ cup sour cream
¼ cup fresh cilantro leaves
Fresh juice of 3 limes
splashes of water
Step by Step Instructions to Make Mexican Flautas
Step 1: 
In a big saucepan over medium heat, heat the oil. With a touch of salt and pepper, add the onion. Cook for 3-4 minutes, stirring often. Cook, stirring regularly, for another minute or two after adding the garlic.
Step 2: 
Brown the ground beef, disintegrating it with a spatula. Add cumin, adobo chilies, chili powder, and a splash of water once the meat is cooked through. Toss to incorporate and season with salt and pepper to taste.
Step 3: 
Stir in the cheese until everything is well combined.
While the filling is cooking, heat a big saucepan with approximately 12 inch vegetable oil in it over medium heat. When a drop of water is dropped into the oil and it sizzles, you know it's ready.
Step 4: 
Spread 12 cup of the meat mixture down the centre of the bottom halves of each tortilla to make your flautas. Roll the tortilla away from you, enclosing the contents securely. Rep with the rest of the tortillas and filling.
Step 5: 
Flautas should be fried in batches of 2 to 3 depending on the size of your pot. Cook for 1-2 minutes on each side, or until the exterior is dark golden brown and crispy. Reduce the heat if your flautas are browning too soon.
Step 6: 
In a food processor, combine all sauce components and process until a smooth, creamy consistency is achieved.
Serve with a creamy cilantro sauce, fresh cilantro, and crumbled queso fresco on top of the flautas.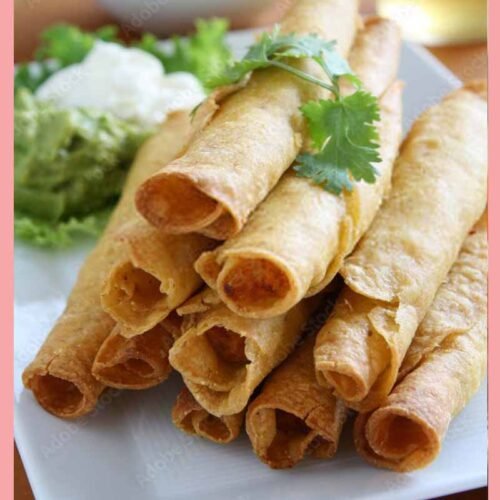 Panchos Flautas Recipe
Check out Panchos flautas recipe, very delicious and can be easily prepared at home with the simple pantry ingredients. Bon appetite!
Print
Pin
Ingredients
1

tbsp

olive oil

1

small red onion

5

cloves garlic

1

pound

ground beef

2

tbsp

cumin

2

tbsp

diced chiles in adobo

1

tbsp

chili powder

¾

Cup

shredded cheese

8

flour tortillas

Vegetable oil

Kosher salt

(according to taste)

cracked pepper

(according to taste)

2

avocados

¼

Cup

sour cream

¼

Cup

fresh cilantro leaves

3

limes

juice

splashes of water
Instructions
Cook the onions, garlic, ground beef, adobo chili, cumin, chili powder, salt and pepper. The meat must be browned and well cooked. Mix the cheese in and make sure they are melted.

Place the filling in the tortillas. Seal them and fry them properly. Take them off the heat and make sure the excess oil is not there.

Mix in the ingredients for the sauce and blend till smooth.

Serve the fried flautas warm with the creamy sauce, you can garnish with some freshly chopped cilantro on top.
Tips
The tortillas are delicate so try not to be harsh while handling them.

The sauce must have a good consistency. So, make sure the texture remains creamy and does not have any lumps.
Nutrition
Nutrition Facts
Panchos Flautas Recipe
Amount per Serving
% Daily Value*
* Percent Daily Values are based on a 2000 calorie diet.
Wrapping Up
You can add this recipe to any of the events or parties you may want in. It is a great dish to have. It is also a pancho mexican buffet cheese enchilada recipe. 
Contrary to popular belief, or a myth, that Mexican food is not good for the digestive system, it is very misleading that all these dishes have healthy ingredients. If you cannot take up spices and good delicious seasoning, it's not the cuisine's problem. You will know this only if you try it first. So have fun cooking Panchos flautas!