A super easy Garlic and Pepper Antipasto recipe go excellent with cheese boards, cured meat trays, and party platters. An easy but unique method to amuse your guests. Try it with some of your favorite meats and cheeses, or just on its own as a snack. Make a colorful and flavorful appetizer stack with various ingredients served in varying orders. 
These spicy antipasto peppers are based on the tradition of Southern Italian food. It has the heat of red-hot jalapenos and the rich flavour of our signature crunchy white garlic cloves. The garlic in this recipe is marinated to keep its strong flavour but doesn't linger on the tongue. It's the best sweet and smokey Italian roasted pepper ever!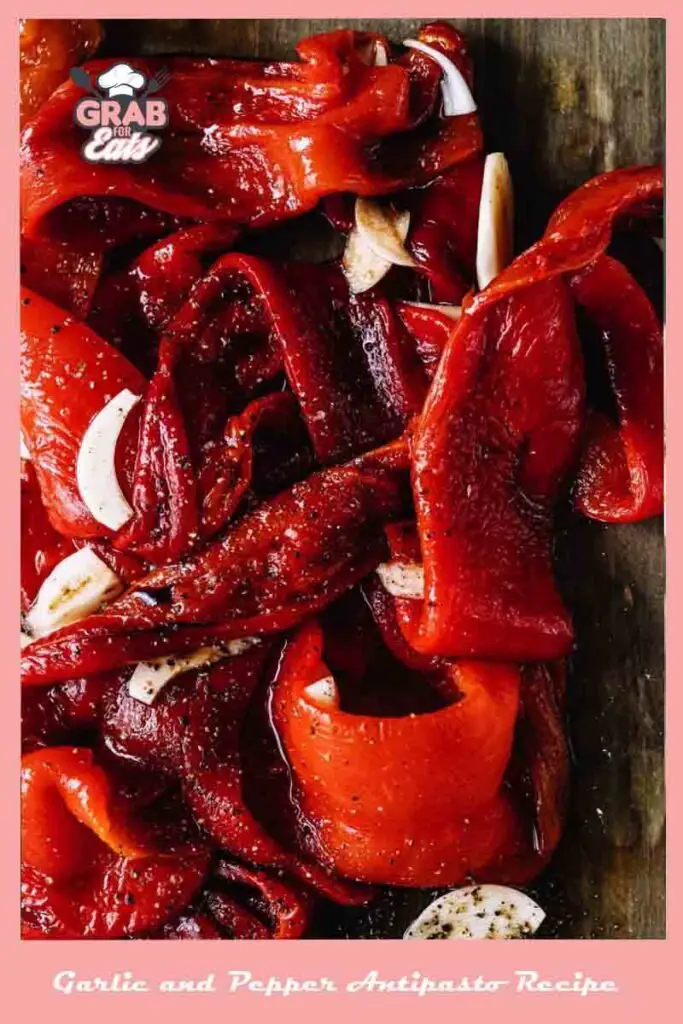 Know About Your Ingredients:
Red bell peppers: 6 red bell peppers. Sweet red peppers give recipes a burst of flavour.
Garlic: 4 garlic cloves, minced. Garlic powder loses its fresh flavour when dried and crushed, making it suitable for seasoning.
Salt and pepper: According to taste. Salt's lack of flavour makes other foods taste better. Pepper provides flavour and spiciness.
Anchovies: 1 jar of excellent Italian anchovies. Anchovies are commonly filleted, salted, and preserved in oil.
Parsley: 1/4 cup of chopped Italian parsley. Parsley is often used as a garnish, condiment, food, and flavouring in foods and beverages.
Basil: 1/4 cup of fresh basil, cut into a chiffonade.  It adds flavour to food, and its nutrients may offer health benefits.
Olive oil: Excellent olive oil. Olive oil enhances food taste and conducts higher temperatures, so it cooks quickly.
Vinegar: Excellent balsamic vinegar. Foods can have different textures when vinegar is added.
How to Make Garlic and Pepper Antipasto:
Step 1: Roast the peppers until the entire skin is blistered and blackened. You can do this by holding them over a gas flame, placing them on a grill, or broiling them. 
Step 2: Place the charred peppers inside a brown paper bag, close the bag, and steam the contents.
Step 3: After the peppers are allowed to cool for about 15 minutes, rip open the bag and peel them, making sure to get all the seeds and ribs out. Then, use the bag to collect all the debris and contain the mess.
Step 4: To prepare the peppers, cut each into approximately 1-inch wide strips to prepare the peppers.
Step 5: In a lovely serving dish, create alternating layers of peppers,  herbs, salt, garlic, and anchovies, and then drizzle some olive oil and balsamic vinegar on top.
Step 6: Give the ingredients at least an hour to soak up the sauce. Keep it in the refrigerator, then let it come to room temperature before serving.
Antipasto Salad with Roasted Red Peppers Recipe
An Antipasto salad is a delicious and easy meal that consists of sliced meats, soft cheeses, green and black olives, and bright red cherry tomatoes tossed in a homemade light lemon olive oil dressing. This salad is a popular dish in Italy. 
Know About Your Ingredients:
2 or 3 seeded and peeled roasted red peppers
1 or 2 cloves of minced garlic
2 or 3 tbsp of good quality extra virgin olive oil
1/2 tsp or more of sea salt or Kosher salt
2 shakes of dried oregano
How to Make Antipasto Salad with Roasted Red Peppers: 
Step 1: Peel the peppers and put them in a bowl.
Step 2: Combine the oregano, salt, garlic, and extra virgin olive oil.
Step 3: Prepare this a few hours before you want to serve it for the most incredible flavour. You can put it on crostinis, sandwiches, antipasto plates, or use it as a side dish.
Step 4: Add more vegetables for a vegetarian antipasto salad. Use a can of rinsed, drained chickpeas in place of the meat. Keep it in the refrigerator, then let it come to room temperature before serving.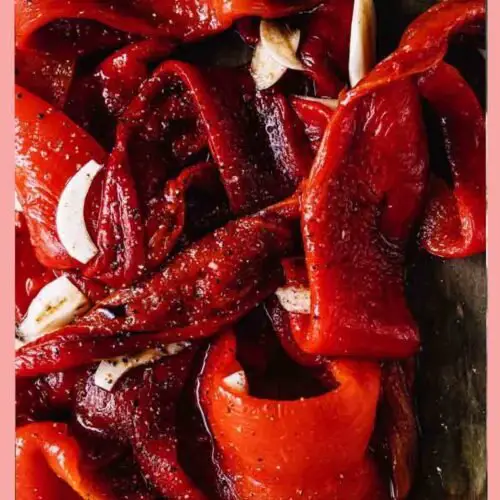 Garlic and Pepper Antipasto Recipe
The Garlic and Pepper Antipasto Recipe is a classic Italian appetiser made with olives, garlic, cheeses, and meats. It's easy to assemble and looks great.
Print
Pin
Ingredients
6

Red bell peppers

4

Garlic cloves

Salt and pepper

1

Jar

Excellent Italian anchovies

1/4

Cup

Chopped Italian Parsley

1/4

Cup

Fresh basil

Excellent olive oil

Excellent balsamic vinegar
Instructions
Blister and blacken the peppers while roasting them. To achieve this, you can broil, grill, or cook them over an open flame. Close the brown paper bag with the charred peppers and steam them.

After 15 minutes, peel the peppers, removing the seeds and ribs. Use a bag to catch trash and contain the mess—cut peppers into 1" strips.

Using a pretty serving bowl, stack peppers, garlic, anchovies, herbs, salt, and pepper, and then dress with olive oil and balsamic vinegar. Marinate for at least an hour. Serve warm.
Tips
There are many ways to arrange meats, slices of bread, and cheeses on an antipasto platter. A large cutting board is one idea. You could also use a big white plate with a simple design.

To keep the food safe until your guests arrive, bring it inside and let it come to room temperature.

If your outdoor space doesn't have a screen, you may also need a food cover or cloche to keep dust away.

Put out cheese wedges. Cut bread slices in advance to help your guests. Pre-cut cheeses make it easy for guests to sample cuisine if you're holding the platter.

Adding vegetables to an antipasto plate is a great way to vary the presentation and flavor of the dish.

You can make an antipasto platter ahead of time, which is one of its best features. As it includes cold meats and cheese, you should put it in the fridge to keep it fresh.
Nutrition
Nutrition Facts
Garlic and Pepper Antipasto Recipe
Amount per Serving
% Daily Value*
* Percent Daily Values are based on a 2000 calorie diet.
Final words: 
There are many ways to use roasted Red Italian peppers. Two of them are antipasto and crostini. They are delicious and very healthy vegetables. The first course of a classy Italian meal typically consists of antipasto or antipasti. Antipasti are little appetisers designed to get your appetite going. They are usually presented on a tray for people to serve themselves.
The flavours will be at their best if you make this a little while before you plan to serve it. You can put it on a sandwich, a crostini, a side of pasta, or an antipasto platter. You won't be disappointed at all.