Tortilla soup is like a warm hug in a bowl. It's a dish that always manages to put smiles on faces when we're in the mood for something cozy. And when it comes to chicken tortilla soup, no one does it better than Max and Erma. 
Their version of the soup has a rich and savory broth loaded with chicken, black beans, corn, tomatoes, and a blend of spices. But not all of us are fortunate enough to live near a Max and Erma outlet. 
This is where this copycat tortilla soup recipe comes in! If you're planning to recreate this bowl of magic  at your home, this max and erma's chicken tortilla soup recipe is all you need!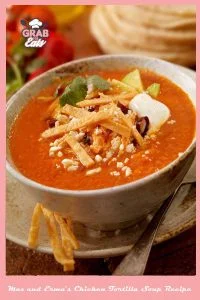 Max and Erma's Chicken Tortilla Soup Ingredients
You'll need a handful of ingredients if you want to make it just like max and erma tortilla soup, but the good news is you can find these ingredients in most grocery stores. And, they're pretty affordable too! Just make sure to pick up fresh ingredients to ensure the best flavors in your soup.
Chicken: The star of the show, chicken becomes tender as it simmers in the soup, making each bite satisfying. You'll need two shredded chicken breasts for this recipe. You can use leftover chicken, or cook some from scratch, whichever seems convenient for you. 
Corn Tortillas: Here's another ingredient that makes this soup so special. You'll need around 8 corn tortillas to make crispy tortilla strips to add into this recipe. When added to the soup, crispy strips soak up the flavors and become soft, making the soup hearty and flavorful.
Chicken Broth: Chicken broth provides a savory base for the recipe. It's the essential ingredient  that brings all the flavors together. To simmer the soup to perfection, you'll need around 1 liter of chicken broth. 
Tomatoes: The recipe calls for two diced tomatoes, which adds a tangy flavor to the broth. The diced tomatoes break down as the soup simmers, infusing the broth with flavors. But if you want, you can use crushed tomatoes as well. 
Sweet Corn: Sweet corn adds a satisfying crunch to this recipe. It also adds a nice pop of color and makes the soup look vibrant. Around one can of sweet corn will do the job. 
Onion and Garlic: When sautéed, chopped onions and garlic release a pleasant aroma and make the soup even more flavorful. This recipe calls for one large onion and three cloves of garlic.
Black Beans: One can of drained black beans will bring an earthy flavor to the soup. The creamy texture of the beans complements the other ingredients. They are also packed with protein and fiber, making them a nutritious addition to the soup.
Jalapeno Pepper: This small but mighty ingredient adds a kick of heat and a burst of fresh flavor to the soup. But keeping the flavor mild works well in this recipe. That's why you'll need only three jalapeno peppers, diced and seeded. 
Spices: Seasonings play a crucial role in enhancing the overall taste of the soup. You can use any seasonings of your choice. Apart from salt and pepper, cumin powder and paprika really works well in this recipe. 
Cilantro: Cilantro adds a refreshing flavor to the broth. It also helps cut through the richness of the broth. You'll need a handful of cilantro leaves in this recipe. 
How To Make Max and Erma's Chicken Tortilla Soup?
Now that we know all about the ingredients, let's find out how to pull off copycat Max and Erma's Chicken Tortilla Soup recipe!
Direction:
Step 1: In a large pot, heat some oil over medium heat.
Step 2: Add the chopped onions and minced garlic, and sauté until they become translucent.
Step 3: Add the shredded chicken, tomatoes, black beans,cilantro, and corn. Season with salt, pepper, cumin powder, and paprika.
Step 4:  Pour in the chicken broth and bring it to a boil.
Step 5: Allow the soup to simmer on low heat for about 20-30 minutes
Step 6: While the soup simmers, and 4-6 corn tortillas and stack them on top of each other.
Step 7: Slice the stacked tortillas into thin strips. 
Step 8: Fry the tortilla strips until they turn golden brown. 
Step 9: Remove the strips from the pan and drain the excess oil.
Step 10: Stir the soup and simmer for another 10 minutes. 
Step 11: Garnish the soup with the remaining chopped cilantro and a handful of crispy tortilla strips on top and serve hot.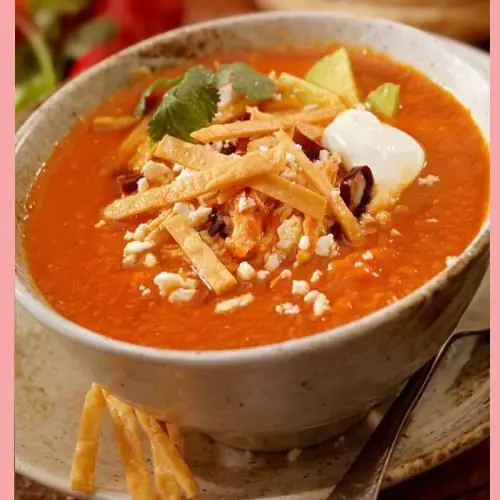 Max and Erma's Chicken Tortilla Soup Recipe
Warm your soul with a bowl of Max and Erma's Chicken Tortilla Soup. The soup is packed with chicken and tortilla, creating a comforting and satisfying dish that will keep you coming back for more.
Print
Pin
Ingredients
2

Shredded chicken breasts

8

Corn Tortillas

1

Liter

Chicken broth

1

Onion

Large

3

Cloves

Garlic

2

Tomatoes

1

Can

Sweet corn

1

Can

Black beans

3

Jalapeno peppers

1

Tsp

Cumin powder

1

Tsp

Paprika

Salt and pepper

To taste

Cilantro leaves

As you need

Oil

As you need
Instructions
Heat oil in a pot and sauté onion, garlic, and jalapeno pepper.

Add the chicken and  tomatoes, black beans, corn, and cilantro.

Season with spices and add the broth.

Simmer for 20-30 minutes.

While the soup simmers, prepare crispy tortilla strips by frying them in oil until golden brown and crispy.

Occasionally stir the soup and simmer for another 10 minutes.

Garnish with remaining cilantro and crispy tortilla strips.
Tips
For tender and flavorful chicken, consider using boneless chicken breasts. You can cook them separately and shred them, or cook them directly in the soup for more flavor. 

If you're craving

chicken tortilla cheese soup

, consider adding two dollops of cream cheese just before serving. This way you can satisfy your craving without having to make c

hicken tortilla soup with cream cheese recipe

. 

Dice some fresh avocados and use it as a topping to enhance the creaminess and richness of the soup.
Nutrition
Nutrition Facts
Max and Erma's Chicken Tortilla Soup Recipe
Amount per Serving
% Daily Value*
* Percent Daily Values are based on a 2000 calorie diet.
Final Words
Whether you're feeling under the weather, want something cozy for winter nights, or have friends coming over for dinner, chicken tortilla soup will never disappoint. While making tortilla soup may seem tricky, when you have the right recipe, pulling off this dish becomes a breeze!
Now that you know what goes into making Max and Erma's chicken tortilla soup, what are you waiting for? Give this recipe a try! Thanks for stopping by.
Read More:
Houston's Restaurant Tortilla Soup Recipe