Spring is a season that comes with an abundance of fresh vegetables. Thus, it's the perfect time to indulge in spring vegetable pasta salad. It's super light and refreshing, making it a perfect option for when you want something satisfying but not heavy.
Spring pasta salad is not only delicious but also incredibly easy to make. With just a few simple steps, you can make this mouthwatering dish in no time. All you have to do is toss some veggies, cooked pasta, dressing, and voila! 
Not to mention that the dish is packed with nutritional values as well. So, if you're planning to make something healthy yet tasty for lunch, give this spring pasta salad recipe a try!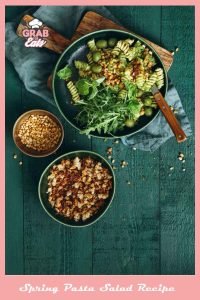 Know about the Spring Pasta Salad Ingredients 
The ingredients needed for spring pasta salad are budget-friendly and easy to find. And the best part is you can customize the ingredients to your preference. Just make sure to use fresh ingredients for the best result. Now, let's have a look at all the ingredients that go into this recipe.
Ingredients: 
Pasta: When choosing pasta for this recipe, make sure to go for the ones that come in small shapes. Rotini, shell, and bowtie are some of the commonly used pasta for this recipe. However, if you are planning to make a spring macaroni salad, then go for small-sized macaroni. For this recipe you'll need about 10 ounces of boiled pasta of your choice. 
Vegetables: When it comes to using vegetables in spring pasta salad, the more the merrier. Consider using vibrant spring vegetables such as cherry tomatoes, radishes, carrots, bell peppers, and cucumbers. 
You can also include leafy greens like spinach or arugula, as well as fresh herbs like basil, parsley, dill, or mint. For this recipe, you'll need 1 bell pepper, zucchini, carrot, and red onion, 2 cucumbers, and approximately 10 cherry tomatoes. However, feel free to adjust the amount according to your preference.
Dressing: The dressing is a crucial component of the salad. It helps tie all the ingredients together. You'll need ⅓ cup of extra virgin olive oil, ¾ cup of mayonnaise, and 1 tablespoon of lime juice as the base of the dressing. If you are craving sweet vinegar pasta salad, you can also add 1 tablespoon of balsamic vinegar to the salad. 
Honey: Adding a tablespoon of honey helps balance the sourness of the dressing and enhances the overall flavor of the salad. 
Seasonings: Customize the seasonings according to your taste. You can use salt, pepper, oregano, and any other spices you enjoy. If you like it spicy, consider adding chili flakes to add some heat.
How to Make Spring Pasta Salad?
Making spring vegetable pasta salad is not as hard as people make it out to be. It's really simple and doesn't take up a lot of time. All you have to do is follow a few simple steps.
Directions:
Step 1: Cook the pasta according to the package instructions until cooked. Drain the pasta in water and set aside to cool.
Step 2: Meanwhile, prepare the veggies. Dice the bell pepper, zucchini, carrot, red onion, and cucumbers into small pieces. Cut the cherry tomatoes in half. If you're using any leafy greens or fresh herbs, wash them and chop them finely.
Step 3: In a large bowl, whisk the extra virgin olive oil, mayonnaise, lime juice, balsamic vinegar, honey, salt, pepper, and seasonings together. Adjust the seasoning according to your taste.
Step 4: Add the pasta and vegetables into the bowl. Toss well to coat everything evenly.
Step 5: Cover the bowl and refrigerate the salad for at least 1 hour. 
Step 6: Add a drizzle of olive oil and garnish it with some fresh herbs before serving.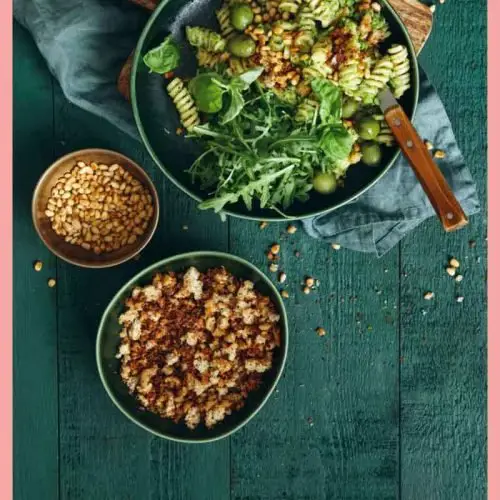 Spring Pasta Salad Recipe
Celebrate the arrival of spring with this spring pasta salad recipe. A delightful combination of fresh veggies and pasta, this dish will never fail to amaze you when you need something light and quick.
Print
Pin
Ingredients
10

Ounces

Pasta

1

Bell pepper

1

Zucchini

1

Carrot

1

Red onion

2

Cucumbers

10

Cherry tomatoes

Leafy greens and herbs

Optional

1/3

Cup

Olive oil

Extra virgin

3/4

Cup

Mayonnaise

1

Tbsp

Lime juice

1

Tbsp

Balsamic vinegar

1

Tbsp

Honey

Salt and pepper

To taste
Instructions
Cook the pasta according to instruction.  Drain, and let it cool.

Dice the vegetables and cut cherry tomatoes in half.

Mix the olive oil, mayonnaise, lime juice, vinegar, honey, and seasonings together.

Toss pasta and vegetables in the dressing.

Refrigerate for at least 1 hour.

Drizzle with olive oil and garnish with fresh herbs before serving.
Tips
Feta cheese, goat cheese, or fresh mozzarella are great options to add creaminess to your salad. All you have to do is crumble or cube the cheese and toss it in with the pasta and vegetables.

If you want the salad to be more filling, consider adding protein sources like grilled chicken cubes, cooked shrimp, or canned tuna

When combining the ingredients, be as gentle as you can. Otherwise you run the risk of breaking the pasta.

Feel free to get creative with the ingredients. Add nuts, eggs, dried fruits, or anything that you typically enjoy in your salad. 

Make sure not to overcook the pasta. If the texture of the pasta is mushy, it won't taste good. So be careful about that.
Nutrition
Nutrition Facts
Spring Pasta Salad Recipe
Amount per Serving
% Daily Value*
* Percent Daily Values are based on a 2000 calorie diet.
Final Words
Spring pasta salad perfectly captures the warmth and vibrance of spring. Colorful combination of veggies, pasta, and flavorful dressing make a perfect choice for a light yet satisfying meal. 
Whether enjoyed as a lunch, side dish, or main course, this salad will always be a hit in your family. So, what are you waiting for? Grab your apron and try this spring pasta salad recipe right away!
Read More: