Turkeys don't come cheap. Most of the time, we buy a  whole turkey during holidays or special celebrations. But the craving of having juicy turkey meat stays in your mind always. To calm that craving, canned turkey meat always comes to the rescue. That's why today, I'm showing you some finest canned turkey recipes to prepare at home. 
Besides, you'd get to know about the process of making turkey meat right after the recipe section. Thus, let's rush into the main discussion that you're seeking most.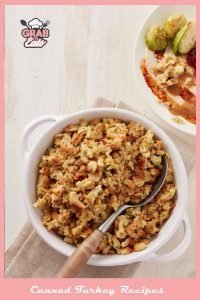 How Do You Make a Turkey Casserole?
Turkey casserole can be made with both leftover cooked turkey meat and canned turkey. It is a way to save some bucks and reuse the turkey you might've thought of throwing away. However, casserole dishes don't require too much meat. So, if you're planning to make turkey casserole, you better buy one or two cans of turkey meat rather than buy a whole. 
Ingredients you Need
Cheese: A huge amount of cheese is a must to make the casserole creamy and thicker than usual pasta. The combo of cheddar cheese and mozzarella cheese can be a great option to balance the smell and make the texture thicker. 
Macaroni: You can buy a 250 gram pack of macaroni or pasta of any shape or size. 
Turkey Breast: The meat of turkey breast would be fine because there'd be no bone that can tickle your mouth while having a bite. But if you don't have boneless meat left, you can thoroughly put away the bones from the meat. The best thing would be having canned turkey meat as they come boneless. 
Cream: You can find heavy cream in the market for baking or cooking meat and pasta. Though adding cream isn't a must, you should at least try to add it. 
Milk: For a whole bowl of casserole, you need to use ½ liter pure milk with the cheese. Adding milk allows the dish to release an appealing fragrance. 
Frozen Vegetables: Vegetables can add extra flavor and food value to the casserole with Canned turkey breast.  You can either purchase a pack of mixed vegetable cut cubes or combine fresh and raw vegetables according to your will. 
Oil: If you have some budget, then you better go with sunflower oil. Otherwise, any edible oil would do to cook the whole casserole. 
Butter: You need to remember that you must cook the whole stuff using butter. So, you better keep at least 250 grams of butter in your fridge. 
Spice: Some prefer the casserole to be like white pasta and be less spicy. In that case, you can use minimal spices like red chili powder, black pepper, and onions. But for a spicy casserole plate, you should also add garlic paste, coriander powder, ginger paste, local seasoning, cumin, etc. 
Method of Preparing
Step-1
Put the leftover or canning turkey meat in a tray and let it have the room temperature. Then, take 3 tablespoons of seasoning and 2 tablespoons of oil to properly marinate the meat. 
Step-2
Next, preheat a non-stick pan for a couple of minutes, then add 5 spoons of oil to the surface and spread properly. When the oil becomes hot, put the butter in the pan and melt it properly. 
Step-3
After that, add the boiled pasta, marinated meat, and other vegetables to the pan and stir everything properly for 5-10 minutes. 
Step-4
Now, add the remaining spices to the casserole and mix well. Then, put the lid over the pan and leave it for around 7-8 minutes. Remember to keep the stove heat mild during then. 
Step-5
After a while, the dish would be ready to serve hot and that's it.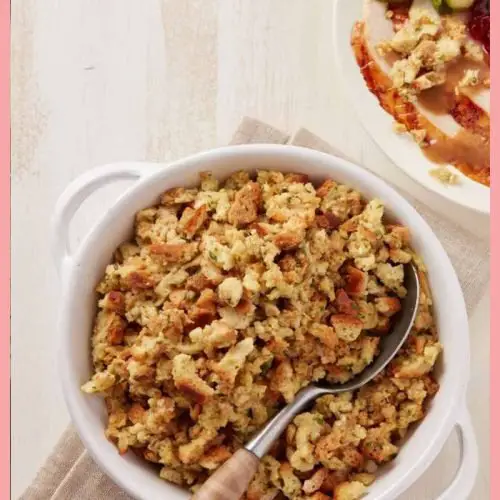 Canned Turkey Recipe
Canned turkey recipes can help you save money and finish things off without worrying of buying and processing a turkey.
Print
Pin
Ingredients
Canned Turkey

250

Gram

Butter

Oil

Vegetables

Spices

½

Liter

Milk

Cream

250

Gram

Macaroni
Instructions
First , marinate the turkey meat with oil and spice.

Then, melt the butter in a pan and put the boiled macaroni, marinated meat, and vegetables in it.

Finally, pour rest of the spice and let it get cooked on the stove for nearly 20 minutes.
Tips
Remember to boil the pasta properly before cooking it. And make sure the pasta is not over-boiled. Otherwise, the whole platter can become sticky rice. 

If the turkey meat is in big pieces, cut them into small ones. It'd help to make the meat well-cooked. 

The garnishing and decorating of the casserole plate depends on your choice. You can pick anything you want to decorate the whole platter.
Nutrition
Nutrition Facts
Canned Turkey Recipe
Amount per Serving
% Daily Value*
* Percent Daily Values are based on a 2000 calorie diet.
How to Pressure Can Meat?
First of all, remove the bones of the turkey meat. 
Then, cut the meat into small pieces and cover it with some salt
After that, roast the meat cubes for around 4-6 minutes without using any oil in the non-stick frypan. 
Let the meat cool down and store pieces in an airtight glass jar. 
Put the glass jar in the pressure canner. Make sure you've placed the rack under the jar. 
After that, follow the instruction manual of your pressure canner and set the canner's mode precisely. 
Now, close the lid and turn on the stove. 
Follow the manual again to know how much time and how many whistles it'd require to properly can the turkey meat. 
How to Freeze Turkey Meat?
First of all, cut the turkey meat into small pieces without any bone existing. 
Take a large tray and spread the pieces in a way that the pieces won't stick together. 
Now, put the tray in your fridge for around 60-90 minutes. 
After that, bring out the turkey meat and put it inside a thick airtight bag. Finally, the turkey meat is ready to be stored in the fridge for at least a month. 
Summary
Using canned turkey meat is one of the effective shortcuts to make quick and tasty meals at home. If you able to process the canned or leftover turkey properly, you're sure to bring the genuine taste of tendery and juicy fresh turkey meat. 
I hope you've found this article useful and got the inspiration to try out this easy canned turkey recipe at home. The whole discussion can come in handy even when you've just finished a party and thinking of what to do with the leftover turkey meat from the pan.
Read More: