We all love drinking tea, more or less. Tea is a great way to remove tiredness and make us fresh to join work again. However, if you have milk tea, it can cause health issues. On the contrary, turmeric and ginger tea is an excellent remedy for many diseases. So, here's our turmeric and ginger tea recipe. 
If you're looking for an easy way to weight loss, this ginger turmeric tea is right here. When you are caught with a bad cold or feeling down, this tea recipe will help you recover soon. Also, you can drink turmeric and ginger tea while having your stomach upset. 
Besides, it takes the usual tea-making time. So you don't have to spend any extra time on it. Let's learn to make this amazing tea with us.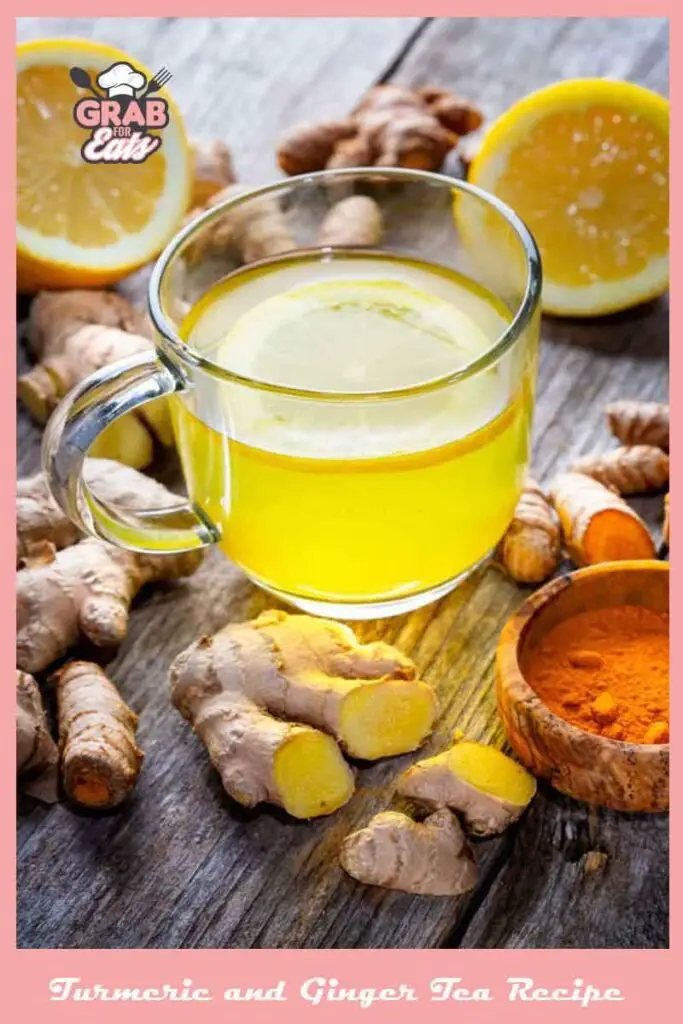 Know about The Turmeric and Ginger Tea Recipe
The amount of ingredients you need depends on how many cups of tea you make. Here in this recipe guide, we'll share the ingredients measurement for 1 cup of turmeric and ginger tea.  And, it will help you determine the measurement no matter how many cups of tea you make.
Ingredients You Need
Water (1 ½ Cups)
As we mentioned earlier, we will share the elements of 1 cup of tea. Take only 1 ½ cups of water. We have taken ½ cup of water more because boiling water will evaporate some water. 
Ground Tea Leaves (1 tsp)
To make tea, you must need tea leaves powder. This tea recipe also requires 1 tsp of tea powder to make your tea. 
Turmeric (3 small pieces )
Take a piece of turmeric root and wash it. Now peel the turmeric piece and slice it into small pieces. Take 3 small pieces to make your fresh ginger turmeric tea. Taking more can cause a turmeric smell which can be uncomfortable. 
NB: You also can use turmeric powder if you cannot manage the root. In this case, take 1 tsp of turmeric powder.
Ginger (1tsp)
Grated ginger 1 tsp. For a strong flavor, take 1 ½ tsp of ginger for 1 cup of tea. 
Peppercorn (3 or 4 whole Peppercorn)
If you have no problem with the turmeric smell, you can avoid using peppercorn. Peppercorn is a great element to remove the turmeric smell. So, you can use 3 to 4. 
Honey/ Sugar
As a sweetener, adding honey will be preferable. Still, if there's no honey in your kitchen, use sugar instead.
Lemon Juice (1 tsp) 
Like the peppercorn, lemon juice is also an optional element. But adding 1 tsp of lemon juice will give your tea a mindblowing flavor. As a result, you'll feel energetic to get back to your work with a spontaneous spirit. 
How to Make Turmeric and Ginger Tea Recipe?
Unless you feel it is challenging to make regular tea, it won't be difficult to make turmeric and ginger tea as well. Here's the way how to make this antidot to freshen your day-
Step-1 
Take a saucepan and put the water in it. 
Step-2 
Add turmeric pieces and grated ginger. Now boil the water at 212° F for 1 minute.
Step-3
After 1 minute of boiling, add peppercorns and boil for 5 more minutes. 
Step-4
Now add tea leave powder and simmer for 4 minutes at low heat. Add honey/ sugar to it.
Step-5
Add lemon juice and simmer for 10 seconds. Now remove all the ingredients and take the tea in a cup. Your homemade ginger turmeric tea is ready to drink.

Ways to Refrigerate the Turmeric and Ginger Tea
Once you make this tea recipe, you can consume it for 4 days maximum. In this case, you have to store the tea in your refrigerator. And, before you drink the next time, you must reheat it at medium heat.  
Some people prefer refrigerated ginger and turmeric tea for up to a month. But, it's not good practice. You shouldn't drink this tea after 3 or 4 days.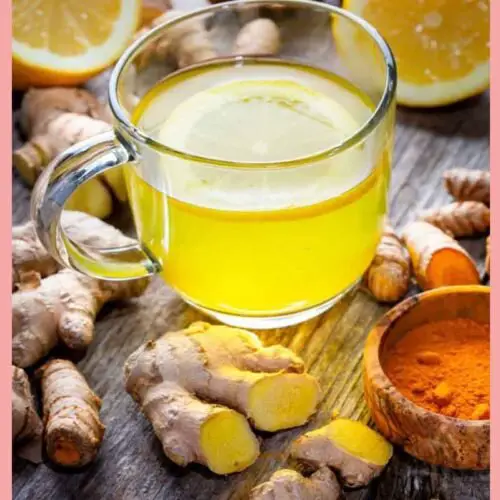 Turmeric and Ginger Tea Recipe
Suffering from digestion problems? Here's the turmeric and ginger tea recipe. Learn to make this natural remedy to relieve many more health issues. 
Print
Pin
Ingredients
1 ½

Cups

Water

1

Tsp

Ground Tea Leaves

3

Small Pieces 

Turmeric

1

Tsp

Ginger

3 to 4

Whole Peppercorn

Peppercorn

Honey/ Sugar

As you need

1

Tsp

Lemon Juice
Instructions
Add turmeric and ginger and boil at 212° F 

Add tea leaves powder and keep simmering

Add honey and lemon juice 
Tips
Morning is the ideal time to drink your

fresh ginger turmeric tea.

This tea works like a detoxifying element to cleanse your system.

After having rich food, drink a cup of ginger and turmeric tea.  It will help you digest quickly.

This tea recipe goes well with salad, toast, cake, biscuits, and stir-fries.

Avoid consuming ginger and turmeric tea daily. Drinking this tea every day can be harmful to your health.
Nutrition
Nutrition Facts
Turmeric and Ginger Tea Recipe
Amount per Serving
% Daily Value*
* Percent Daily Values are based on a 2000 calorie diet.
Turmeric and Ginger Tea: Health Benefits
The most powerful spices are turmeric and ginger. These two spices have been used for decades throughout history. These are the best spices for both medical and culinary. Using these two powerful spices together in your tea will bring a plethora of nutritional and medical effects. Let's check out some of the health benefits in brief-
Enhance Protein Production
Turmeric and ginger have separate nutritional values. But when you add them together, the health benefits go manifold. Its nutrition value increases the production of protein,   
Produce Iron
To keep your skin and hair healthy, iron is an essential element. Having turmeric and ginger tea will increase the iron production in your body. 
Assist in Cancer Prevention
This turmeric and ginger tea has excellent anti-cancer properties. As a result, drinking this tea will help you kill the cancer germ.
Improves Digestion
To improve digestive issues like nausea, motion sickness, and diarrhea, ginger and turmeric tea is an essential antidote. It ensures proper food movement in your digestion system.
Help in Lowering Cholesterol 
If you suffer from high cholesterol, ginger and turmeric tea will be your best bet. It will help you lower the LDL cholesterol in a natural way. 
Conclusion
Learning to make the turmeric and ginger tea recipe can solve many of your small health issues. This tea helps in increasing blood circulation in your body. It will also assist in lessening inflammation by delivering antioxidants. 
Ginger and turmeric tea play the best to quickly release stress when overloaded with work. However, consult your doctor before drinking this tea if you're a diabetic patient. Also, you shouldn't go for this if you have blood pressure or allergy problems. 
You May Like These Recipes Also: