Looking for an easy, delicious chili recipe that everyone at the dinner table will enjoy? The famous Racheal Ray chili recipe is here.
In just under an hour, you can prepare this mouth-watering recipe. In this recipe, Ground beef, bacon, and chorizo are combined with various herbs and spices.  
Racheal Ray Chili is a delicious option for a flavorful and healthy dinner. Protein and fiber make this dish a healthy and tasty dinner option.
Here is my step-by-step guide to making Racheal Ray's chili recipe. Also included are tips for customizing the recipe and topping suggestions to make it even better. So grab your apron and get ready to cook up a storm.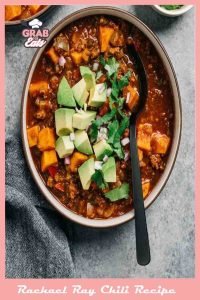 Know About The Racheal Ray Chili recipe Ingredients:
Racheal Ray's chili recipe is perfect for meat lovers looking for a meat lovers chili recipe. This recipe includes a variety of ingredients that create a rich and flavorful chili. Here are the main ingredients in Racheal Ray's chili recipe
Meat: This delicious dish is made with three different types of meat, including beef, bacon, and chorizo sausage.
Vegetable Oil: Another key ingredient of this recipe is vegetable oil. The vegetable oil adds flavor and richness to the dish while preventing the meat from sticking to the pan. Use high-quality vegetable oil when making this recipe to ensure the flavors are well-balanced.
Chili Powder: Chili powder is a key ingredient in Racheal Ray's Three Meat Chili recipe. With the perfect balance of heat, smokiness, and earthy undertones, this spicy blend brings the dish a rich and complex flavor.
Cumin: Cumin is an essential ingredient in Racheal Ray's Three Meat Chili. Cumin adds a warm, earthy flavor to the chili, complementing the three types of meat and other spices.
Cinnamon:  In Racheal Ray's Chili recipe, cinnamon is essential. Chili with cinnamon enhances the flavor of the dish.
Salt: Salt enhances the flavor, tenderizes the meat, and enhances the ingredients' natural flavors.
Lager Beer:  Lager beer adds a rich, complex flavor to Racheal Ray's Three Meat Chili recipe. The bitterness of beer complements the sweetness of tomatoes and spices beautifully.
Beef Stock:  For a rich and tasty flavor, beef stock is used as a base. With Racheal Ray's Three Meat Chili recipe, beef stock creates a thick, hearty base for the three kinds of meat – ground beef, bacon, and chorizo.
Honey Or Sugar:  This dish balances sweet and spicy flavors with honey and sugar, while chili powder and cumin add classic smoky flavors.
Worcestershire Sauce: Worcestershire sauce adds a layer of flavor to this recipe. It enhances the overall flavor profile of this Meaty Chili recipe.
Method Of Preparing The Racheal Ray Three Meat Chili Recipe
Step 1
Heat the oil in a large pot over medium-high heat, turning the pan twice. 
Step 2
Then put the bacon in and cook it until golden brown. When bacon is done, drain excess fat from a plate.
Step 3
Sauté the beef at medium-heat. Cook it until it breaks up with a wooden spoon. 
Step 4
As the beef browns, add the sausage, peppers, celery, onions and garlic. 
Step 5
Add the sausage, peppers, celery, onions, and garlic as the beef browns.
Step 6
Cover pot partially and cook for 7-8 minutes to tenderize vegetables
Step 7
Mix together the saved bacon, Cornmeal, honey or sugar, tomatoes, Worcestershire sauce, beer, and stock. 
Step 8
Cook over medium-low heat for an hour, stirring occasionally, until chili bubbles.
Step 9
Then serve the chili in plates Warm tortilla chips or cornbread and onions and pickled jalapenos on top.
Step 10
Add a little stock or water To reheat leftovers. Which makes them easier to eat.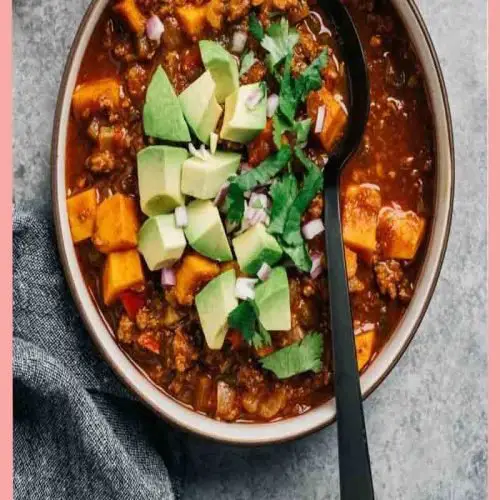 Racheal Ray Chili Recipe
The famous Rachael Ray chili recipe is here! Ready to make delicious and flavorful chili? Here's all the info you need to prepare the best Racheal Ray's chili.
Print
Pin
Ingredients
2

Tbsp

Olive oil or Vegetable oil

1/2

Pound

Chopped meaty bacon

1 1/2

Pounds

Lean ground beef

80%

1

Tsp

Salt

1/4

Cup

Chili powder

2

Tsp

Ground coriander

2

Tsp

Cumin

1

Tbsp

Oregano dried

1

Tsp

Paprika or smoked paprika

1

Pound

Spicy Italian sausage or breakfast sausage

1

Rib

Chopped celery

1

Chopped onion

Large

4

Chopped garlic cloves

2

Tbsp

Worcestershire sauce

1

Cup

Lager beer

3

Cups

Beef stock

15

Oz. Cans

Diced tomatoes

1

Tsp

Sugar or honey

3-4

Tbsp

Ground tortilla chips, cornmeal, or masa
Instructions
Heat two rounds of oil in a large saucepan.

Put the bacon and cook until crisp.

Add the beef and break it with a wooden spoon over medium heat.

Season the beef with salt, pepper, chili powder, coriander, cumin, oregano, and paprika.

Add the sausage, peppers, celery, onions, and garlic to the saucepan as the meat browns.

During the last 7-8 minutes of cooking, partially cover the pot with a lid.

Add cornmeal, tomatoes, honey or sugar, beer, stock, Worcestershire sauce, and save the bacon.

Bring chili to a boil, then reduce heat and simmer for an hour.

Serve chili with warm tortilla chips or cornbread.

Add a few onions and pickled jalapenos as toppings.
Tips
For any occasion, you can prepare Racheal Ray's Three Meat Chili. Here are a few tips for making the perfect recipe:
Make sure you use a large pot or Dutch oven to accommodate all the ingredients.
Ground beef, bacon, and chorizo contribute unique flavors and textures to this recipe. For the best flavor, use high-quality meats.
To ensure that each meat is thoroughly cooked, brown the ground beef, sausage, and chopped bacon separately before adding them to the pot.
To enhance it, test your chili with shredded cheese, sour cream, chopped onions, or any other toppings you prefer for added texture and flavor.
For the best test, cook your meaty chili on low heat for at least an hour.
Nutrition
Nutrition Facts
Racheal Ray Chili Recipe
Amount per Serving
% Daily Value*
* Percent Daily Values are based on a 2000 calorie diet.
Last Words
For meat lovers, Racheal ray chili is the best option for a healthy and delicious dinner. The combination of ground beef, bacon, chorizo, and various herbs and spices make this dish more flavorful. You can easily cook it within an hour. And you can get all the ingredients easily. 
Read More:
Diners Drive Ins and Dives Chili Recipe